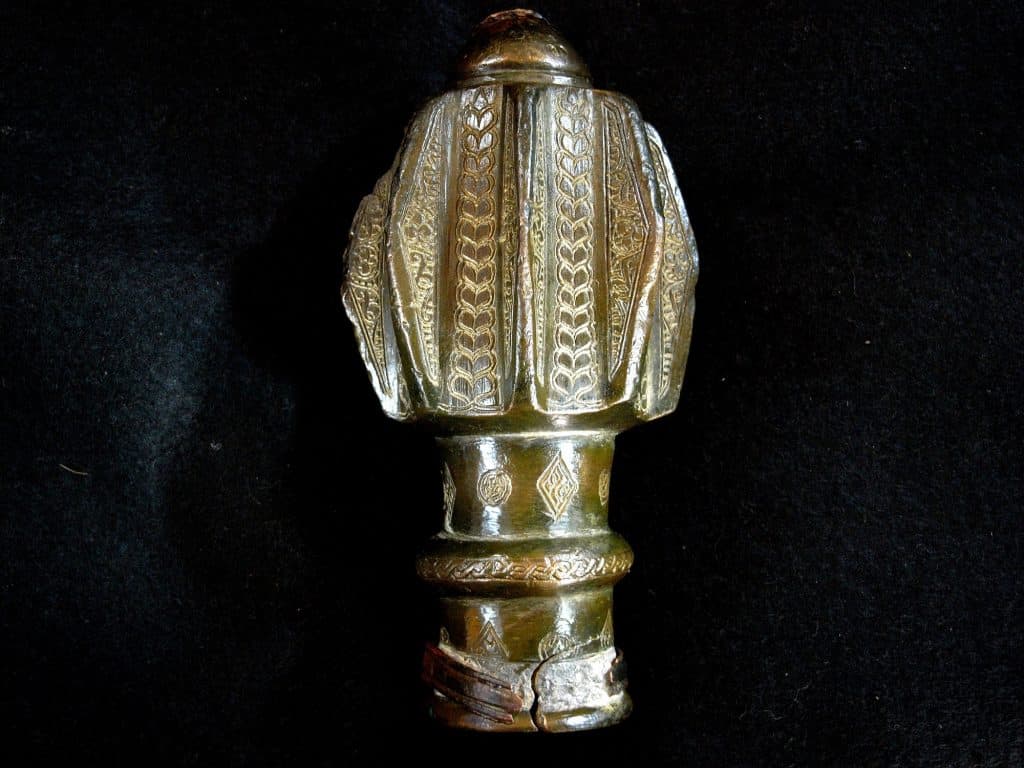 Rare Saljuq Iranian Mace Head 12th/14th Century
To enquire about this item
please click here
Price: £6,250
Ref: 41.13
Item Description
A heavy mace head constructed from a copper based alloy. It is of octagonal section with eight shallow triangular flanges emanating from its core  profusely decorated with incised designs of panels of arabesques on each side which retain much of the original gilt inlay. The spaces between are engraved with vertical panels of foliage. The domed top is decorated at its base with concentric rings surrounded by similar decorative panels to the flanges.
The neck midway is formed with a raised moulded band decorated with a rope work design on the upper surface. Above and below this band a series of alternate diamond and circular shapes decorated within are applied around the neck. A copper band is present at the base near the neck. The height of the mace head is just under 5.5 inches (13.7 cm)
Condition: Very good with minor damage commensurate with its age.
For related examples in the Furusiyya Art Foundation Collection, see Bashir Mohamed, The Arts of the Muslim Knight, The Furusiyya Art Foundation Collection" 2008, Skira Editore S.p.A, pages 246-248, nos. 231-236.