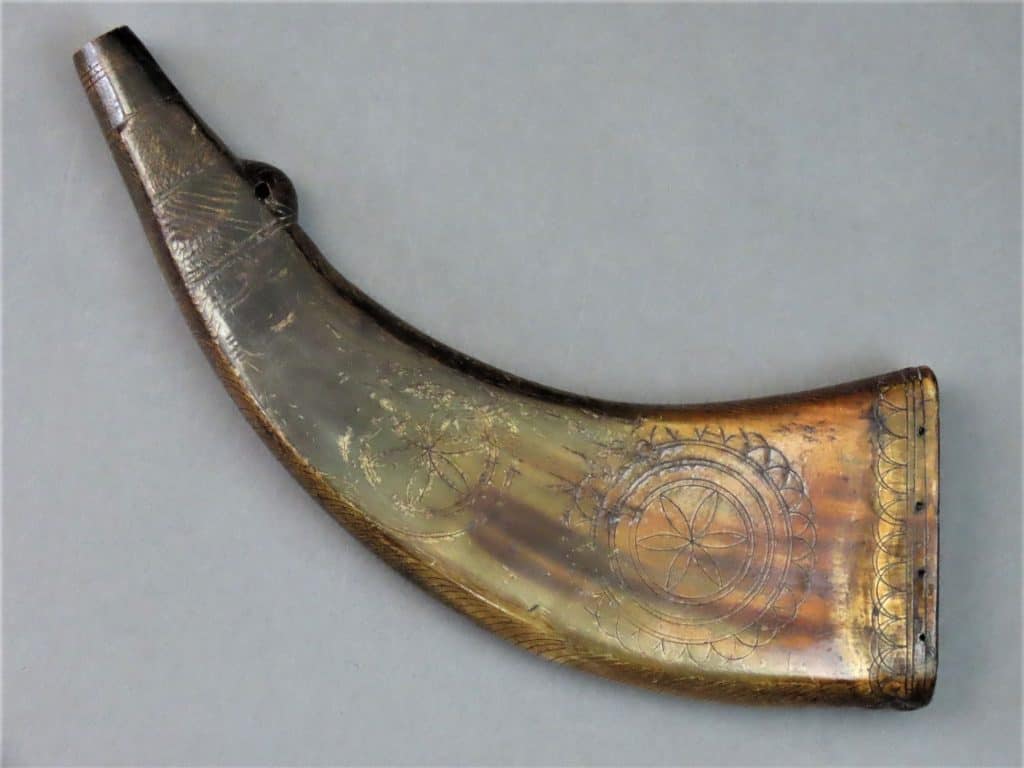 Early 18th Century Highland Scottish Powder Horn
To enquire about this item
please click here
Price: £1,475
Ref: 066.22
Item Description
A large and well-formed early 18th century Highland Scottish powder horn.  The carved patterns present on horns of this type are like other Celtic / Gaelic cultural motifs which appear on contemporary targes, dirk handles, sporrans and plaid brooches associated with "Highland" Gaelic craft manufacture and art of the time. The prominent designs on this horn are two roundels on each side each enhanced with curves and crescents. The rounded sides are decorated with stacked crescents and patterns of diagonal lines feature in the nozzle area. The base near the plug is carved with patterns of overlapping crescents.
The flask is fashioned from the pointed end of a cow horn which has been heat-softened, pressed into shape, then allowed to re-harden before decoration. The nozzle is plain and lacks its stopper. The base plug is made of shaped wood pegged into the horn at the sides and is probably of pine. A raised moulded rib near the nozzle on the concave side of the horn is pierced for a suspension loop whilst a cut circular aperture on the same side near the plug is evidence that the second suspension mount was applied there probably as a metal loop screwed through the shell of the horn into the wooden plug beneath.
Traditional Highland Scottish weapons are rare not least as a result of the prohibitions which followed the failed and last Jacobite Rising of 1745. In the second quarter of the 19th century, particularly after George IV's visit to Edinburgh in 1822, the gentry revived Highland Scottish dress and culture in a movement known as the "Highland Revival". Some surviving traditional Scottish weapons were retrieved and dusted off to be hung on baronial walls and some were brought into use as part of Victorian style Highland dress.
For further examples of Highland powder horns see "The Swords and the Sorrows", National Trust for Scotland, 1996, pages 73 to 75, and the accompanying article by Jackie Mann. Horns like this were made by horners settled in the Highlands and around the fringes, near markets, and on established drove roads, in a period when firearms were gaining great popularity in the Scottish Highlands. The overall length, measured from extremity to extremity is 12.25 inches (just over 31 cm). The base is just under 4.0 inches across (just under 10 cm).