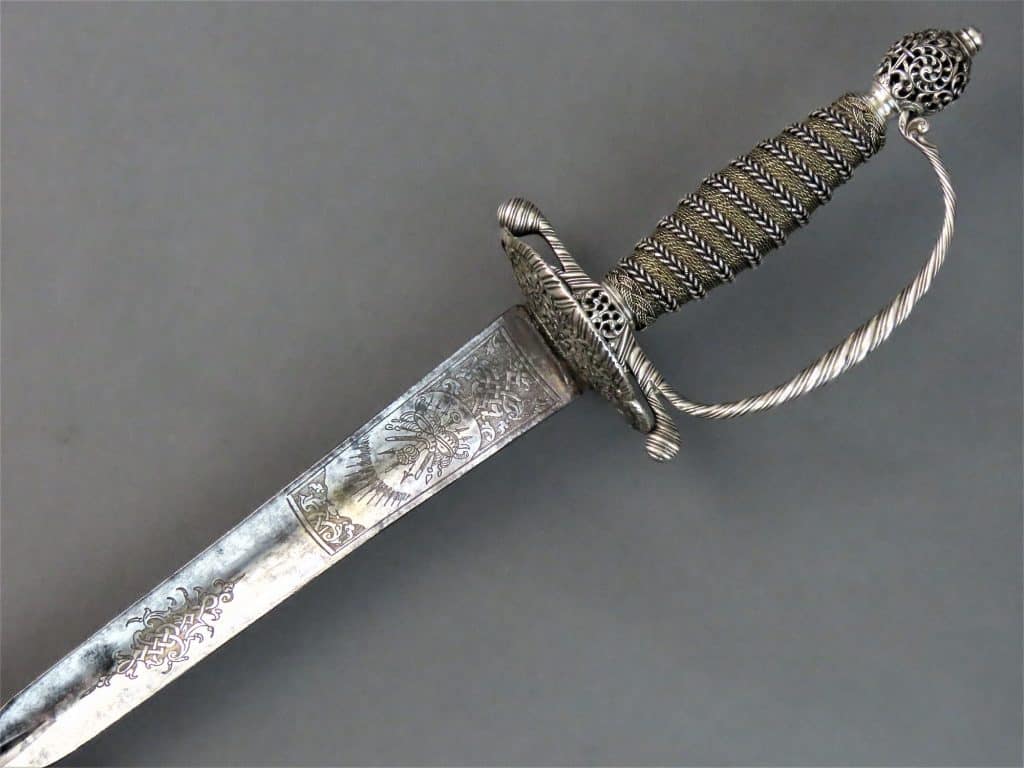 An Exceptional English Silver Hilted Mid 18th Century Small Sword with a Dish Shell Guard
To enquire about this item
please click here
Price: £2,350
Ref: 74.22
Item Description
An exceptional smallsword mounted with a generous silver hilt and a stunning  colichemarde blade. The hilt is boldly and skilfully engraved and pierced with detailed foliate and leafy scrolls in raised relief to the dish guard, ricasso and pommel. The pas d'ane rings, quillons and knuckle bow are engraved with gadrooned bars. These common design themes to the hilt components attest to the  originality and homogeneity of the parts of the sword. The style indicates that the sword was made in England in the middle of the 18th century. The hilt does not carry any date, maker's marks, or hallmarks, which means that the silver content of the hilt and the precise place of manufacture are unknown.   
The strength and substance of the sword indicates that it was made to withstand more than normal civilian wear and use and probably belonged to a military officer. The sword is of imposing substance and well balanced in hand.
The hilt is an example of the high standards of design and execution required of 18th century silversmiths as well as an example of one of the most effective weapons of the 17th and 18th centuries. Silver hilted small swords were fashionable attire for 18th century gentlemen. Mostly worn for effect, someone wearing such a sword was also announcing to the world that he was able to use it. Despite the stylish and often delicate appearance of these swords they were formidable dueling weapons. This example was most certainly so.
The triangular section, stiff, hollow ground, colichemarde blade is a strong example of its type and of exceptional quality. The blade is crisply engraved at the forte on each side with panels containing stands of arms in the centre and foliate designs above and below with a further scrolled design further along the blade. The engraved parts are of confident, deep execution and retain some original gilt finish. Overall the blade retains much of its original polished surface.
The attractive baluster shaped wooden grip is spirally bound with twisted brass wire, overlain with pairs of contra-twisted silver ropes, in the manner adopted by both English and French cutlers. Brass Turks Heads are mounted top and bottom.
The sword is in fine condition overall with some light age staining to the blade which is smoothly and lightly patinated.  There are no losses or repairs to the hilt which has maintained its original pleasing outline. The overall length of the sword is 41.75 inches (105.75 cm) and the blade 35.25 inches (89.25 cm) long.