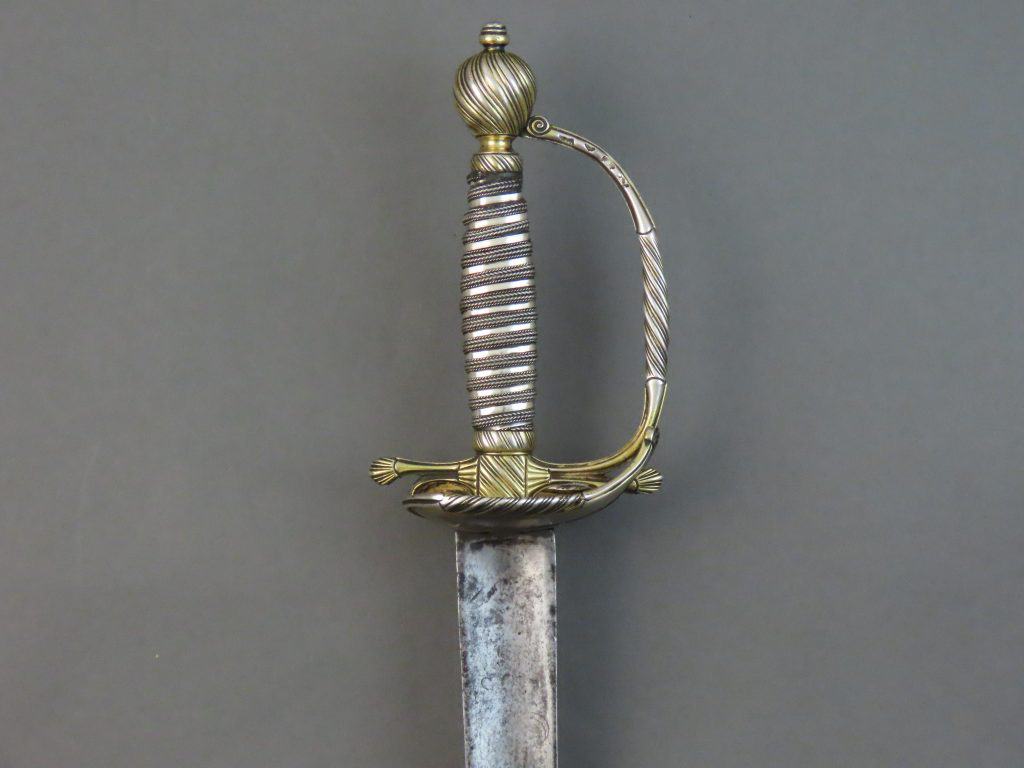 An English Silver Hilted Small Sword Hallmarked for 1748 / 1749
To enquire about this item
please click here
Price: £1,850
Ref: 69.22
Item Description
An English silver hilted small sword mounted with a "Boat Shell" hilt and colichemarde blade. The guard is of plain solid form with boldly and finely executed gadrooning to the shell brim, knuckle bow, pommel, quillon terminals and ricasso. The exquisite workmanship is typical of the London silver hilt makers of the mid-18th century. In this respect the sword is not only an attractive weapon but also a fine example of the London silversmiths' work at its best.
The hallmarks are on the knuckle bow and consist of the leopard's head standard mark, lion passant assay mark and date stamp for 1748 / 1749. A fourth mark, the hilt maker's mark, is present but illegible. The hilt retains much of its original gilt finish especially intact on the inside of the guard.
The hollow ground triangular section colichemarde blade is in fine condition with mild blemishes originally with engraved foliate designs in panels at the forte now worn. The blade just over 31.75 inches long or 81 cm. The overall length is 38.25 inches or 96.5 cm. The grip consists of a baluster-shaped wooden core wrapped with alternate thicknesses of contra-twisted roped and ribbon silver wire with silver cap terminals top and bottom engraved with floral designs.
Silver hilted small swords were fashionable attire for 18th century gentlemen. Although mostly worn for effect a gentleman carrying such a sword was also announcing to the world that he was capable of defending himself with it and was trained to do so. The stylish and delicate appearance of these swords was an expression of confidence, social standing and competence in their use as formidable duelling weapons.