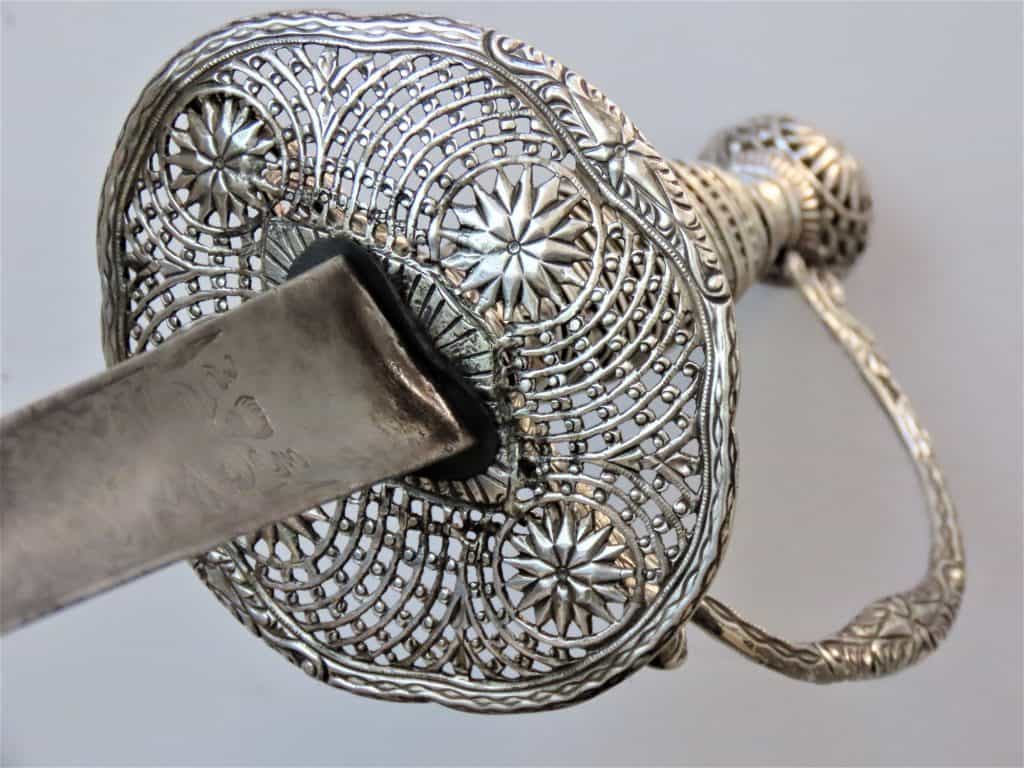 An English Silver Hilted Small Sword by Joseph Clare (II) Hallmarked for 1769 / 1770
To enquire about this item
please click here
Price: £1,180
Ref: 110.20
Item Description
An English silver hilted small sword by Joseph Clare (II) of London with hallmarks for 1769 / 1770.  The hilt is mounted with an oval shaped dish guard which is exquisitely pierced and engraved with  bold star shaped florets surrounded by  scrolls  and sprays which form the main design theme.  This design pattern is common to the pommel,  ricasso and knucklebow, which attests to the originality and homogeneity of the parts.
The sword is well-balanced and mounted with a hollow ground triangular section blade which retains its original decorative engraving on its three sides near the hilt. The baluster shaped grip is covered with spirally wrapped silver crimped strip, the strip separated by triple length twisted wire. Silver cap terminals are present top and bottom of the grip engraved with scallops. The cross guard is mounted with forward and rear drooping tear drop shaped quillons and shallow pas d'ane rings.
Joseph Clare was a talented silversmith and silver-hilted sword maker. From 1732 he was apprenticed to Jeremiah Marlow of the Goldsmiths' Company. After being made free he practiced at a few addresses within the City of London and died in 1771. Clare registered at least four marks with Goldsmiths' Hall, most being simple representations of his initials in panels which was most usual for silversmiths at the time. The mark on this sword is distinctive in its complexity in that it contains the four letters of his name "C L A R E" inside a panel (see Grimwade Number 358), the first two letters above and the following three below. This mark was registered on 1st  October 1767 and replaced an earlier simpler mark, but was in turn replaced by his last registered mark 16th September 1768. This distinctive mark, therefore, was used for less than a year and is a rare survivor.
For examples of Clare's work see "London Silver-Hilted Swords", their makers, suppliers and allied traders, with directory, by Leslie Southwick, 2001, Royal Armouries, plates 5, 53 and 61 (the latter two are in the Royal Armouries collection references: ix.798 and ix.1861) respectively, and for Clare's biography page 72
The hilt is an example of the high standards of design and execution required of the 18th century London silversmith as well as an example of one of the most effective weapons of the 17th and 18th centuries. The hilt retains its original pleasing contours and the blade is in fine clean condition. The engraved designs on the dish guard are clear and exhibit delicate working life repairs in two small areas on each side of the hilt either side of the blade. It appears that an opponent's blade may have punctured the delicate guard in these places which has led to the repair. The grip maintains its pleasing profile but the wire wrapping is distressed. The blade is discoloured with age related blemishes but is in fair condition.
For a further reference see Arthur G Grimwade, 1990, "London Goldsmiths 1697 – 1837 Their Marks and Lives" for a precis of the known records for Clare,  and a summary of his marks.
The blade is just over 32 inches (81.5 cm) long and the overall the sword is 38.5 inches (97.75 cm) long.