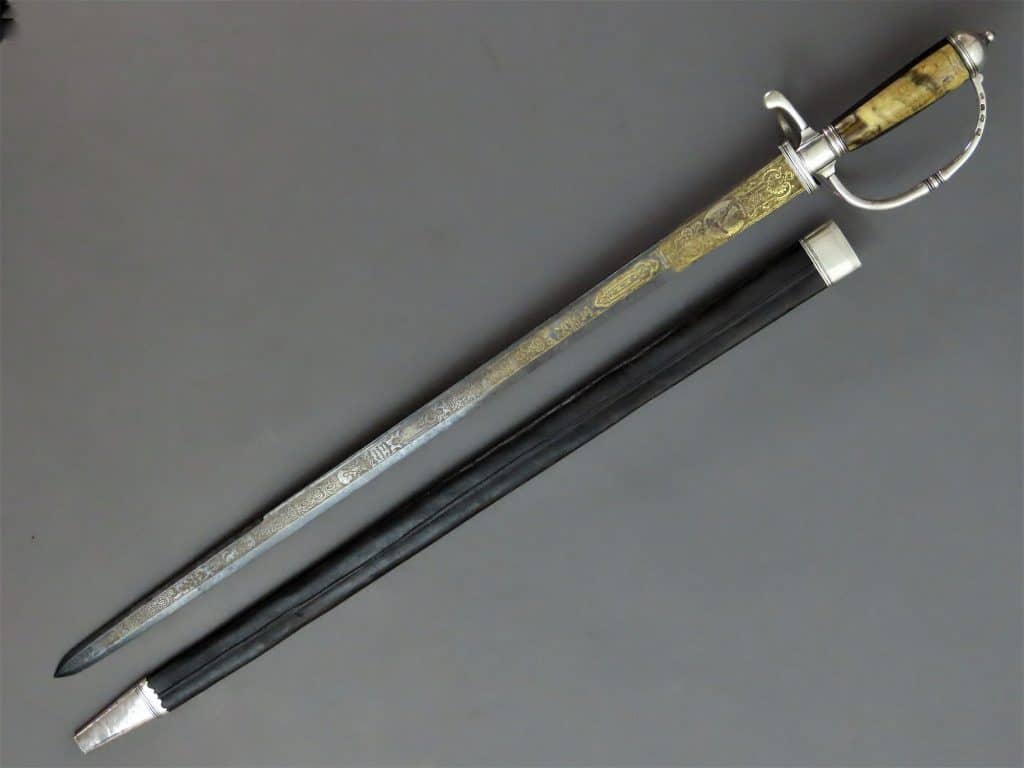 A fine English Silver Hilted Hunting Sword with hallmarks for London 1743 / 1744
To enquire about this item
please click here
Price: £3,400
Ref: AA.039.23
Item Description
A fine hunting sword mounted with a silver hilt of typically stylish mid-18th century English form, consisting of a domed pommel cap, curved side guard bar, rear quillon and a knucklebow. Both the knucklebow and side guard bar are ribbed in the middle. At its base the hilt is mounted with an integral rainproof cap which protects the scabbard mouthpiece. The knucklebow is struck with London hallmarks and the maker's mark "I S", almost certainly for John Fessier Savigny, who was a cutler of Huguenot descent working in London in the mid-18th century.
The sword retains its leather scabbard with its original silver mounts marked on the locket with the name of the retailer, Fleureau of St James's Gate, also in London. Fleureau was also of Huguenot descent. It is highly likely that both family lines were personally and commercially acquainted given their common roots.
The blade is of fine quality and engraved with designs on both sides  consisting of French mottos, classical vignettes, boar and stag images,  strapwork and foliage, highlighted in gilt on a dark blued background.  The grip consists of a core of wood covered with staves of horn.
The blade is French and is mounted onto an English hilt. Given the French origins of both maker and retailer such a coupling is not surprising, but whether swords like this were targeted towards a specific, possibly French émigré clientele living in London, is unknown. French pre-Revolutionary tastes carried an air of sophistication at this time which much of the English gentry and elites aspired to. Even though both countries were often at war. So it would not be surprising to find weapons like this to be popular with wealthy Englishmen in London. The finest English silver in the hilt enhanced by classical French engraving on a high quality blade would be an attractive blend.
Although called "Hunting Swords" (and the curved bladed versions "Hunting Hangers") the term "Hunting" is something of a misnomer. These weapons, like smallswords, were essentially intended for self-defence, often in the tight confines of London's streets, and evolved to a hiatus in the late 17th and 18th centuries. Some were intended for military use. See the portrait of Vice-Admiral John Benbow who died in 1702 who wears armour in a naval scene and is holding a hanger.
For similar examples of swords of this type and date see "London Silver-Hilted Swords", their makers, suppliers and allied traders, with directory, by Leslie Southwick, 2001, Royal Armouries.
The overall length is just over 30.75 inches (77.5 cm). The blade length 24.75 inches (just over 63 cm).