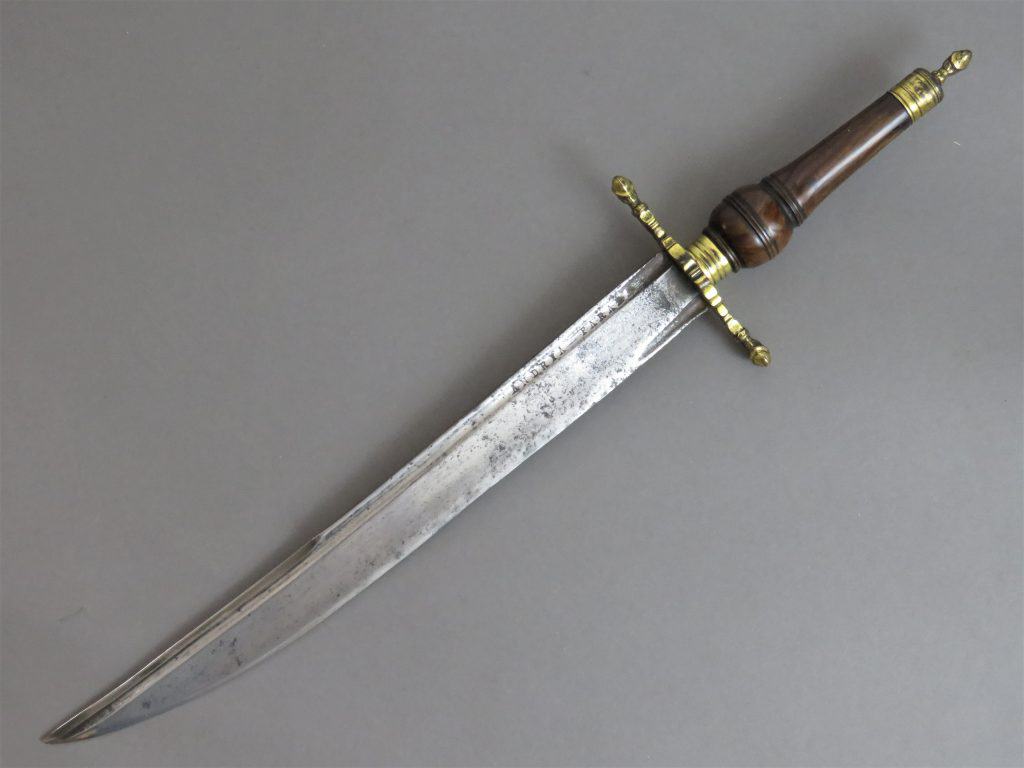 A Late 17th Century English Plug Bayonet for an Officer with Fire Gilt Mounts
To enquire about this item
please click here
Price: £2,350
Ref: 088.20
Item Description
A fine English Plug Bayonet for an Army Officer dating to circa 1690 to 1700. Plug bayonets were used by the British military after the middle years of the 17th century until they were replaced with the socket bayonet in the early 18th century.
The figured hardwood grip is of circular section tapering towards the pommel and has the characteristic swelling at the base turned with sets of decorative grooves around the circumference above, midway and below. A brass ferrule at the base separates the wooden grip from the cross guard. This is also decorated with a pattern of horizontal circular grooves. The cross has a thick oval shaped block with faceted edge and horizontal quillons. The tapering brass pommel sleeve is also decorated with horizontal grooves. Each quillon terminal and the pommel top consists of a helmeted warrior's head. The mounts retain most of their original gilding.
The particular feature of helmeted heads forming pommel caps and / or quillon tips was noted by Harold Peterson as an "English pattern that seems to have been very popular during the very late 17th century, and possibly the opening years of the next century" which "boasted pommels and quillon terminals in the form of helmeted heads". A survey of plug bayonets by R.D.C Evans devotes a section to English plug bayonets and notes that those with helmeted heads are English and illustrates several bayonets of this type.
The slightly curved single edged blade is of robust manufacture. It has a pronounced fuller which extends underneath the spine to the tip. Near the hilt the blade maker's mark "ANDRIA FARARA" is present on both sides indicating that the blade is of German, probably Solingen, manufacture. It has been adapted from an obsolete heavy sabre blade. The blade is double edged for two fifths of its length towards the tip. The ricasso consists of a blunt edge on the cutting side near the hilt which has a short fuller running along side after which the sharp working edge commences. The blade length is just over 13.75 inches (35 cm) and overall the bayonet is 20.25 inches long (51.5 cm).
Army officers wore plug bayonets. A portrait of Captain Francis Hawley of the 1st Foot Guards in 1685 shows the Captain wearing a plug bayonet which has a plain wooden hardwood hilt mounted with brass.
Acknowledgements: Peter Finer Ltd, 2003 Catalogue, item 30 "A Fine English Plug Bayonet for an Army Officer circa 1690".
The bayonet is in fine condition overall. The hardwood grip exhibits a rich dark patina. The blade has mottled blackened patches in places.