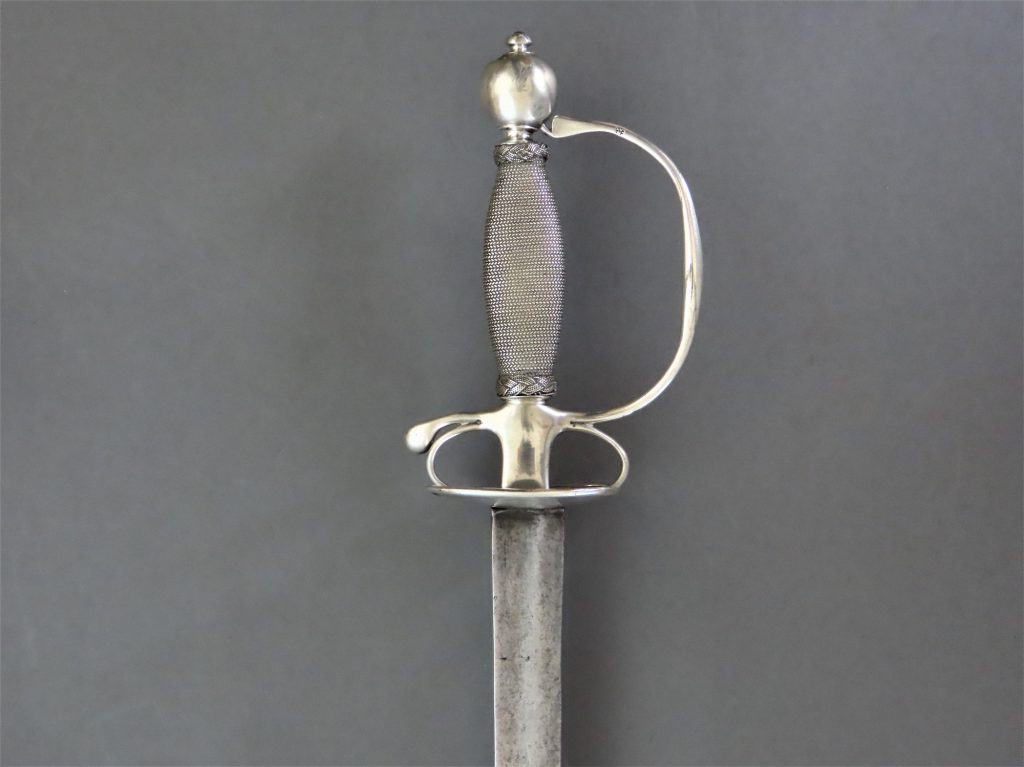 An English Officer's Silver Hilted Small Sword by John Carman of London dating to 1720 – 1730
To enquire about this item
please click here
Price: £1,750
Ref: 30.22
Item Description
An interesting English silver hilted officer's small sword by John Carman of London. The plain stylish hilt is typical of English  silver hilt design of the late 17th and early 18th centuries comprised of bold simple curves and solid workmanship.  This is a nicely balanced example.
The hilt consists of a guard formed from shallow dish-shaped plates with reinforced rims, pas d'ane rings, a knucklebow, rear quillon plus an ovoid pommel with integral ribbed button on top.  The grip consists of a wooden baluster-shaped core covered with alternately twisted lengths of  roped silver wire and with woven "Turks Heads" top and bottom.
The maker's mark is for the first John Carman and is stamped twice on the hilt, once on the rim of one of the shell guards and again on the knuckle bow near the pommel. This mark is the second recorded by John Carman and was formed as a four cusp depression with the letters "I C" in raised relief inside with a star above and a pellet  beneath. See Arthur G Grimwade, "London Goldsmiths 1697 to 1837 Their Marks and Lives", Faber and Faber, 1976, mark 1190, page 92. This mark was registered in the Smallworkers' book at Goldsmiths Hall on 27th June 1720. 
See also Leslie Southwick, "London Silver-Hilted Swords", their makers, suppliers and allied traders, with directory, 2001, Royal Armouries, for an account of John Carman's life in pages 62 and 63. He was born in 1692/3 and died in 1741. From 1708 he was apprenticed to the accomplished London sword cutler Thomas Vicaridge, then George Atkins, to be sworn "free of the Cutlers' Company by servitude" in 1716 when he registered his first mark, comprised of the first two letters of his surname "C A" inside a rectangle, in line with the Britannia Standard.    
The military type blade is single edged with a double fuller running underneath the spine and is unmarked.The blade is just under 30 inches long at 75.75 cm. The overall length of the sword is 36 inches (91.5 cm). The condition of the hilt is fine and in original form although there is a small dent to the pommel top. The blade has been cleaned and shows some wear with a patch of pitting on the cutting edge near the tip consistent with damp collecting under the scabbard chape and attacking the blade  when the sword was sheathed and left aside for a period of time.