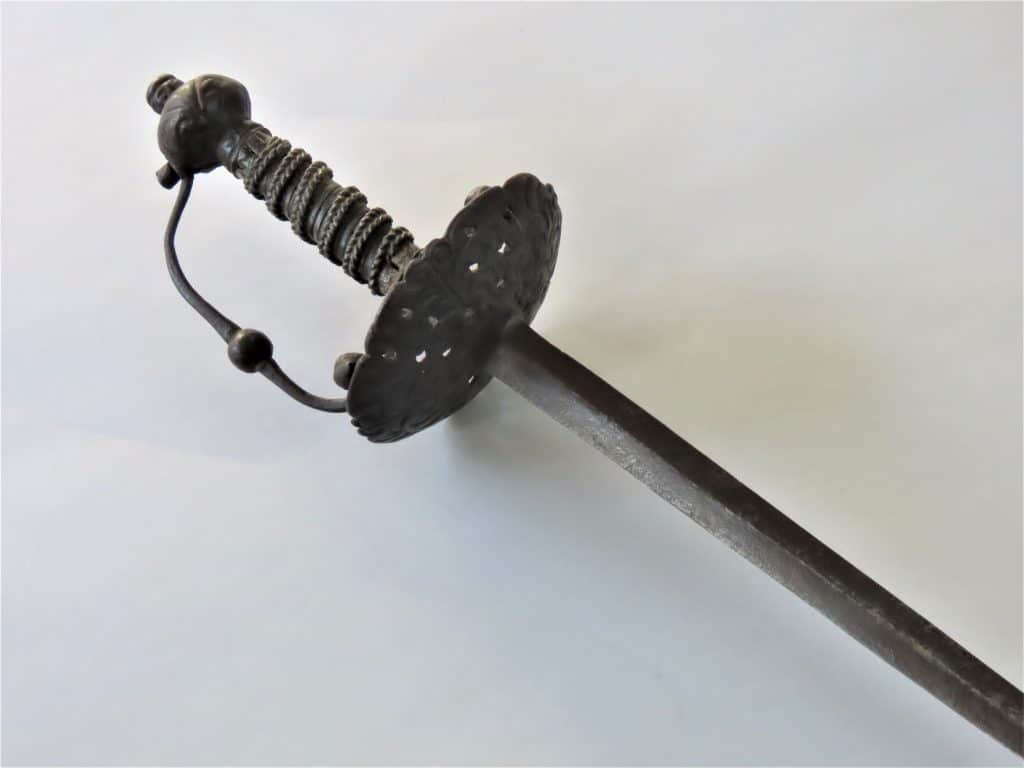 An English Civil War Period Rapier circa 1625 to 1650
To enquire about this item
please click here
Price: £2,350
Ref: 096.23
Item Description
An English Civil War Period Rapier dating to circa 1625 to 1650. The length, sturdy construction and deeply incised decoration to the hilt mark it out as a military style rapier. The notable aspect about this weapon is its rarely encountered original condition. The rapier retains an even blackened dense  patination all over and its original grip. The hilt is without repairs or damage and retains its pleasing original profile.
The iron dish guard is robustly forged and decorously divided into quarters on the inside and outside, each quarter decorated with deeply chiselled scroll work designs. The hem of the dish has been finished with crescents and cusps which accentuate the chiselled scrolls inside. The outer side of the tang aperture has been strengthened with a square shaped panel cut from the dish in raised relief with curled borders.
Front and back quillons emanate from a vertically rectangular solid block which is chiselled in the same manner as the dish. The quillons are of square section and bifurcate upon leaving the block, each branch turning at right angles and terminating in knops. This the quillon assembly forms a cradle which supports and strengthens the dish guard from the inside.
To the front a slender square section knuckle bow extends from between the bifurcated  quillon arms in a "D" shape upwards to be secured to the pommel by a screw. Halfway along the knuckle bow a swollen knop is present reminiscent of the quillon terminals. The pommel is of slightly compressed globular shape with an integral neck beneath and button on top.  The pommel is chiselled with scroll designs similar to those of the the ricasso and dish guard.
The original hardwood grip is of oval cross section. It is spirally bound with two thick pieces of contra twisted  silver / white metal roped wire with silver / white metal strip between. The grip was probably originally mounted with silver / white metal "Turks' Heads", or washers, at the top and bottom which are now absent.
The plain, stiff, blade is of tapering flattened diamond section and just over 32 inches (81.5 cm) long. It a short ricasso. The overall length of the rapier is just over 38.5 inches.
English rapiers of this date exhibit a common form and style, however, there are many variations under this umbrella. For variant English rapiers see Stuart C Mowbray, "British Military Swords", 2013, Andrew Mowbray Publishers, Volume One, 1600 to 1660, pages 254 to 281.