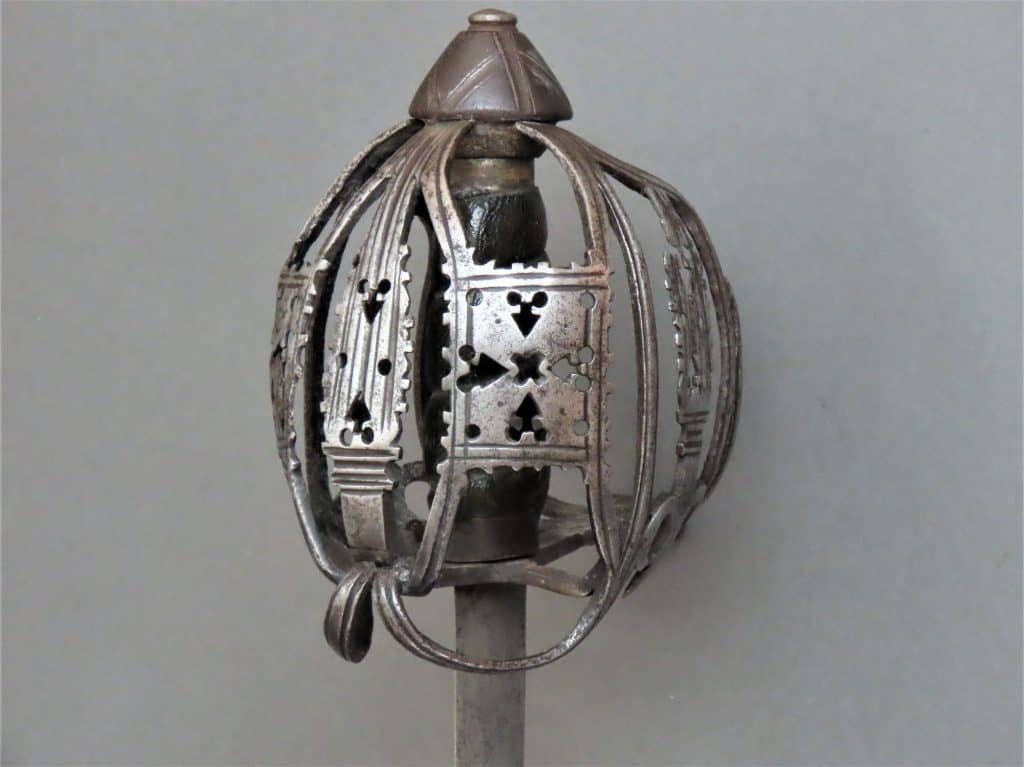 An Early 18th Century Scottish Basket Hilted Sword
To enquire about this item
please click here
Price: £2,150
Ref: AA.057.18
Item Description
A Scottish basket hilted sword of traditional manufacture dating to the early 18th century. Historically this period in Scotland is marked by the failed Jacobite Rebellion of 1715. The sword is mounted with a fine quality double edged blade and is nicely proportioned and well balanced.
The basket guard is composed of finely forged flattened structural bars. Two primary square guard panels are attached at the front of the hilt by saltire bars. These are pierced with circle and triangle shapes with the points directed towards a pierced floret in the centre. The secondary guard plates consist of a front knuckle bow and side guards. The side plates are forged with thickly formed merlons at the base which add strength to the structure. The three secondary panels are pierced with triangles and circles like the main guard plates. All the guard plates and bars are decorated with parallel incised lines and the outside edges of the plates are fretted.
The three structural bars of the guard are curved upwards and slot into a groove cut around the base of the cone-shaped pommel. On top the pommel is decorated with three equally spaced sets of triple grooved lines which radiate from the ribbed pommel button the spaces between infilled with similarly cut lines.
The grip is of wood, spirally grooved and covered with green shagreen with iron washers top and bottom. The wire binding to the grip is missing but its imprint remains.
The shoulders of the tapering lenticular section double edged blade are accommodated by a groove chiselled into the underside of the cross guard in the Scottish manner. The blade is marked "I N T O L E D O" on each side.
The decoration of longitudinal lines applied to the structural bars is reminiscent of the style developed by sword makers working in Glasgow in the late 17th century which in its fully developed form became known as the "Glasgow" style. The early manifestations of this style are present in two swords which are similar to ours made by the first John Simpson of Glasgow housed in the Kelvingrove Museum Collection in Glasgow and may be seen in Cyril Mazansky's "British Basket-Hilted Swords", Boydell Press 2005, page 102 and 109.
The overall length of the sword is 41.25 inches (just over 95 cm)long 105 cm and the blade is just under 35.5 inches (81 cm) long.
Condition: Overall the sword is in fair condition with a few chips and cracks to the hilt with an aged rusted then cleaned patination all over.