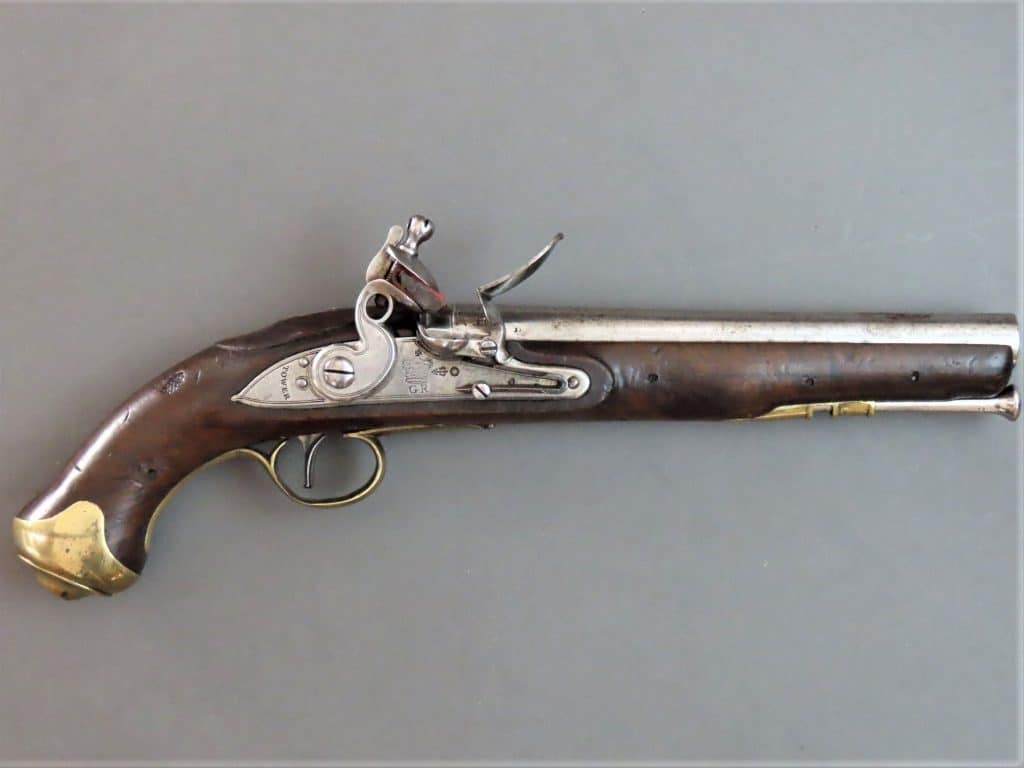 A British 1811 Pattern Light Dragoon Pistol with Flat India Pattern Lock
To enquire about this item
please click here
Price: £1,750
Ref: AA.062.23
Item Description
The design of this pistol was adopted by the Board of Ordnance in 1811 and is a copy of the East India Company's 1808-1811 pattern pistol. The pistols seem to have been acquired direct  from the Company by the Board, taken into store,  then issued to the British Army and its allies.
Provenance: This pistol is from the collection of the late Clive Brook who together with Barry Chisnall and Geoff Davies co-authored "British Ordnance Single Shot Pistols", published by Maine Military in 2019. The pistol is featured in pages 4-9 and 4-25.  A copy of this publication is included with the sale of this pistol.
Overall these pistols are similar to the 1799 Light Dragoon Pistol. Our pistol is one of the less common versions in that the lockplate is stamped with a Crown over arrow acceptance stamp (rather than the Crown over numerical inspection stamp of the EIC) under the pan.
The 9 inch 16 (0.66 inch) carbine bore barrel tapers to the muzzle and is baluster moulded at the breech and does not possess a sight. The flat lock is stamped with a crowned "G R" on the lockplate and the tail is stamped with "TOWER" and mounted with a ring-necked cock. The rammer is of button headed iron type, stamped with a "D" on one side and a Crown on the other, and housed in a three collared throat pipe with internal spring.
The brass trigger guard, flat side plate and butt cap are of standard form adopted from the 1799 pattern Light Dragoon Pistol. The walnut stock is stamped with the 1806 storekeeper's and acceptance marks.  The whole is in overall fine cleaned condition.