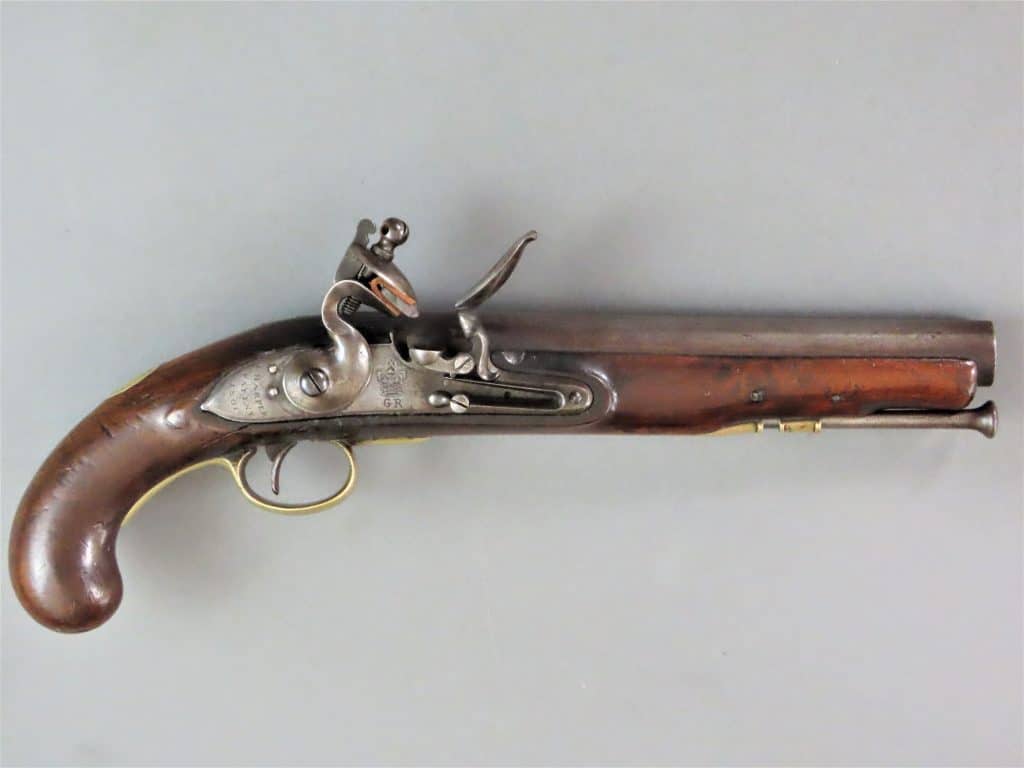 A Rare British 1796 Pattern Heavy Cavalry Officers' Pistol of Carbine Bore dated 1801 on the Lock and mounted with Harper's Patent Waterproof Pan
To enquire about this item
please click here
Price: £2,900
Ref: AA.059.23
Item Description
The 1796 Heavy Cavalry Pistol was the result of an initiative by the Board of Ordnance led by Henry Nock in the late 18th century to produce a more modern simplified pistol for Heavy Cavalry which was easier to maintain and more cost-effective to manufacture than its predecessors. This involved the slimming down of previous designs and a focus on improved core functionality.
When the desired model was achieved some gunmakers experimented with more advanced features to complement the design. John Harper's pistol discussed here is a privately made "modified" regulation pattern 1796 pistol with his patent raised waterproof pan. The pan is raised from the more defined rear and frontal drainage channels and the touch hole is protected by a small plate which guides water to the two channels away from the touch hole and straightens the curvature of the barrel above the pan to lie better in line with the frizzen. The patent seems to be a refinement of an earlier initiative by Henry Nock.
The barrel is stamped with private proof marks whilst a crowned "G R" is stamped onto the lockplate. The tail is stamped: "I  HARPER  PATENT  1801". There is no Ordnance acceptance stamp. The thumb plate is marked to the 21st Light Dragoons. The pistol almost certainly belonged to an Officer in that Regiment.
Provenance: The pistol is from the collection of the late Clive Brook who together with Barry Chisnall and Geoff Davies co-authored "British Ordnance Single Shot Pistols", published by Maine Military in 2019. The pistol is extensively described in pages 3-4 and 3-5, as well as illustrated in pages 3-14 and 3-15.  A copy of this publication is included with the sale of this pistol.
The pistol exhibits the typical minimalist design found in the 1796 Pattern. The 9 inch barrel is plain without a sight or mouldings at the breech and the tang is rounded rather that squared off. The trigger guard is short and plain, there is no butt cap, and the pistol lacks decoration and embellishment. The pistol is in nice original condition overall.