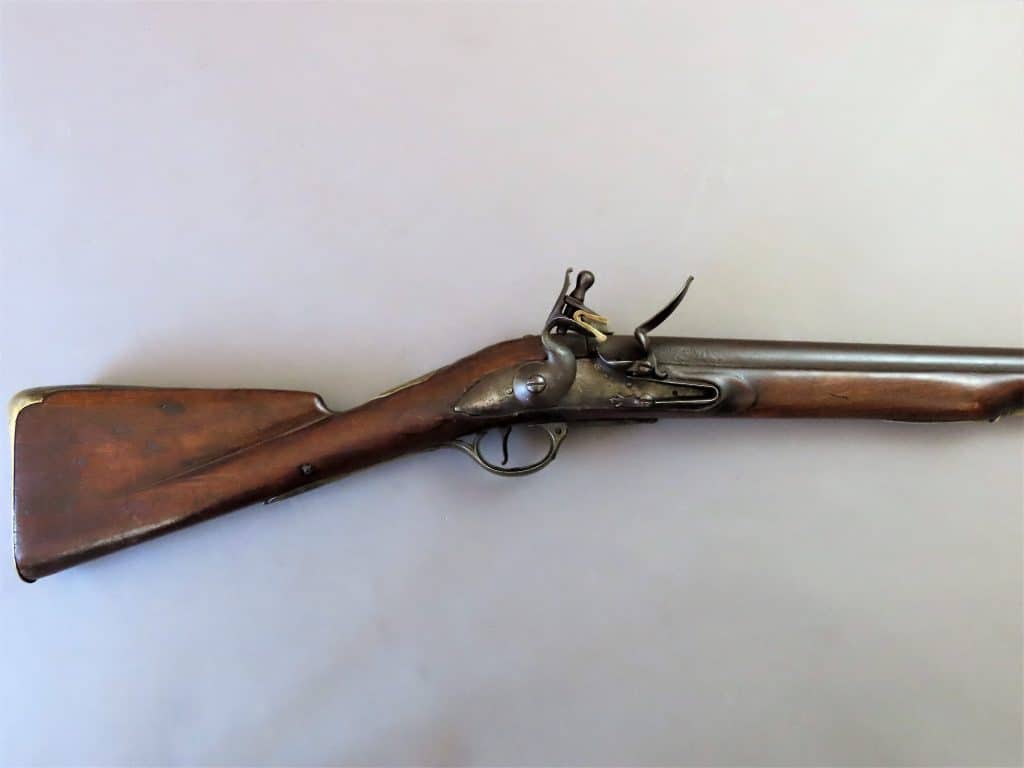 A Rare .780 Calibre Land Pattern Brown Bess Musket for Dragoons dated 1759 on the Lock
To enquire about this item
please click here
Price: £7,500
Ref: AA.043.23
Item Description
This pattern of Dragoon Carbine was a modification of the more numerous  Land Pattern Musket produced for infantry. It was issued to dragoons from the early 1740s until it was replaced with a regular Dragoon Carbine from circa  1770. The carbine is mounted with a 42 inch barrel which is 4 inches shorter than the usual infantry Land Pattern length of 46 inches in use when this carbine was made. This shorter length barrel was later adopted by British line infantry from 1768 and referred to as the "Short" Land Pattern Musket.  The carbine differs in some other minor ways in that the ramrod is of wood with a brass tip and the rounded fore-end is without a brass cap.
In the 1760's some new carbine designs appeared for dragoons with a smaller bore of .65 inch from which carbines evolved into more of a specific class of firearm of their own rather than as a modification of the Short Land Pattern.
The bevelled lock of this musket is of 1740 Pattern engraved around the border and stamped with a crown over GR in front of the cock, with the government ownership mark stamped beneath the pan. The tail is stamped "TOWER" over the date "1759". The sighted barrel is stamped "4" at the breech with two unclear Ordnance marks nearby. The barrel is retained by three pins and the upper swivel screw.
The musket is mounted with a full stock with typically high butt comb, regulation brass mounts and four cylindrical brass ramrod pipes of standard Land Pattern type. The side plate is of the usual Land Pattern rounded form.
The lock-side of the butt is stamped with a Georgian store keeper's mark and the reverse side is deeply incised with the letters "B B". The stock is stamped twice beyond the tail of the trigger guard with worn inspectors' stamps.
See pages 46 and 47 of British Military Longarms 1715-1815 by D.W. Bailey.