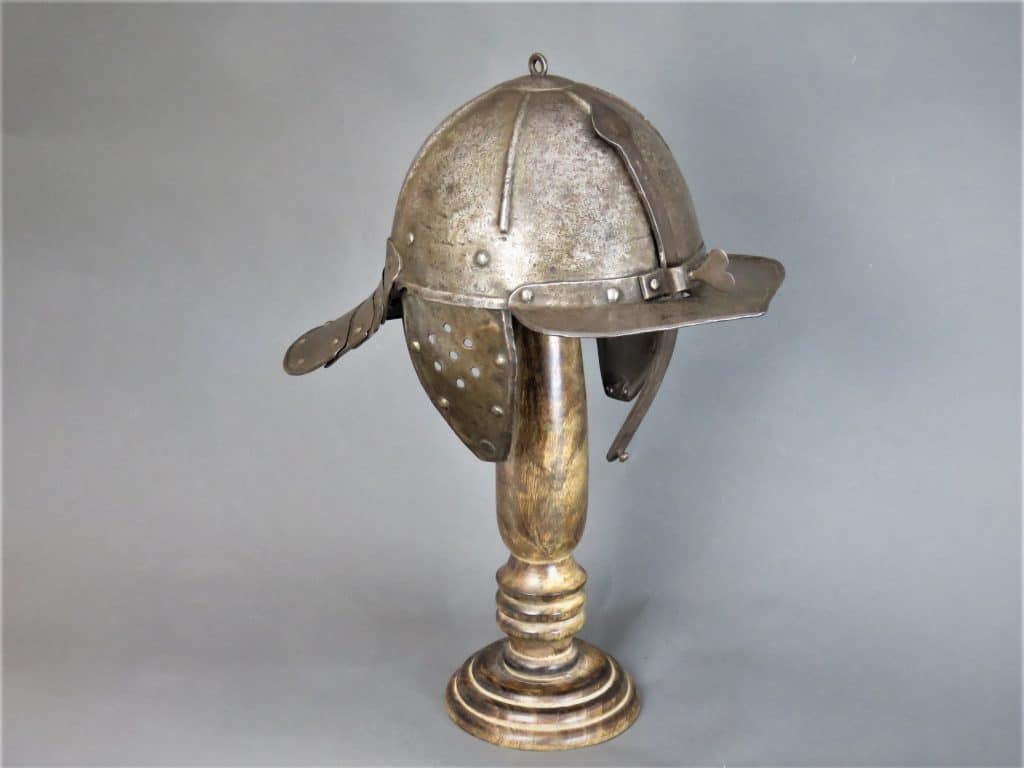 A North European Zischagge of the mid 17th century
To enquire about this item
please click here
Price: £2,150
Ref: 37.15
Item Description
Headgear of this type was manufactured in large quantities in the northern German states and in the Low countries towards the middle of the 17th century. Amongst other weapons and items of armour Zischagges were imported into England during the Civil War period when domestic armourers could not keep up with demand particularly on the Royalist side. For this reason many traditional English Civil War period collections such as that at Littlecote House have Zischagges in their armouries alongside more usual types of English armour.
This example is typically formed with a one-piece hemispherical skull embossed with six radiating ribs in raised relief and fitted at its apex with a  pierced finial on top of a circular domed washer. The brow has a flat obtusely pointed peak with a folded edge attached to the skull by six dome-headed rivets.  The peak is folded at its brim and pierced at its rear near the front of the skull with a rectangular hole to accommodate a sliding nasal-bar secured by a locking screw which passes through a riveted staple. The flange of the bar is stamped with a letter "N" and the peak with a letter "L".
A flaring neck-guard of four lames folded at the edges are attached together and to the skull by further dome-headed rivets at the nape. Each side of the skull is attached with one of a pair of pendent scutiform cheek-pieces each pierced with seven circular auditory holes in dice formation. Further dome-headed rivets are applied around the base of the skull and on the cheek pieces to secure an inner liner which is now absent. Inside, the skull retains its square metal lining washers reinforced with leather.
The helmet is a nice example of its type. The skull width side to side is 9 inches (just under 23 cm).