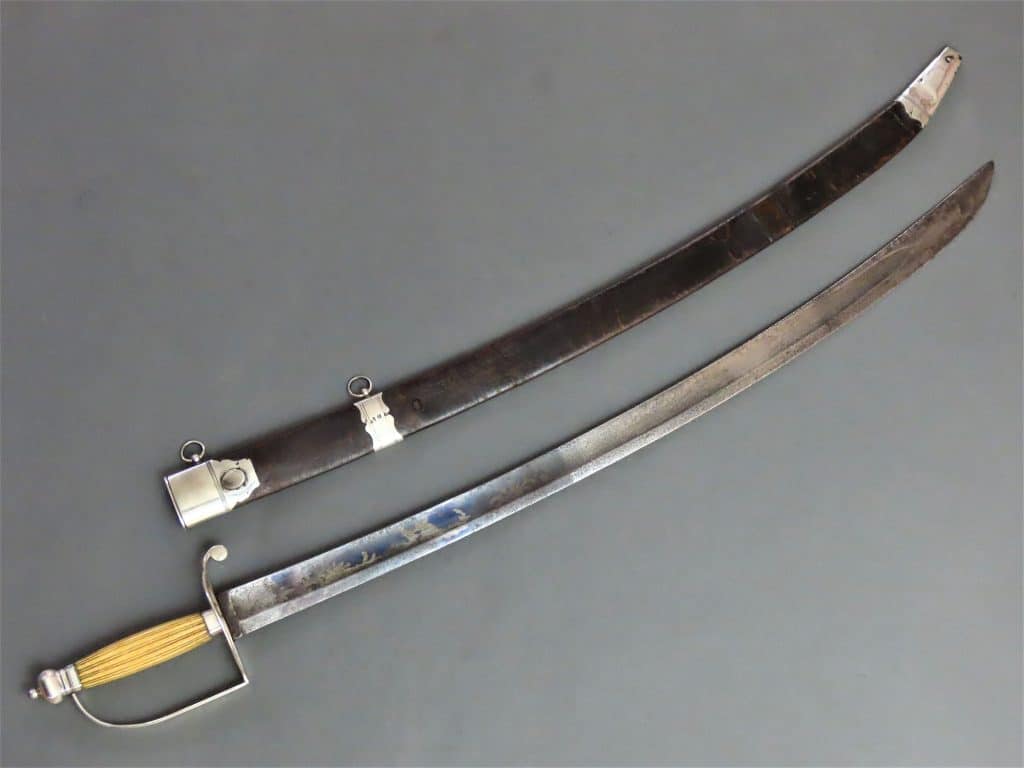 A Georgian Officer's Silver Hilted Hanger by Charles Freeth of Birmingham with hallmarks for 1801 / 1802
To enquire about this item
please click here
Price: £1,550
Ref: AA.095.22
Item Description
An interesting Officer's Hanger by Charles Freeth of Birmingham dating to the period at the end of the French Revolutionary Wars and the beginning of the Napoleonic Wars. Freeth was an accomplished silversmith working from the end of the third quarter of the 18th century until the beginning of the 19th. He is best known for the exquisite silver mounts he produced for some of the most high profile English gunmakers in the early part of this period. Swords by Freeth are rare.
The hanger has a plain hilt with a "D" shaped knuckle guard with a looped side guard inset with a hollow diamond. The square section cushion ribbed pommel sits on top of a vertically reeded ivory grip. The hilt is mounted with a curved blade decorated with scrolling foliage and a crowned "G R" cypher, highlighted in gilt, on a blued background. The hanger retains its scabbard.
The silver hilt parts and the scabbard mounts are profusely marked with Charles Freeth's stamp of "C F" in raised relief inside a panel, plus the date and Birmingham hallmarks.  The blade length is just over 27 inches (69 cm).
Overall the hanger is in good condition although the blue and gilt application to the blade is somewhat faded. The scabbard has survived generally well but at some time during its working life it has snapped near the chape and been stitched together with a short leather sleeve. The ivory grip has some small areas of flaking.