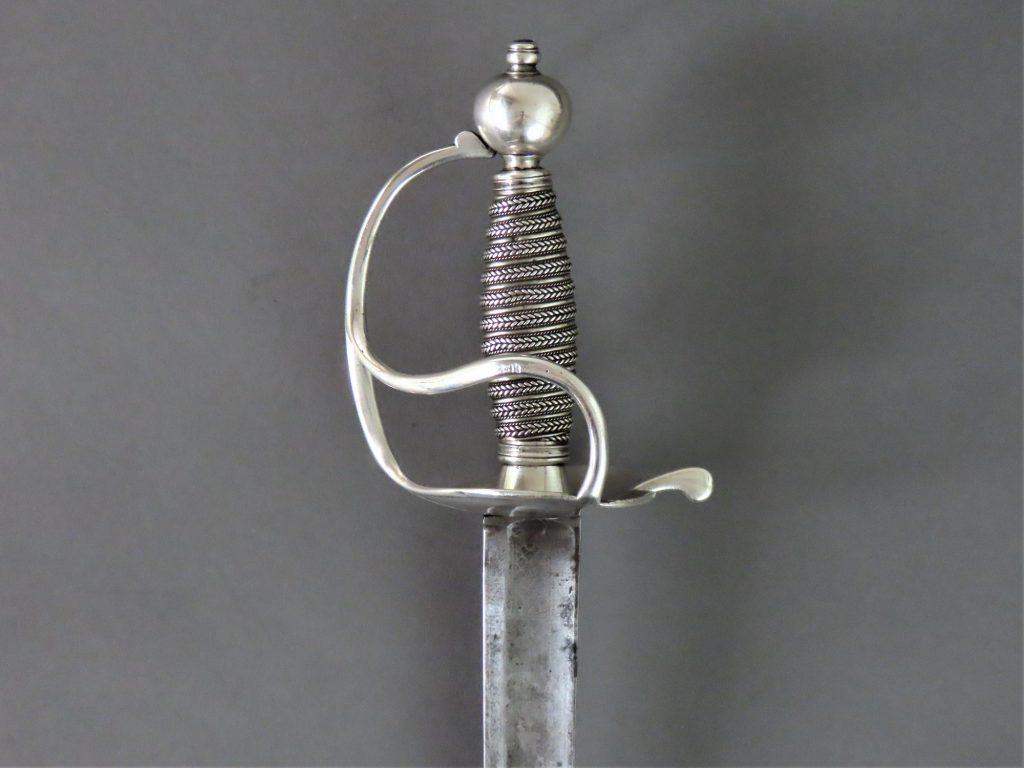 An English Silver Hilted Officer's Sabre by John Carman (II) of London with hallmarks for 1754 / 1755.
To enquire about this item
please click here
Price: £4,500
Ref: AA.038.23
Item Description
This fine officer's sabre was once part of the Lattimer Collection and is published in Daniel D Hartzler "Silver Mounted Swords – The Lattimer Family Collection", 2000, Josten's Printing Company, fig 130, page 68. An old collection reference number is painted in white on the blade near the hilt.
See also the same sabre illustrated in Daniel D Hartzler, American Silver-Hilted and Early Federal Swords According to Their Geographical Areas of Mounting, Volume II, 2015, in the section on "Imported Swords", fig 625, page 690.
The hilt and curved fullered blade are of British mid-18th century individual proto-military / regulation type. The hilt is formed from a base made as a convex  heart shaped dish with a strengthened brim from which the knuckle bow rises to a swollen hook terminal which fixes into the pommel front. The knucklebow is supported by a single scrolling secondary guard bar which protects the outside of the right hand of the user.
The globose pommel has an integral button on top and a pronounced neck beneath. The baluster shaped grip is covered with a decorous binding consisting of different thicknesses of straight and roped silver wire. The grip has a cone-shaped ferrule at its base. The dish guard has a wristguard with a swollen downward facing terminal. The knucklebow is clearly stamped with London hallmarks and the stamp of John Carman.
The curved blade has a short ricasso and a broad central fuller extending for most of the blade length with a narrower fuller underneath the spine of the blade for almost the same length.
The John Carman that made this hilt was the second cutler and silversmith of that name working in London in the first half of the 18th century. His father was the first who died in 1741. John Carman (II) was born in 1721 / 2 and was indentured to his father for seven years from 1736. He was sworn free by servitude of the Cutlers' Company in 1743 and registered his first maker's mark at Goldsmith's Hall in London in 1748. John Carman (II) was a successful businessman and sword maker. He rose through the ranks of the Cutlers' Company to become Master for 1761-2. He died in 1764.
The length of the blade is 31.25 inches (79.5 cm). The overall length is: 37.25 inches (94.5 cm).
The hilt of this sabre is somewhat similar in structure to a more complex and decorous silver spadroon hilt by the same maker hallmarked for 1755 / 1756 which sold at Bruneau Auctions in their sale of April 9th, 2022 lot, 82 (hammer price $10,000).