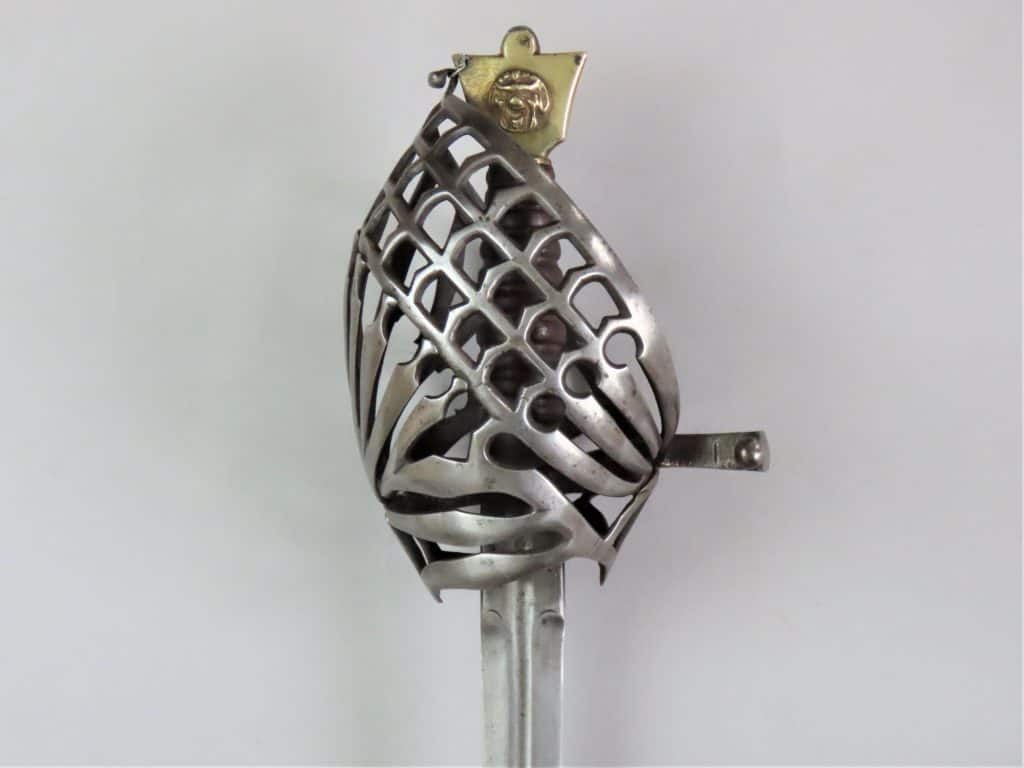 Venetian Schiavona
To enquire about this item
please click here
Price: £3,750
Ref: 047.23
Item Description
A fine example of a Venetian Schiavona dating to the later part of the 18th century. The hilt is a good representation of the fully developed form of the Schiavona guard, in good condition, without cracks or repairs. Numbers and shapes are incised seemingly in Cyrillic Script into the rear left lower guard bar. These and are probably armoury reference numbers or the identity of the owner.
The hilt consists of a complex trellis of delicately formed flattened bars with rounded and well finished edges. The straight quillon terminates in a globular finial and a loop thumb guard is present inside the hilt. The brass pommel is cast in two halves with a grotesque head present on either side. This is secured to the guard by a piece of silver wire binding which passes through a small hole in the pommel and wraps around a spur at the top of the hilt where the main guard bars converge. The original wooden grip is spirally fluted and bound with leather which is now brittle and with some losses. The wire binding, presumably once present, is now missing.
The slender broad sword blade is of good quality and of sturdy construction. A single central wide and shallow fuller extends for some 8.5 inches (21.5 cm) either side from the hilt flanked at the upper portion by two crescent moon shapes with faces also on either side of the blade. The blade is 38 inches (96.5 cm) long and in total the sword is 44 inches (111.5 cm) long. The sword is in good condition, well balanced, light and easily handled.
1.5 inch (4cm) ricasso, 10 inch (25.5 cm) central fuller extending from hilt.