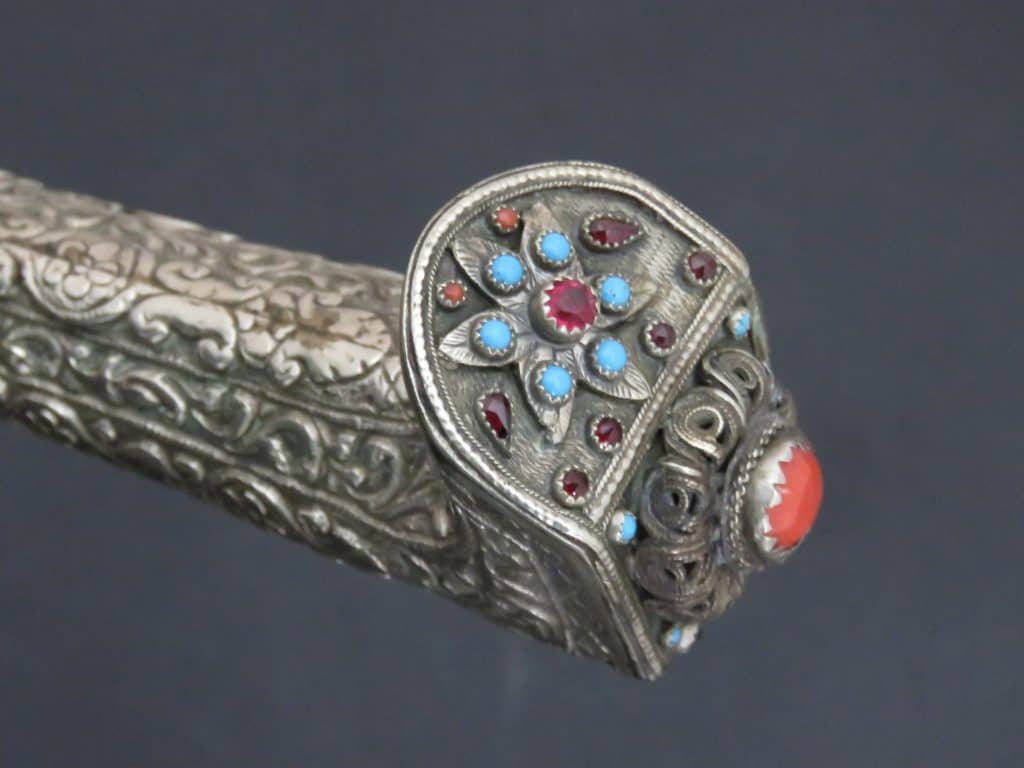 Turkish Yataghan Dated 1289 AH (1872 AD)
To enquire about this item
please click here
Price: £1,450
Ref: 36.15
Item Description
A fine Turkish Yataghan dating towards the end of the Ottoman Empire. The Yataghan is mounted with a typical single edged sickle-shaped blade with an inscription on one side at the forte set inside a silver-damascened panel containing the date and inscribed with the maker's name "Salih" and the owner's name "Ubayel" in thuluth script. The other side is decorated with a silver-damascened star inside a roundel. The blade is cut with a slender medial line along its back edge almost to the tip and is flanked with a narrow fuller each side.
The cast white metal hilt is embossed and chased in low relief with well executed vertical panels of foliage. The beaked pommel is set with imitation red coral, rubies and, turquoise stones on a filigree setting. The mounts extending from the grip over the spine of the blade on each side at the forte are engraved with foliage and set with a large imitation turquoise bead on each side.
The original wooden scabbard is covered with black leather with a wire seam along the inside middle. The white metal locket and chape are embossed and chased with scrolling foliage on each side against a punch patterned background in similar manner to the hilt. The locket is mounted with a suspension loop and the chape terminates with an engraved bud shaped finial. The blade is 22.25 inches (56.3 cm) long.