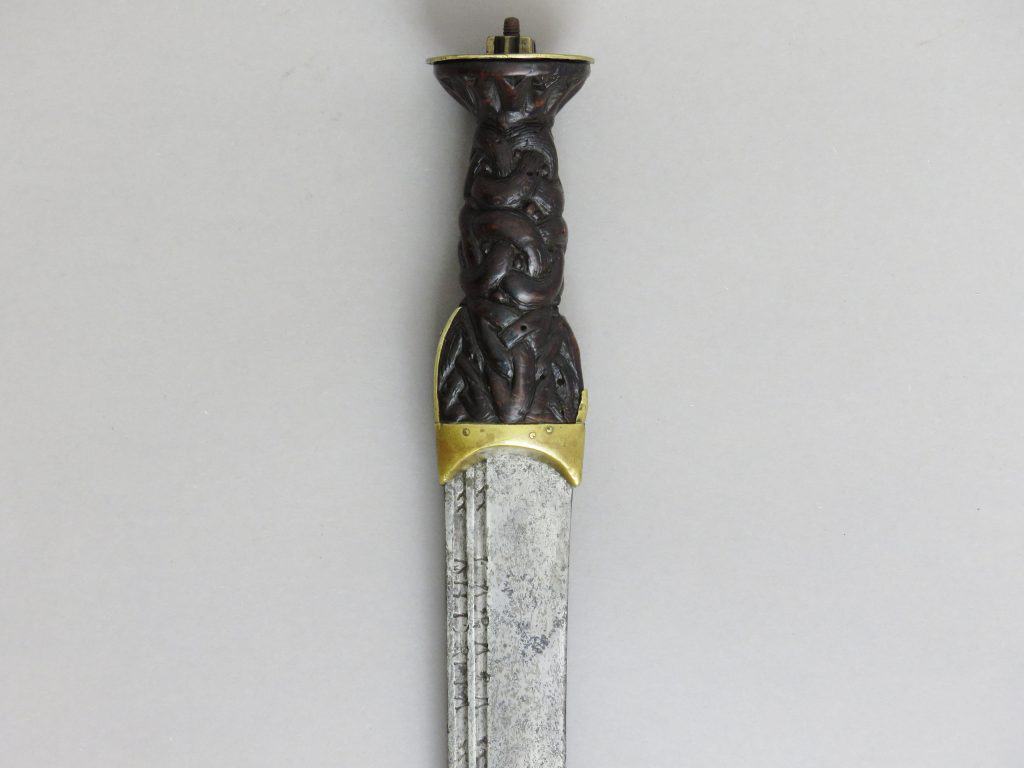 Highland Scottish Dirk circa 1725
To enquire about this item
please click here
Price: £8,750
Ref: 029.17
Item Description
A fine and sturdy 18th century Highland Scottish dirk dating to circa 1725, made with a bog oak grip, brass mounts and a cut down back sword blade. A fine example of this traditional Scottish Highland weapon dating to the period between the 1715 and 1745 Jacobite Rebellions.
The grip has a rich, deep, dark patina and is carved with patterns of reeded interlaced Celtic ropework, consisting of two bands at the middle section and knot work panels between the haunches. The underside of the pommel is decorated with a foliate pattern of arches.
The brass pommel cap is engraved with two concentric circles between which a delicate pattern of infilled crescents has been engraved. A similar pattern often appears on other traditional contemporary Highland Scottish craft items such as powder horns and targes. The tang is secured by a thick square shaped threaded brass nut with beveled edges above which a small amount of threaded tang protrudes.
The dirk has a typical brass crescent shaped ferrule applied to the base of the grip into which the ricasso shoulders of the blade sit secured by brass pins either side. Two strips of brass are mounted to protect the haunches of the grip base, a thinner one fitted onto the cutting edge blade side (now mostly broken away) and a wider one fitted onto the back edge haunch secured by a pin.  The brass parts display a dull aged patination.
The blade is fashioned from a cut down back sword blade of Solingen manufacture. A double fuller runs from the hilt underneath the blunt back edge. One fuller on each side is marked "ANDRIA" and the others "FARARA" flanked by incised crosses.
The overall length is 17.5 inches (44.5 cm) and the blade is 13 inches (33 cm) long.