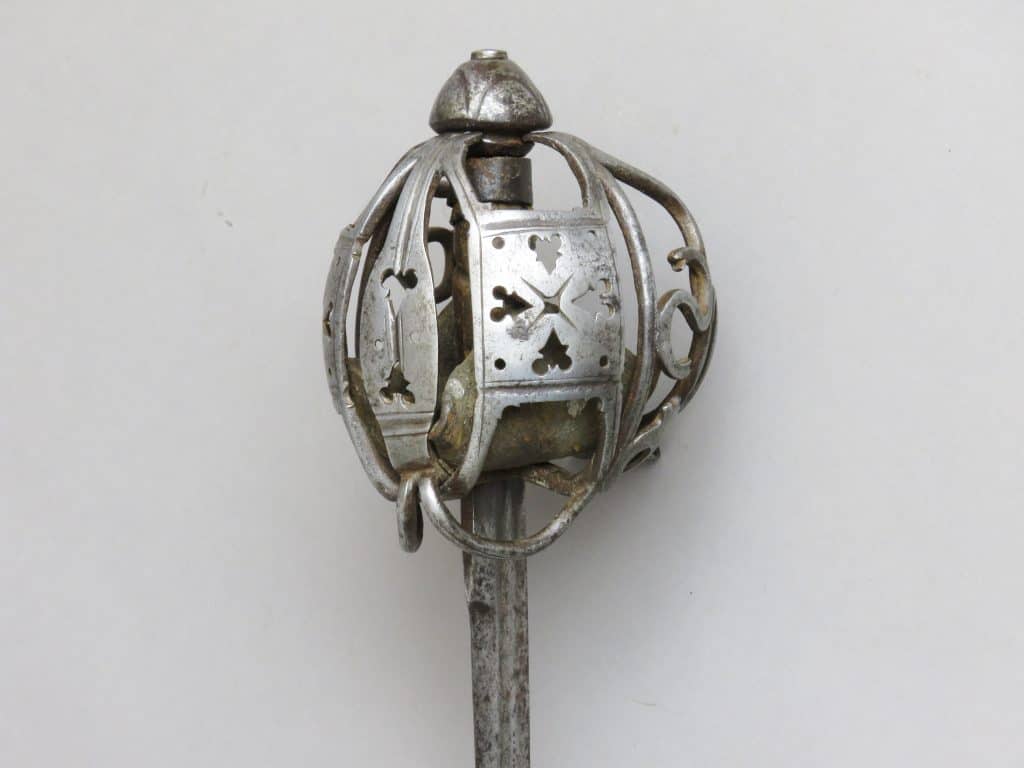 Scottish Basket Hilted Back Sword Early 18th Century
To enquire about this item
please click here
Price: £6,350
Ref: 056.18
Item Description
A Scottish basket hilted back sword of "S" Bar form dating to the early 18th century. The sword has survived in original uncleaned condition. The basket guard is a particularly sturdy example wrought with thick iron parts.
The guard  is formed from rounded structural bars and mounted with two main frontal guard panels which are pierced with saltires in the middle, surrounded by stylised hearts and circles, and incised with lines to the edges. A secondary guard panel, to the front, is decorated in a similar manner. The side guards are formed with "S" shaped bars with merlons beneath.
The three main guard bars which extend up to the pommel rim are filed with sets of triple grooves, the middle groove being wider than those on each side, and the pattern is repeated laterally at the top and bottom of each main guard plate and at the bottom of the secondary guard plate to the front. The three upper guard arm terminals are tucked into a pronounced groove cut around the lower half of the pommel.
Early "S" Bar Scottish basket hilts of this type are not excessively rare but they do not appear for sale very often compared to other types. The "S" feature when present on 18th century fully developed Scottish baskets is probably a throw back to the preceding 17th century baskets of ribbon-hilted, and other early Scottish basket forms, which were manufactured with more rudimentary "S" bars which infil the sides of the hilts. The hilt retains its wristguard.
The grip furniture is original. The tubular spirally fluted hard wood core of the grip is exposed and displays a dark patina. To the top and bottom the original iron ferrules are present from underneath which the remains of the original shagreen grip cover protrudes. A thick leather liner lies in contour with the base of the basket guard interior.
Of tapering single-edged form the blade is has a short ricasso with two wide fullers each side extending from the hilt almost to the tip. Each fuller is incised in capital letters "SOL   LIN   GER", each group of three letters separated and flanked by crescent "eyelash" marks. The phrase is probably a modification of the name of the town of Solingen, the German blade-making centre, where many blades were manufactured for mounting on Scottish sword hilts in the 17th and 18th centuries. For similar hilts see Cyril Mazansky, "British Basket-Hilted Swords", The Boydell Press, 2005 page 91.
The blade length is just under 32 inches long (81 cm) and overall the sword is 37.5 inches long (95 cm).