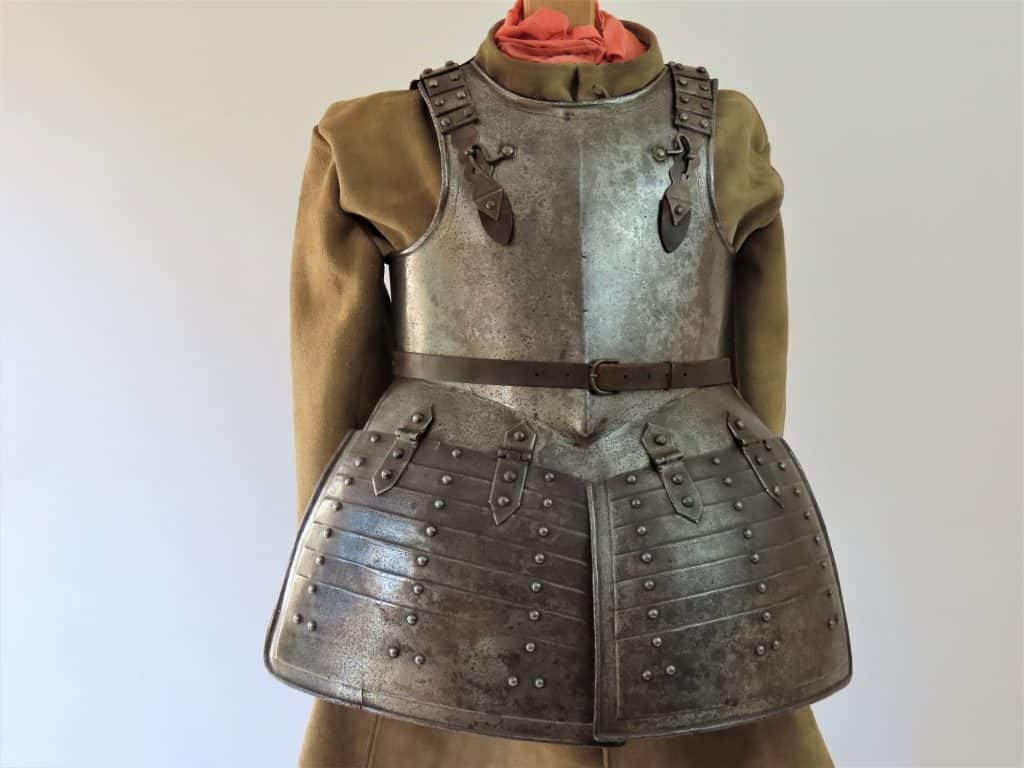 A Well Stamped English Civil War Period Pikeman Armour
To enquire about this item
please click here
Price: £3,600
Ref: 019.20
Item Description
A composite English Pikeman Armour dating to the second quarter of the 17th century.  The armour consists of a breast plate, back plate and tassets. The armour is in good condition for its age and type. The armour is mounted onto a wooden stand with a modern buff coat.
The breastplate is typically formed with folded moulded edges to the arms and neck. The plate has a pronounced vertical medial ridge to the front and flared skirt. It is stamped near the neck with the mark "T R" for the London armourer Thomas Rew. He finished his apprenticeship to Richard Medley and presented this mark to the Armourers' Guildhall in 1627. He is recorded as an armourer in the Account of Thomas Jay, Master of the King's Armoury, from 1628 to 1631, and appears further in the records in 1638 and 1639 (Richardson page 77). Overlying this mark is the later stamp of the "I R" crown and arsenal mark of the reign of James II.
The back plate is fastened to the front over the shoulders either side with straps of thick leather protected by studded plates attached by swivel hooks over pierced studs. Near the neck the plate is marked with the letters "S A" for the London armourer Samuel Ashton. He finished his apprenticeship to James Giles and was made free in 1626. He is recorded as delivering armour to the Tower in 1646 and as an armourer in the King's Armoury in 1650. He died in 1654. (Richardson page 26).
A further stamp to the right of this mark is a letter "A" with a crown above for the Armourers' Company which started to be used as a stamp of quality from  1631 until 1650 (Richardson pages 17/18).
The tassets are formed from single pieces of plate, hinged to the skirt of the breastplate, and embossed to simulate articulated lames of earlier type and mounted with decorative iron studs.
For further examples of these armours see: Thom Richardson and Graeme Rimer, "Littlecote – The English Civil War Armoury", Royal Armouries, 2012; and Thom Richardson, "The London Armourers of the 17th Century", Royal Armouries, 2004.