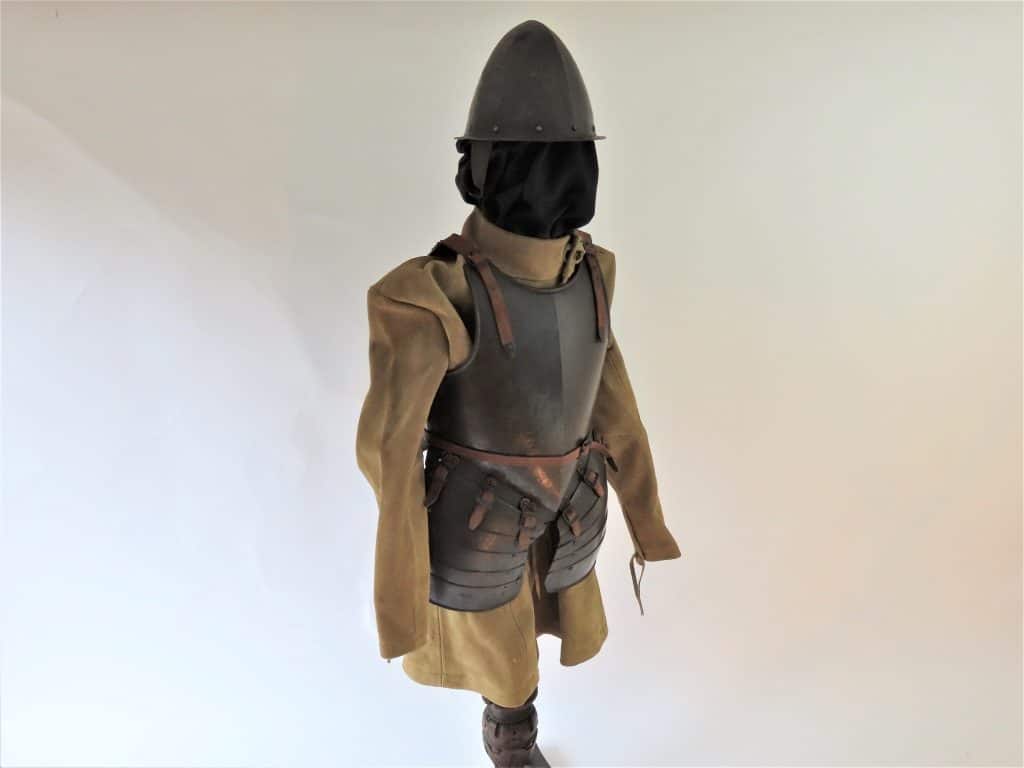 North European Munitions Grade Armour circa 1580 to 1600
To enquire about this item
please click here
Price: £4,750
Ref: AA.096.20
Item Description
A North European Munitions Grade Armour dating to the late 16th century. Armours like this were made in German workshops for export in huge quantities and were sent to many different countries in Europe where military demand outstripped domestic supply, and to countries without armour-making capabilities of their own. From a British perspective such armours were used by the Highland Clans and Border Reiving bands of Scotland.
The armour is of blackened russet iron all over and comprised of a breast plate, back plate, articulated tassets and a morion. The breast plate has a  medial ridge drawn out to a point at the base above a short flange, and is shaped with rounded turns at the neck and arms (the former roped at the neck). The back plate is formed in the same manner and pierced with a pair of holes near the neck. The skirt of the breast plate is attached with thigh-length articulated tassets each comprised of five separate lapping lames. The components are held together by leather straps and buckles.
The helmet is a German morion formed in the Spanish manner. It is forged from one piece of iron into a crown of rounded almond shape with a narrow flat integral brim projecting forwards and backwards into points. The edges of the brim are plain and folded under to create a rim and the base of the crown which is fitted with ten round headed rivets which hold the remains of the leather inner liner securing strap in place. To the rear a plume holder of brass is attached to the helmet with two further rivets.
The ear pieces are original. One is suspended from the inside of the crown by its two original suspension straps. The other is similarly attached though one of the straps has snapped. Although these helmets are not rare it is unusual for them to survive with their original ear pieces.
The armour is mounted on a wooden stand with a modern buff liner.