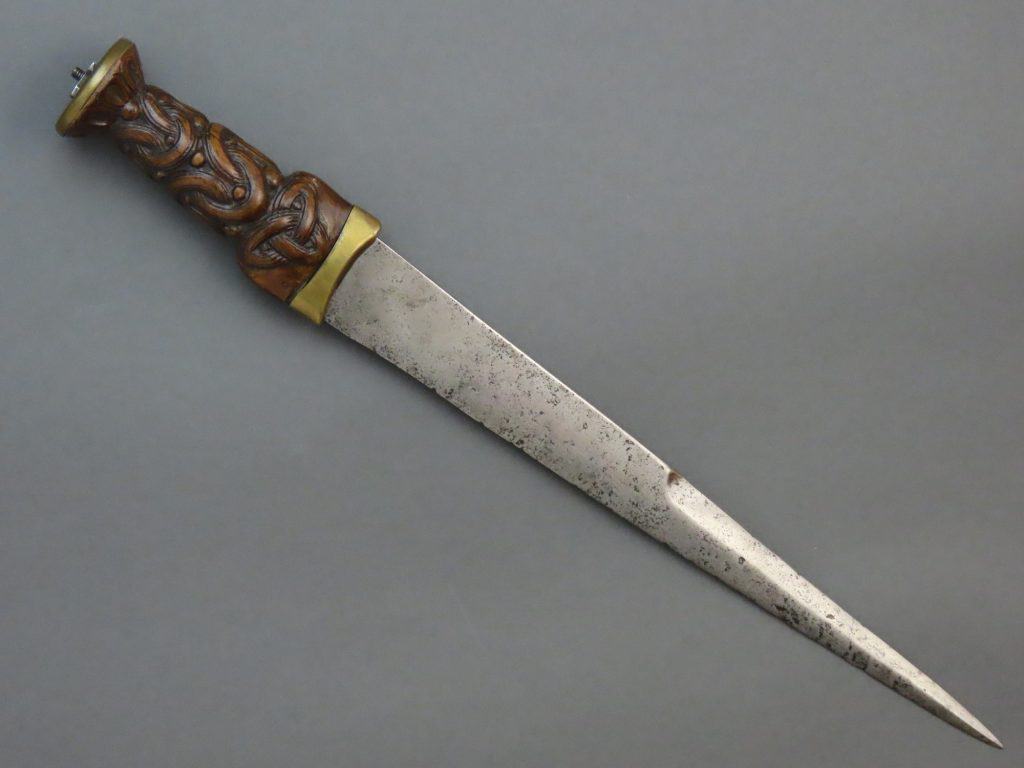 Mid 18th Century Scottish Highland Dirk
To enquire about this item
please click here
Price: £5,250
Ref: 55.22
Item Description
A fine Highland Scottish dirk dating to the middle of the 18th century, fashioned with a hardwood grip, brass mounts and a wedge shaped stiff, diamond section blade.
The grip decoration is applied in the Celtic manner. The middle section has two horizontal bands of reeded interlaced ropework in raised relief with small raised knops at the intersections. The underside of the pommel is carved with a pattern of conjoined arches and a ropework trefoil is carved between the haunches on each side.
The pommel cap of thinly beaten brass is folded over at the edge to protect the pommel rim and engraved with two concentric circles of double lines inside. The threaded tang top protrudes through the middle of the pommel cap and is secured by a square shaped iron nut incised with lines. The base of the grip between the haunches is protected by a brass ferrule which is crescent shaped where the blade joins the grip.
The blade is wedge shaped and has probably been cut down from a heavier earlier single edged sword blade. It is unmarked, any blade makers marks were probably erased during the cutting down process. Such blades were visibly formidable stabbing weapons. Overall the dirk is in fine condition. The blade has some old patches of minor pitting in parts. The blade is just over 12.5 inches (32 cm) long and overall the dirk is 17.5 inches long (44.5 cm).
For a mid-18th century dirk with a similar wedge shaped blade see John Wallace, "Scottish Swords and Dirks", Arms and Armour Press, 1970, fig 61.