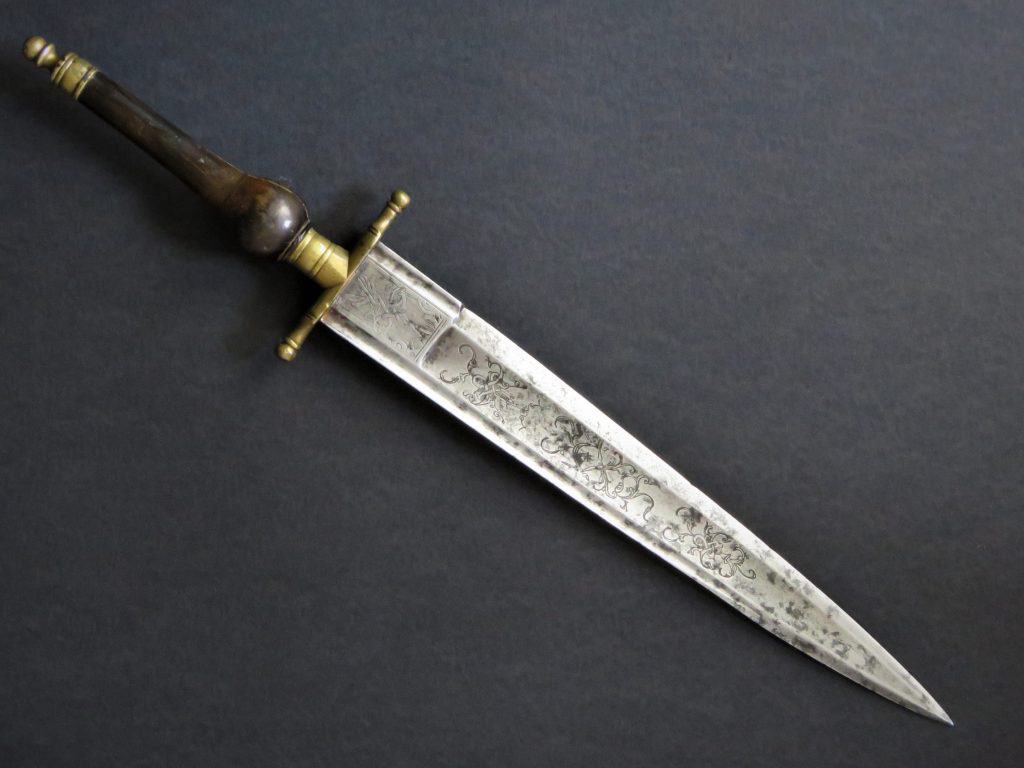 Late 17th Century Spanish Brass Mounted Plug Bayonet for an Officer
To enquire about this item
please click here
Price: £1,350
Ref: 115.20
Item Description
A fine Spanish Plug Bayonet for an Army Officer dating to circa 1700. Plug bayonets were used by the military after the middle years of the 17th century until they were replaced with the socket bayonet in the early 18th century.
The leaf-shaped tapering  blade is of very high quality and beautifully  symmetrical in outline. From the hilt the blade design commences with a bold ricasso with deeply incised fullers cut next to each squared edge. Between these a panel has been cut with foliate designs inside. On the termination of one of these fullers the sharpened edge of the blade extends to the point. The other continues underneath the blunt back edge of the blade to a short distance from the tip after which the blade is double edged. From the end of the ricasso a broad, deep, central fuller extends to the blade tip which is incised with foliate designs and a stand of arms.
The figured hardwood grip is of circular section tapering towards the bulbous ribbed pommel. It has the typically swollen bulb at its base with a thin turned collar below. The terminals of the cross guard quillons are similar in profile to the pommel.
The bayonet is in fine condition overall. The blade is exceptionally well preserved with clear designs and is still sharp. A crack has occurred to the bulb on one side and a vertical hairline split has occurred on the reverse side. The blade length is just over 10.5 inches (27 cm) and overall the bayonet is 16.25 inches long (41.25  cm).