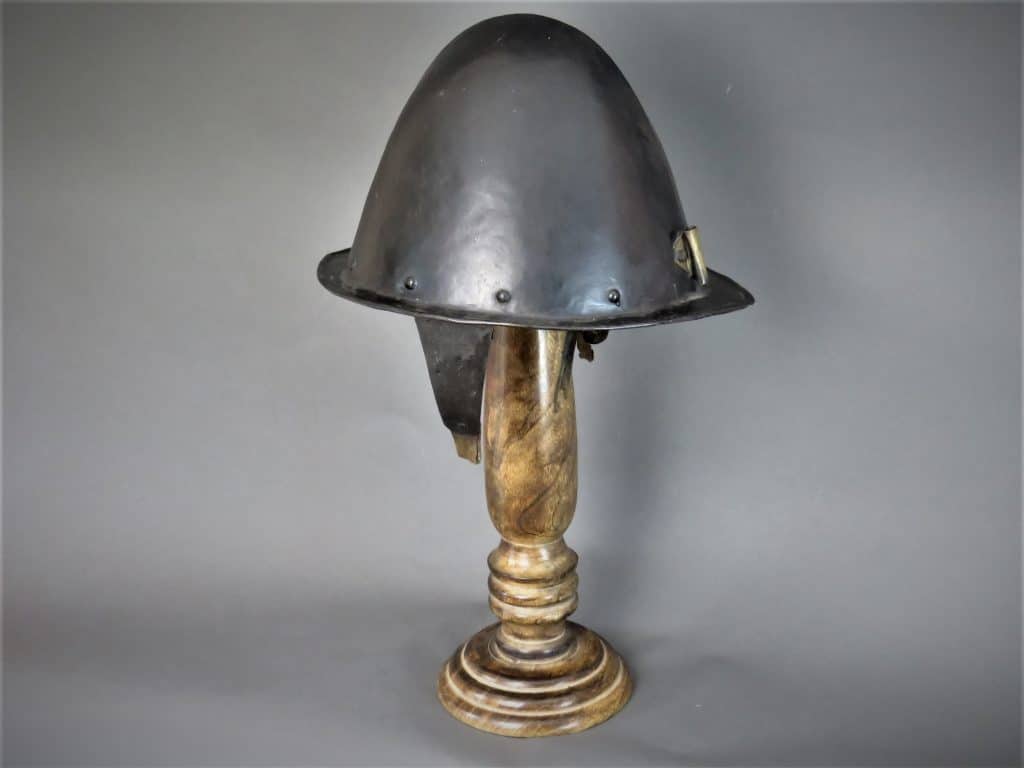 A German Morion made in the Spanish fashion Circa 1580
To enquire about this item
please click here
Price: £1,175
Ref: 046.17
Item Description
A late 16th century German Morion made in the Spanish fashion from one piece of iron forged into a crown of rounded almond shape with a narrow flat integral brim projecting forwards and backwards into points. The edges of the brim are plain and folded under to create a rim and the base of the crown is fitted with ten round headed rivets which hold the remains of the leather inner liner securing strap in place. To the rear a plume holder of brass is attached to the helmet with two further rivets. Overall the Morion is of plain form with an old paint finish.
The ear pieces are original. One is suspended from the inside of the crown by its two original suspension straps. The other has been detached and is now re-attached with string but the remnants of the original strapping remains. Although examples of this helmet type are not scarce it is unusual for them to survive with original ear pieces.
Morions of this munitions grade were a common enough feature on late 16th and early 17th century European battlefields worn primarily by infantry in pike and shot formations. Relatively inexpensive to manufacture they were exported by German smiths to many foreign armies.
The Morion is 10 inches (25.5 cm) wide, 12.75 inches (32.5 cm) long and 7 inches (18 cm) high.