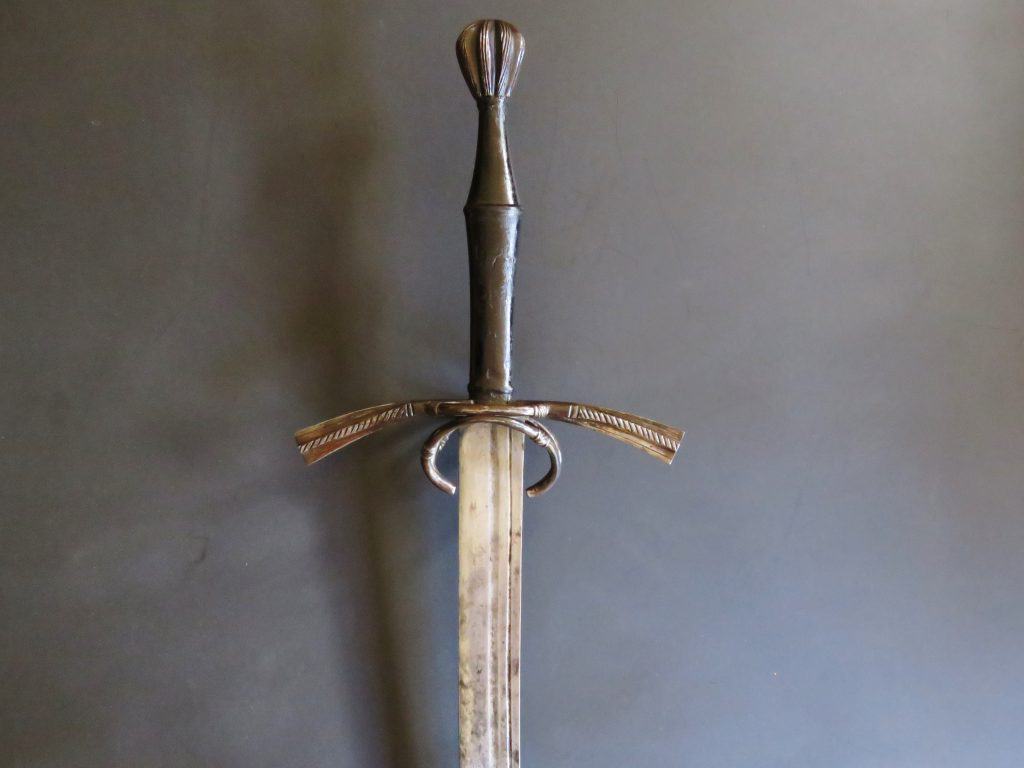 Fine North European Two Handed Sword Dating To Circa 1520
To enquire about this item
please click here
Price: £17,500
Ref: 020.17
Item Description
A fine, rare and well proportioned North European two handed  sword (hand and a half sword).  The hilt, which retains much of its original blackening to the iron parts, is an impressively chiselled example of the early 16th century armourer's craft. The flat, downwardly curved quillons,  widening towards square-ended terminals, with central rope-twist decoration in raised relief on both sides, plus the deeply grooved pommel with fluted ridges, mark this sword out as a member of a distinct and unique group of North European two-handed swords. So far as we know, only six of this type are presently identified.
The broad blade is single edged with a thick spine beneath which two fullers each side extend from the hilt for 40% of its length, after which the blade is double edged and of lenticular section. Three crescent-shaped notches are applied at the end of the spine. An armourers mark of facing crescents terminating in ovals, with a further oval imbetween,  flanked by trefoils of diamond shaped dots is present on one side a short distance from the hilt. The marks are most likely of a Passau smith.
The hub of the cross is formed as a thick bar of rectangular section. The distinctive quillons are rounded nearest the block and expand in vertically flattened form towards their terminals and are decorated with raised diagonally grooved rope-like lines along the middles which are flanked by further incised lines. Two horizontal ring guard bars of thick round section are applied to the sides, each formed with two raised knops with similar "roped" finish. Beneath the cross, a downward facing round section bar of open crescent shape is applied. Two further crescents, also decorated with knops, are forged onto the terminals of this bar and rise at 45 degrees to attach to, and strengthen, the side rings.
The pommel is of upturned pear shape and formed with eight equally spaced deep grooves which radiate from the pommel top to its base. The surfaces of the ridges imbetween are cut with narrow lines alternating in vertical, and diagonally vertical form, similar in depth and spacing as the lines which form the rope designs on the guard. The guard and the pommel retain much of the original  blackened finish. The waisted stepped grip is of wood covered with leather over a cord wrap. The blade length is 41.5 inches (105.5 cm) and overall is 52 inches (132 cm) long.
These large swords were not just for two-handed use. They were designed to be used equally well with one hand by a trained user. In the 16th century such  swords were quite common on European battlefields, carried by  armies fighting wars almost permanently during a time of shifting religious  and political change. As fashions moved towards the beginning of the 17th century they went out of use and today are rare compared to the survival rates of two-handed swords of the "bearing sword" variety – large, well made, imposing and decorous, but designed mainly to be carried point up in civic procession rather than for use in combat.
One fine example, almost identical to ours, is illustrated in "Records of the Medieval Sword", Ewart Oakeshott, St Edmundsbury Press, 1991, page 241, which sold through Peter Dale Ltd of London before 1982. The same example is illustrated in "The Price Guide to Antique Edged Weapons", Leslie Southwick, Antique Collectors Club, 1982, page 29, fig 49).
Oakeshott comments that another sword in the Victoria & Albert Museum in London (Inventory Number M.602-1927) and illustrated in "European Swords", Anthony North, page 6 fig 3, has an identical hilt apart from the guard having one branch.
A third example is illustrated in "Edged Weapons in Sweden", Staffan Kinman, Stockholm, 2014, page 29, fig 26b, and is similar to the British Museum example. Oakeshott comments on another in Zurich (Schweizerisches Landesmuseum Inventory Number LM 16933). A fifth sword with similar characteristics is also illustrated in Southwick (as above) fig 48, its location unknown.