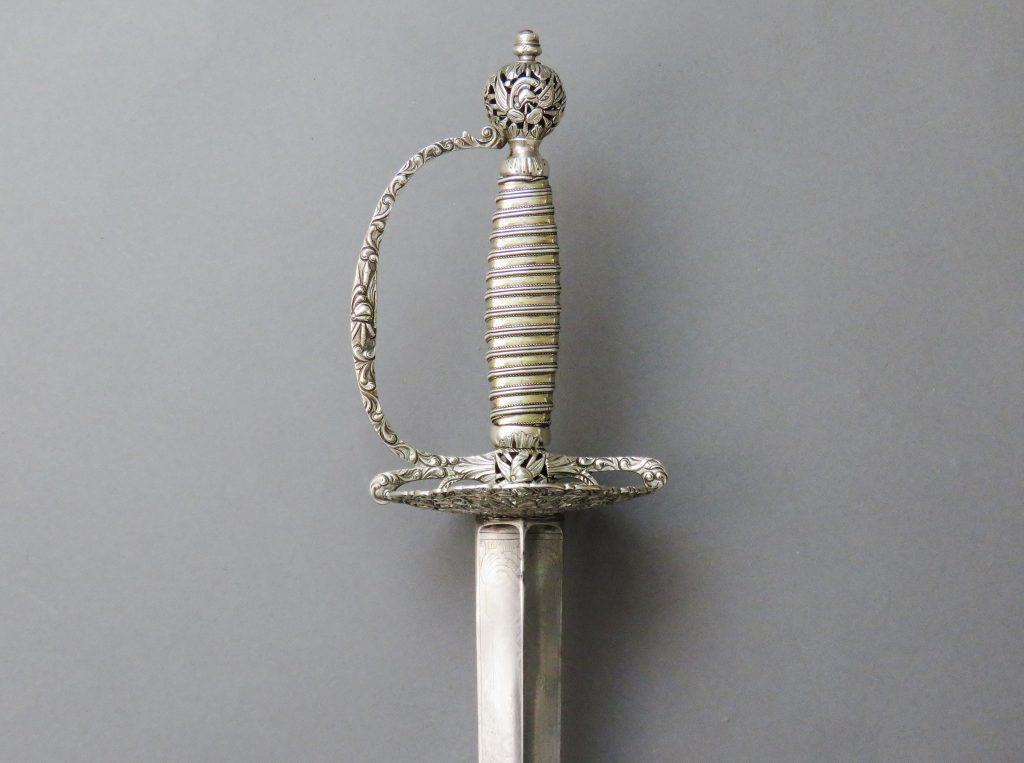 English Silver Hilted Small Sword circa 1750
To enquire about this item
please click here
Price: £1,975
Ref: 040.20
Item Description
A very fine London-made silver hilted small sword. The hilt is exquisitely pierced and sculpted with martial trophies, stands of arms, banners and scrolls. The hilt is stamped with the leopard's head of the London Assay office which is the mark of approved quality of silver used in the hilt construction. It is most likely that the sword belonged to an officer in the British Army and was worn as an accompaniment to civilian attire. These swords were fashionable with gentlemen of the 18th century and despite their stylish and delicate appearance were formidable duelling weapons.
The hilt consists of a shallow dish guard, pas d'ane rings, knucklebow, front and rear quillons, plus an ovoid pommel. The tapering, hollow ground, stiff, colichemarde, triangular section blade is decorated with engraved panels of scrolls towards the hilt on each side.  The grip consists of alternate bands of flattened and roped silver wire of contrasting thickness mounted onto a wooden baluster shaped core with engraved silver cap terminals top and bottom.
The hilt is in excellent condition without losses or repairs and has maintained it's original shape and pleasing outline. The blade is of the more robust type for this sword form and is 32.25 inches (82 cm) long. The overall length of the sword is just over 39 inches (99 cm).
For further information on this sword type see "London Silver-Hilted Swords", their makers, suppliers and allied traders, with directory, by Leslie Southwick, 2001, Royal Armouries.