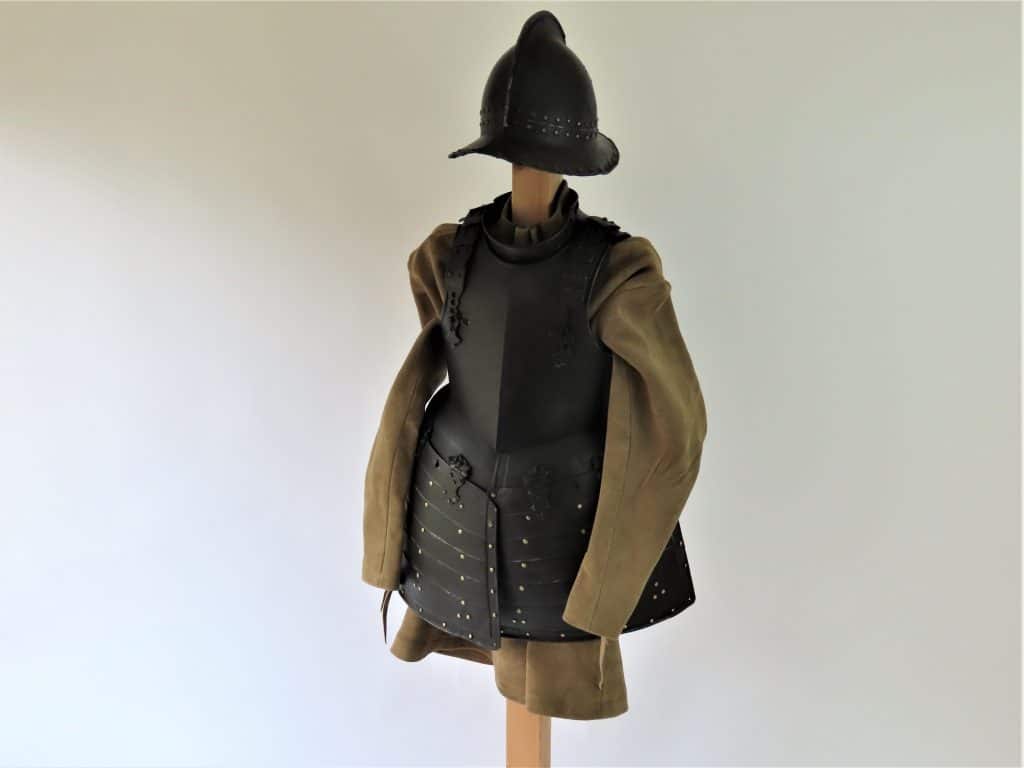 A Composite English Civil War Period Pikeman Armour
To enquire about this item
please click here
Price: £5,000
Ref: AA.097.20
Item Description
A composite English Pikeman Armour dating to the mid 17th century.  Typically the armour consists of a breast plate, back plate, gorget, tassets and comb helmet with a wide brim. The armour is in generally good condition for its age and type. The surfaces exhibit a consistent blackened colour all over. The armour is mounted onto a wooden stand with a modern buff coat.
The helmet is formed from two thinly beaten pieces of iron folded together over a high comb above the skull and riveted together at the brim front and back where both ends merge to a point. The wide brim slopes either side and is folded at the hem inside which domed rivets have been applied.  The base of the skull is surrounded with a further band of domed rivets which once secured a liner. The thinly forged metal of the skull is rusted through slightly on one side and retains its linear decoration.
The breastplate is typically formed with folded moulded edges to the arms and neck. The plate has a pronounced vertical medial ridge to the front and a flared skirt. The back plate is fastened to the front over the shoulders either side with straps of thick leather protected by small studded plates and fastened to the front with swivel hooks over studs. The higher neck area is protected by a gorget formed of two parts.  The tassets are formed from single pieces of plate, hinged to the skirt of the breastplate, and embossed to simulate articulated lames of earlier type and mounted with brass studs.
Condition: Fair condition as seen in the photos. The gorget has been extensively repaired.
For further examples of these armours see " Littlecote – The English Civil War Armoury", Thom Richardson and Graeme Rimer, Royal Armouries, 2012.