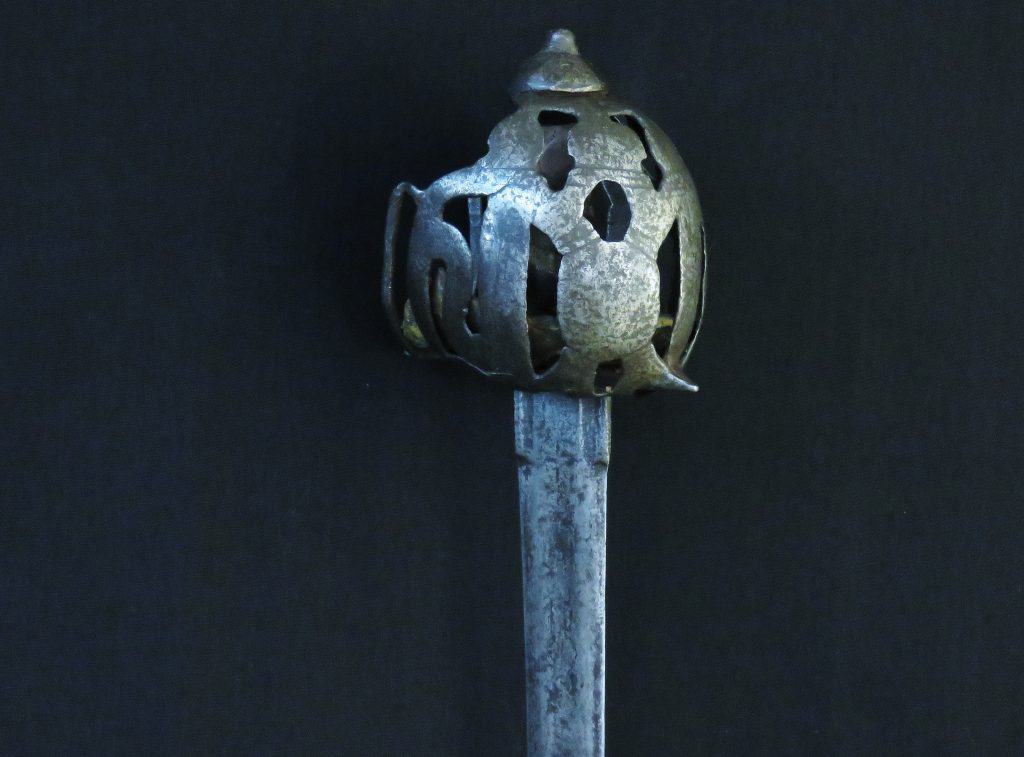 Beaked Neb Scottish Ribbon Hilted Broad Sword
To enquire about this item
please click here
Price: £6,500
Ref: 10.14
Item Description
An attractive Scottish "West Highland Ribbon Hilted", sometimes called "Beaked Neb", broad sword dating to the middle or third quarter of the 17th century, in good original condition. These swords are usually associated with Highlanders in the Civil War, Covenanting and early Jacobite periods in Scotland.
The sword has the characteristic "Beaked" hilt formed from wide flat iron bars forged together and decorated with cut grooves and lines. The basket is of sturdy construction. The arms are forged into a crescent of iron which fits into a groove extending most of the way around the pommel just below its middle. The pommel has an integrally raised button and is typically of door knob shape. The grip is formed from spirally grooved wood, now with some worm damage, and lacking its cover. The hilt also retains its leather liner.
The double edged blade is of gently tapering form and of flattened lenticular section for most of its length. A short ricasso extends from the hilt with two short fullers of the same length near each blunt edge of the blade. A central shallow fuller extends for 6 inches (15 cm) from the ricasso inside which a running wolf mark is present either side. Beyond the fuller an armourers mark is stamped, more distinct on one side than the other, inside a panel in raised relief and appears to be a serpent coiled around a pole in raised relief. The blade was probably made in Passau. The overall condition of the sword is somewhat pitted all over which is usual for Ribbon Hilts with blackened age staining in patches.
The only hitherto known portrait depicting such a sword is that of Lord Mungo Murray by John Michael Wright, circa 1670, and he is shown armed with a contemporary dag, dirk and long gun. His sword hilt is handsomely gilded. For a further reference work on ribbon hilt evolution see "British Basket-Hilted Swords" by Cyril Mazansky (Boydell Press 2005) pages 69 to 73. The blade is just over 32.25 inches long (82 cm). The overall length of the sword is just over 37.5 inches (95 cm).