A fine 12 bore flintlock sporting gun by William Heriot dating to the third quarter of the 18th century. This gun is important because it is one of only three 18th century firearms so far known and thought to have Scottish proof marks on the barrels. Few Scottish sporting guns have survived from this period compared to firearms of other types and generally they are of fine quality. The gun has a walnut stock with iron mounts, is elegantly contoured, finely balanced and in good working order and condition.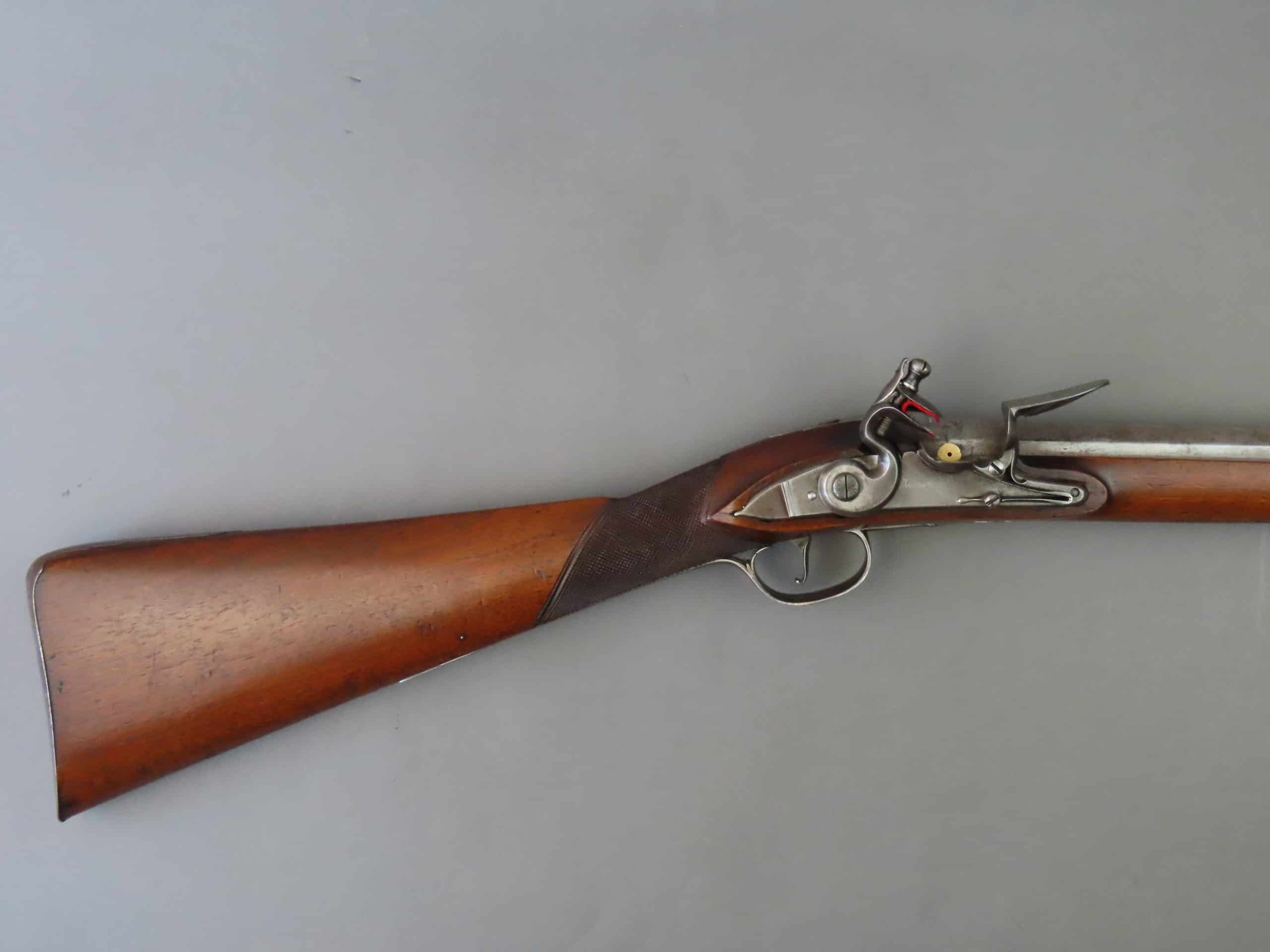 The half stock is well shaped with a horn terminal at the fore end and cut with an intricately chequered grip. The two-stage barrel is of thickened octagonal section tapering from the breech for 12 inches (30.5 cm) of its length after which it is of rounded section to its slightly bell-mouthed muzzle. This was an innovation adapted by William Heriot from bell-mouthed blunderbusses and applied to sporting guns to make loading and reloading easier and quicker. A decorative beaded and ribbed spacer extends around the barrel and separates the two stages. The barrel retains almost all of its original browned finish along the rounded section with some retained in the breech section. The grooved rear sight at the breech is complemented by a silver fore sight at the muzzle.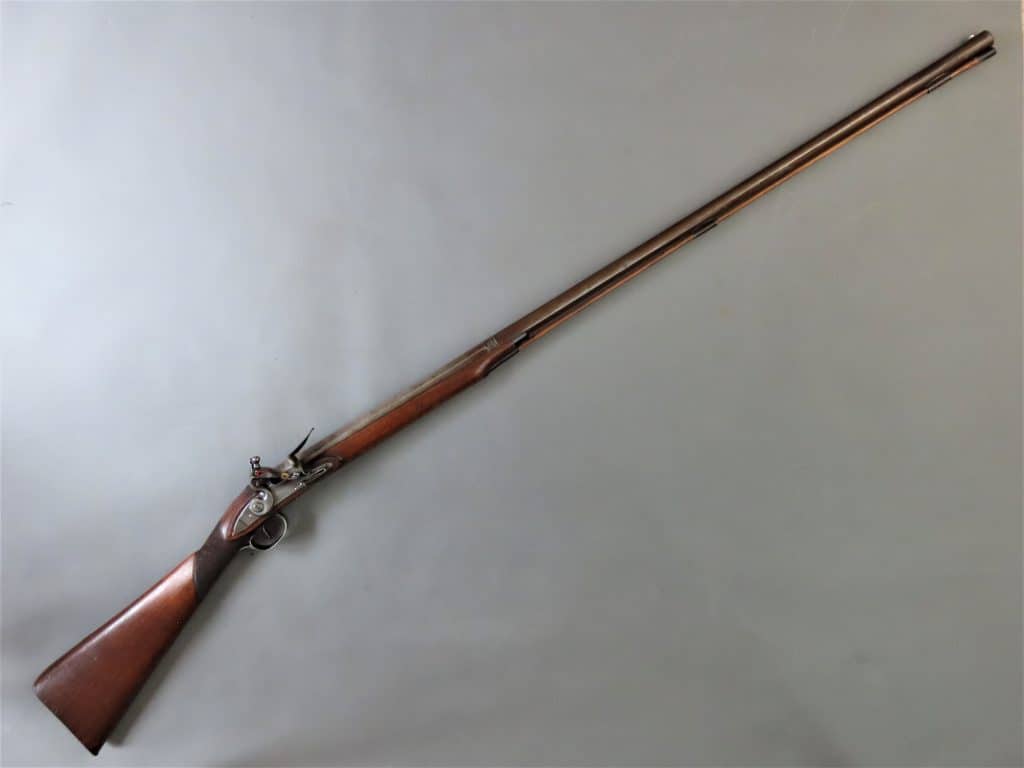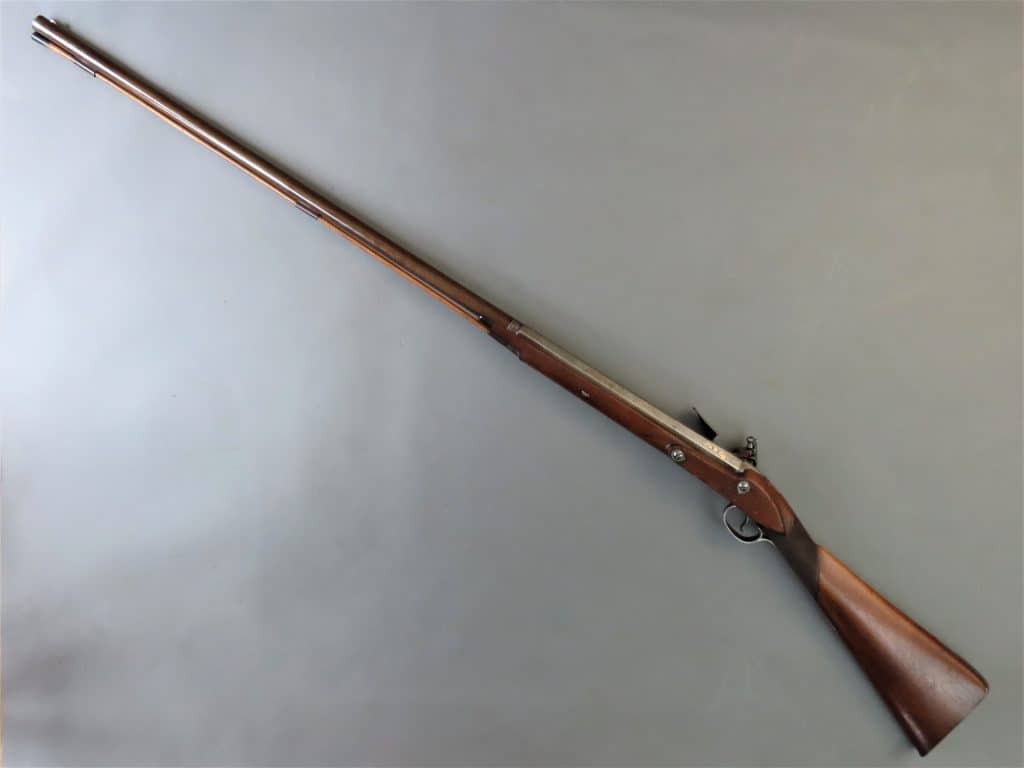 The plain, flat, lock is of fine quality with a stepped ribbed tail, bridled pan, swan necked slab cock and peasecod frizzen. As a mark of quality Heriot has applied a gold lined touch hole. The flat surfaced cock retaining screw head is applied with a delicate floral design and the two plainer lock retaining screw heads on the opposite side of the stock are supported by washers of teardrop shape mounted perpendicularly to each other. The standard of detailed workmanship applied to these features, which at first glance are rather plain, are indicative of the deceptively high quality of this gun. The trigger guard is formed with an acanthus finial and the butt plate is finely moulded to the stock and fixed with two screws. The hardwood ramrod retains its corkscrew worm, is tipped with horn en suite with the fore end terminal and secured to the barrel by three ramrod tubes.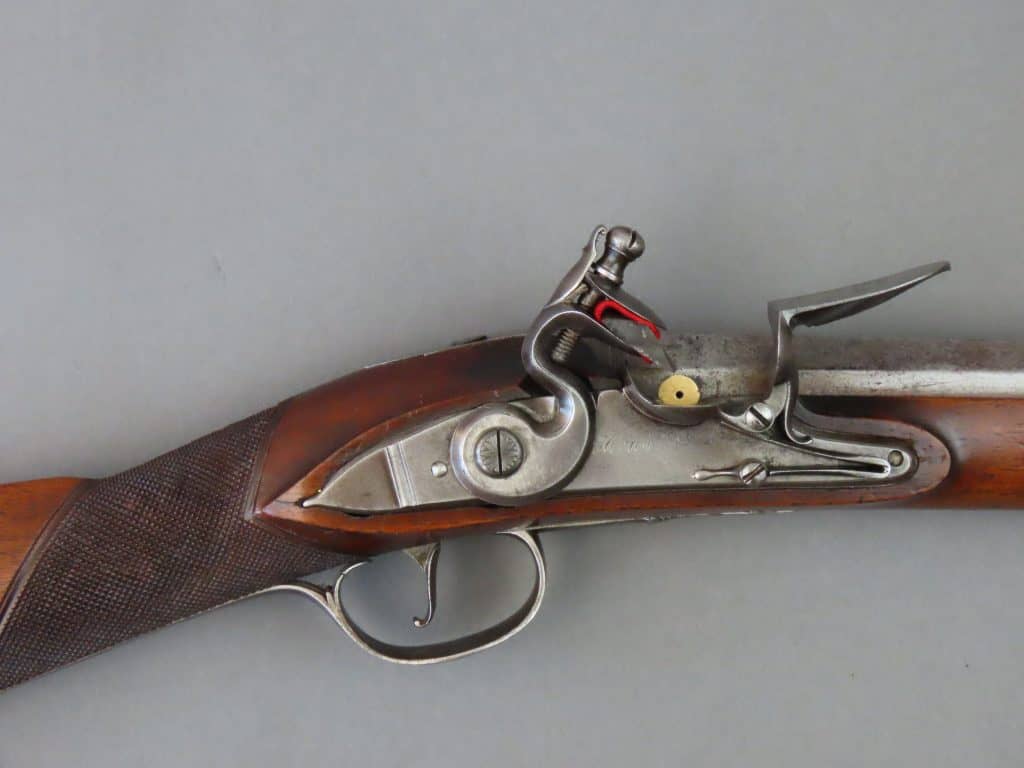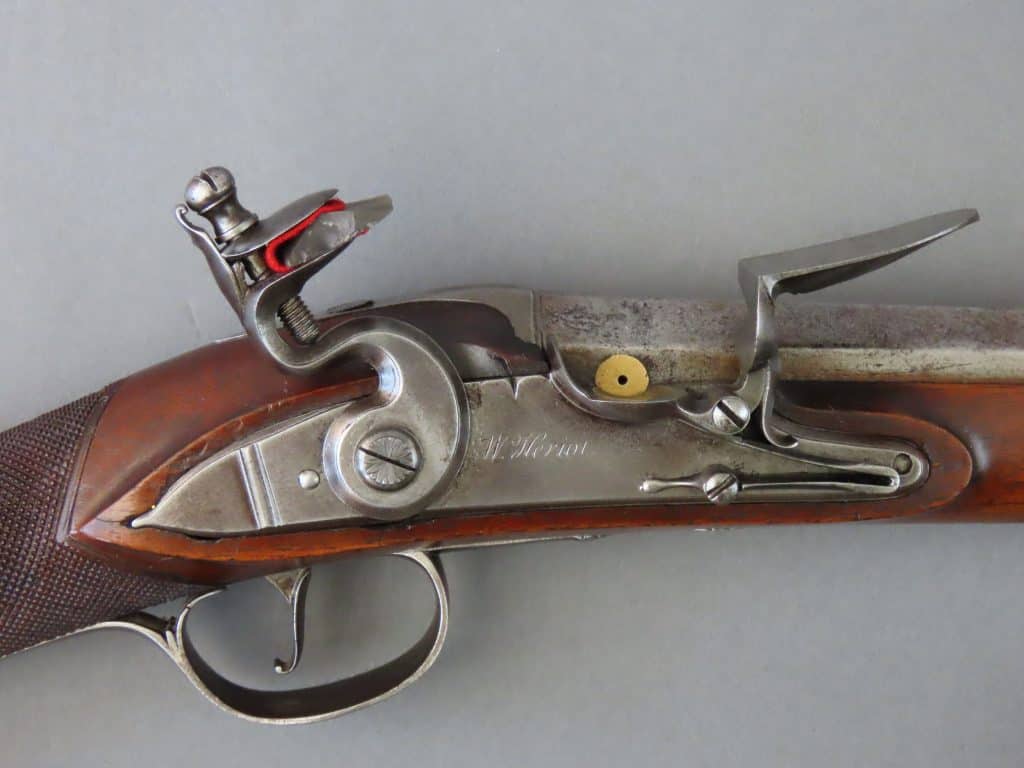 The lock plate is signed "W Heriot" in front of the cock. The flat-topped surface of the barrel near the breech is engraved with the name "WILLM HERIOT EDINBURGH" inside a rectangle. The records show that three gunmakers were working in Scotland with the name William Heriot and all were working in Edinburgh in the third quarter of the 18th century as part of a wider family gunmaking group of the same name. The maker of this gun separated himself from the family pack by signing his surname on his guns with one letter "R" rather than two. In this case we can identify the maker specifically as William Heriot who established himself in the Canongate rather than Edinburgh and is recorded as submitting his essay on 10th March 1768, "a steel mounted gun", and being admitted a freeman to his guild. He booked an apprentice, William Orr, in 1773 (1).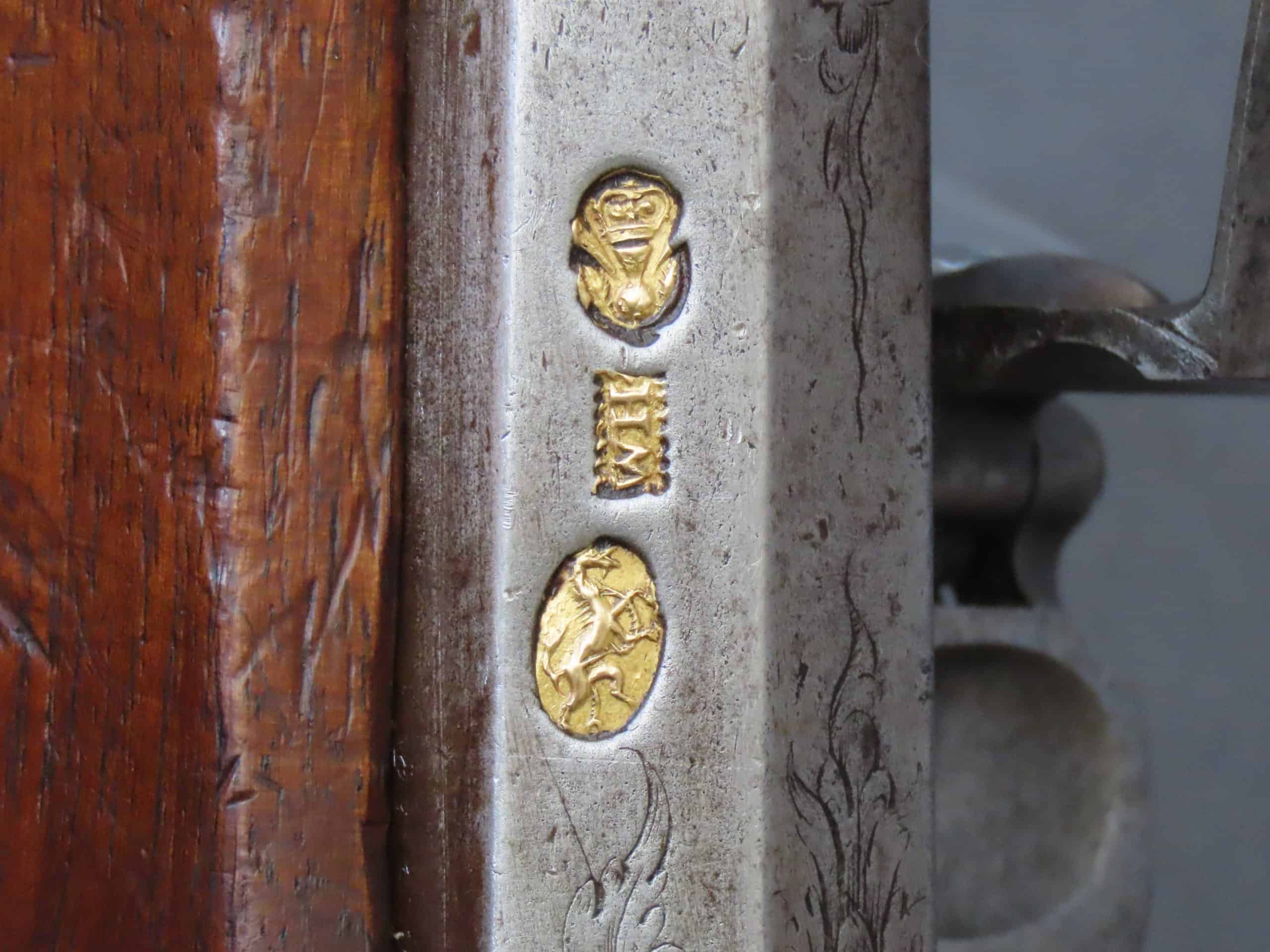 The most interesting feature of this gun is the stamps at the breech of the barrel which Charles E Whitelaw, the notable scholar of Scottish weapons in the early 20th century, took to be Scottish proof marks. The marks consist of three well defined strikes, a Scottish Thistle underneath a crown, a beast which Whitelaw took to be a hind which is the emblem of St Giles the patron saint of Edinburgh, and the stamp of the maker "WH". These stamps are highlighted with gold leaf. At this time Scotland did not officially require firearms to be proofed and as a result most gunmakers did not go to the expense and inconvenience of proofing their work.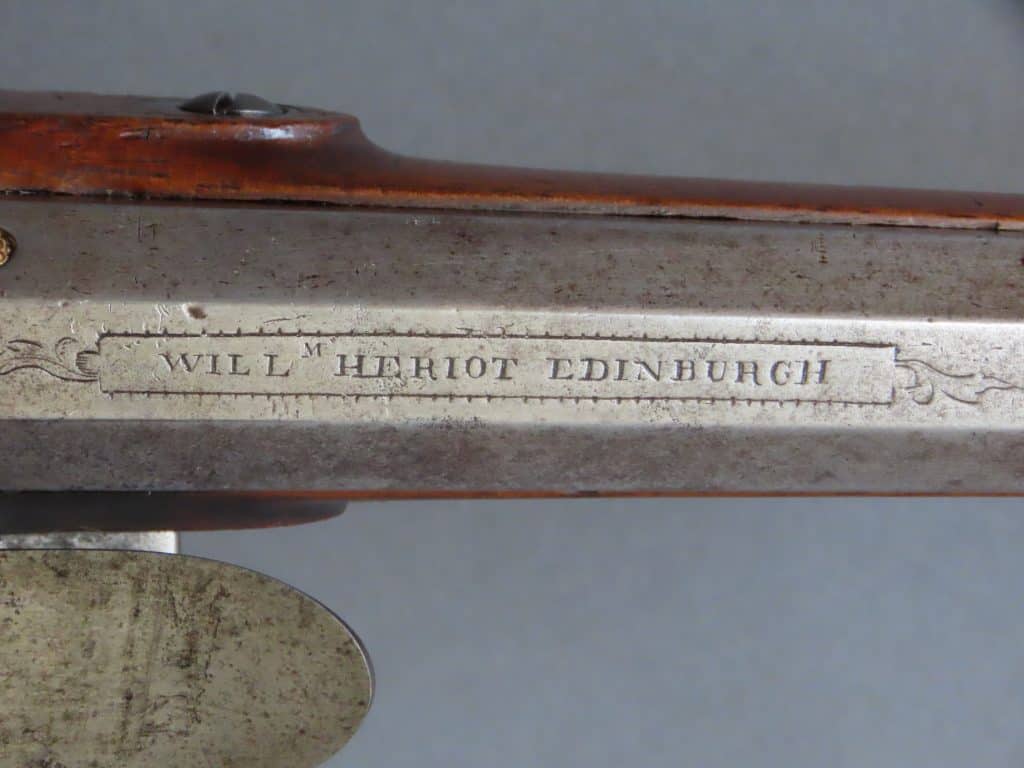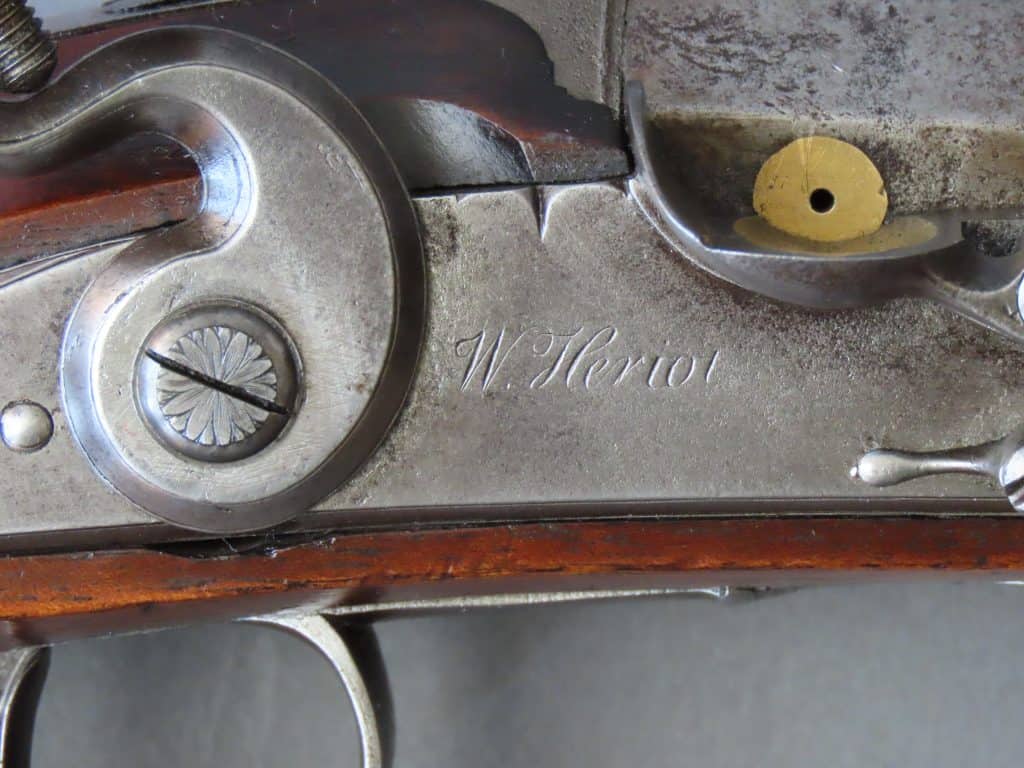 Whitelaw possessed a gun almost identical in form to this one in his own collection by the same maker and with the same barrel stamps mounted with brass furniture rather than iron (2). At this time, some other Scottish gunmakers working in the Edinburgh area who required proofing for their barrels, were sending them to the Birmingham and London test houses to be proofed, presumably to achieve a further badge of quality to sit alongside their signatures.
It would seem therefore that the establishment of a Scottish proof house in Edinburgh with its more ostentatious eye-catching gold covered stamps compared to those of the English proof houses, had more in common with continental rather than English barrel-making tastes and protocols. This was fulfilling a requirement for gunmakers like Heriot, who were targeting a more discerning client base, not necessarily based in Scotland, that demanded a higher visible minimum standard of quality of which proofing was a part. This may also have appealed to a more nationalist identity if a gun was entirely Scottish made rather than relying on inputs from abroad. Hence a mild patriotic aura is discerned surrounding the gun indicating a more cosmopolitan and international market was being targeted for such quality output from Scottish industry. This was a time when imported barrels from abroad, particularly Spain with elaborate maker's stamps, were being used by English gunmakers.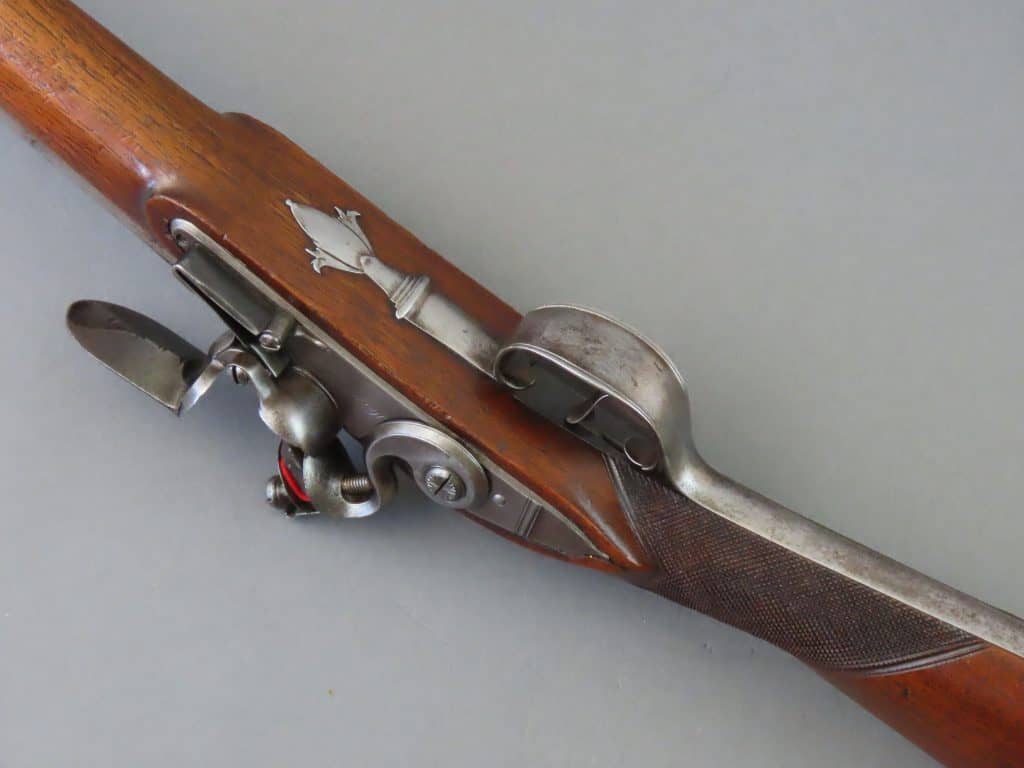 Nothing further is known of the Edinburgh proof house, but it does seem to have followed an earlier enterprise of Scottish proofing. Whitelaw also possessed an earlier pistol with its barrel stamped with a thistle over a letter "P" which he also identified as an earlier 18th century Scottish proof mark. He also noted that the business books of the "Darien Company" contain entries dating to around 1700 which comment on the proofing of firearms. It would also seem that the enterprise of the Scottish proof house of the 1770's was ultimately an unsuccessful one given that it never replaced the use of English proof houses by Scottish gunmakers, and which also explains why so little of its proof work survives (3). Had more Scottish guns survived from this period than the few that have come down to us more would be known.
The gun is 56 inches (just over 142 cm) long overall and the barrel is 40.5 inches 103 cm.
Provenance: the William Keith Neal Collection. Sold at Christies, London, 8th November 1995, lot 105.  Before Neal the gun belonged to The Marquess of Zetland, Aske, Nr. Richmond, Yorkshire.
References:
Charles E Whitelaw, Scottish Arms Makers, Arms and Armour Press, 1977, page 201.
H J Jackson and C E Whitelaw, European Hand Firearms, Holland Press – London, 1959, pages 67, 71 and 72,  
A further item of interest is a sporting gun by James Scott of Edinburgh circa 1775 which has the maker's two gold stamps at the breech consisting of his name SCOT under a crown and another bearing the mark of a thistle in a circle. This is illustrated in figs 477 and 478 of W Keith Neil & D H L Black, Great British Gunmakers 1740-1799, Sotheby Parke Bernet Publications, 1975. The thistle is without a crown above and it is not known whether this is a proof house mark.