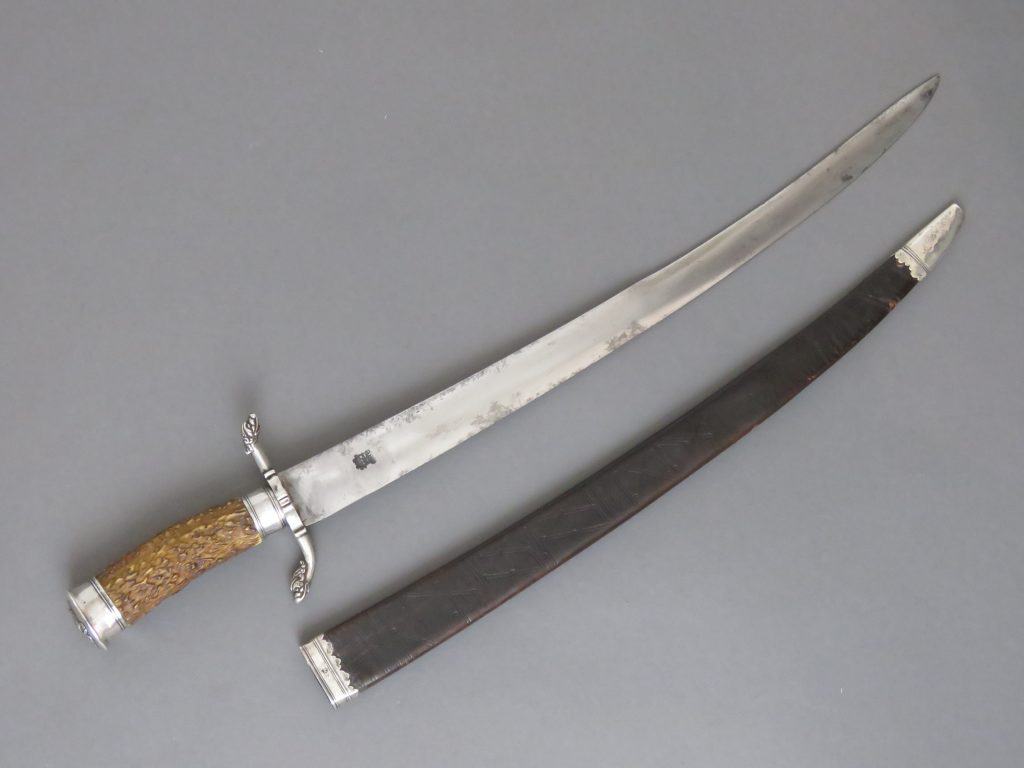 A Fine English Silver Mounted Hanger with London Hallmarks for 1691/2 stamped with the Maker's Mark "HH" Conjoined
To enquire about this item
please click here
Price: £2,450
Ref: 089.20
Item Description
An English silver mounted hanger with hallmarks for the year 1691/2. This is a fine example in unusually good condition with its original scabbard and mounts.
The maker's stamp of "HH" conjoined is not recorded but it may well be the mark of Henry Hurst, a London based cutler, silversmith and silver hilted sword maker, who is recorded as being sworn free of the Cutlers' Company by servitude on 29th September 1691 after his apprenticeship to William Hurst. In 1692 Henry is recorded as living with his wife and apprentice in the ward of Aldersgate. If it is the same man then this hanger is one of the first he produced stamped with his own identity marks.
The cross guard is comprised of a bold faceted block with horizontal quillons swollen at the vertically counter curved terminals with the heads of monsters. The pommel consists of a cap with plain raised ribbed sides mounted with a cast and chased feature on top consisting of two Roman emperor's heads either side of the pommel button and two cherub's masks among foliate scrolls above and below on a punched background.  Classical themes were common on silver hilted hangers of the time. The grip is of natural stag antler with a plain ribbed ferrule at its base matching that mounted beneath the pommel cap. The date stamp and lion passant are punched into the front of one quillon and the maker's mark and crowned leopard's head are stamped into the front of the other.
The sword retains its original brown leather scabbard which is tooled with geometric patterns of parallel lines on both the outside and inner stitched side. The scabbard retains its silver locket and chape. The base ferrule to the grip and the locket are also stamped with the maker's mark.
The slightly curved single edged blade is 17.25 inches long (just under 44 cm).  It becomes double edged just over half way along to the tip and is deeply struck on both sides at the forte  with a with a King's head blade smith's mark. The full length of the hanger is just over 22.25 inches (57 cm). The hanger and its scabbard are in fine condition. It is unusual for hanger scabbards to survive in such good form.
In the 17th and 18th centuries when swords were a popular weapon for gentlemen, hangers were a robust secondary side arm used for self defence when hunting and travelling. They were also used in parts of the British Army and Navy. Hangers appear in some military portraits of the time. Towards the end of their popular use, they were slimmed down and refined for wear as a gentleman's fashion accessory. The high quality and expensive hanger described here was most likely a gentleman's weapon.
For further information on English silver hilted swords and hangers see Leslie Southwick, "London Silver – Hilted Swords, Their makers, suppliers & allied traders, with directory",  2001, Royal Armouries. For a very similar example with maker's mark of Richard Fuller see the same page 277, plate 18