A fine quality English silver hilted small sword mounted with a colichemarde blade by Francis Tapp of the Strand in London.  The hilt and mounts are exquisitely chiselled with sumptuous designs in bold relief of military character including banners, stands of arms and mythical beasts, enhanced by scrolls, foliage and geometric shapes which retain their original gilt finish. An old label attached to the blade states that the sword once belonged to the Marquis of Granby. The sword retains its original scabbard and mounts.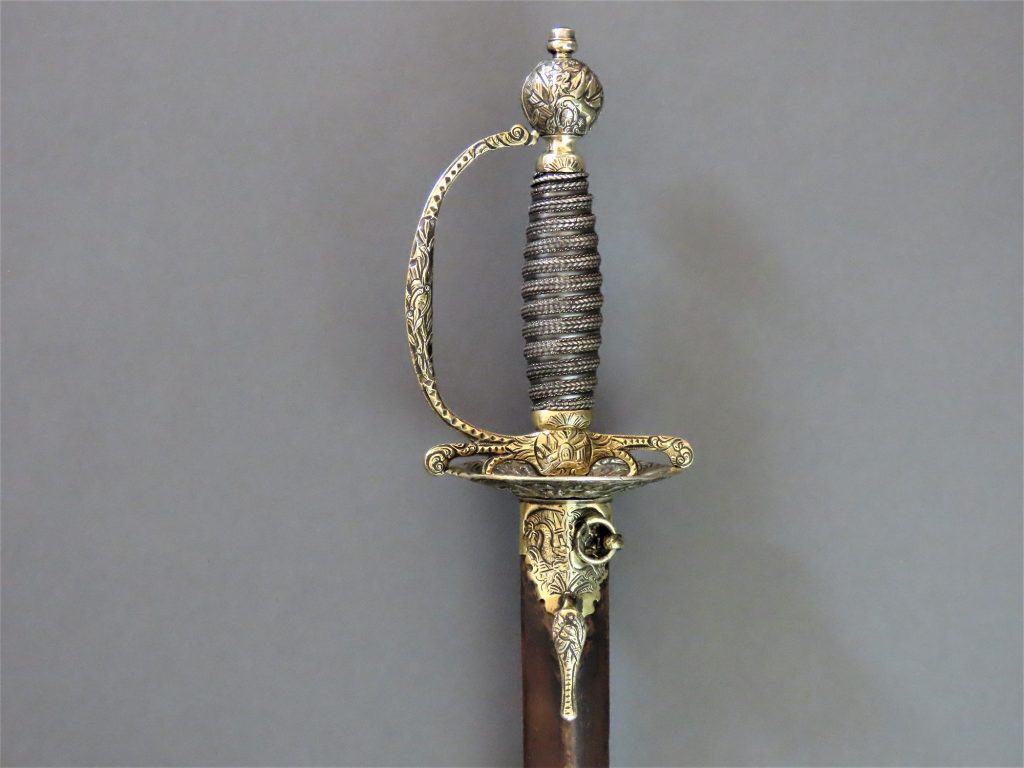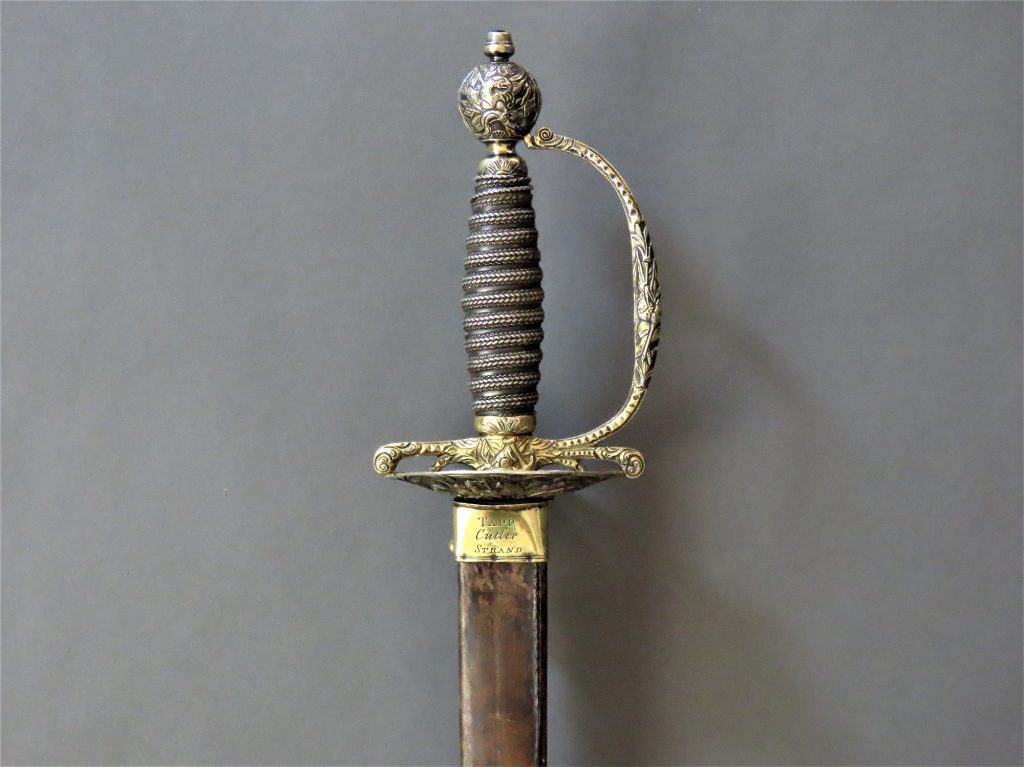 Francis Tapp was one of London's most accomplished Cutlers and Goldsmiths who worked in the City of Westminster from 1744. After serving his apprenticeship he is recorded in 1759 as the "St Martin in the Fields Cutler".  With a growing enterprise in which he employed at least two apprentices Tapp moved his business to the corner of The Strand and Cecil Street in 1764, the year in which our sword was made, and remained there for the next 23 years. From 1789 he was based at St Martin's Lane, until 1802.
Surviving swords of this quality are rare. The hilt consists of a solid dish guard which is exquisitely engraved in relief with intricate martial designs applied consistently to the other parts of the hilt including the pommel which also incorporates a Britannia shield. The tapering, hollow ground, colichemarde blade is of stiff triangular section and of bold construction. The grip consists of alternate thicknesses of roped silver wire and ribbon mounted onto a wooden baluster shaped core with silver cap terminals top and bottom engraved with floral designs. The sword retains its original lined scabbard formed with a wooden core over which a tan leather covering has been stitched.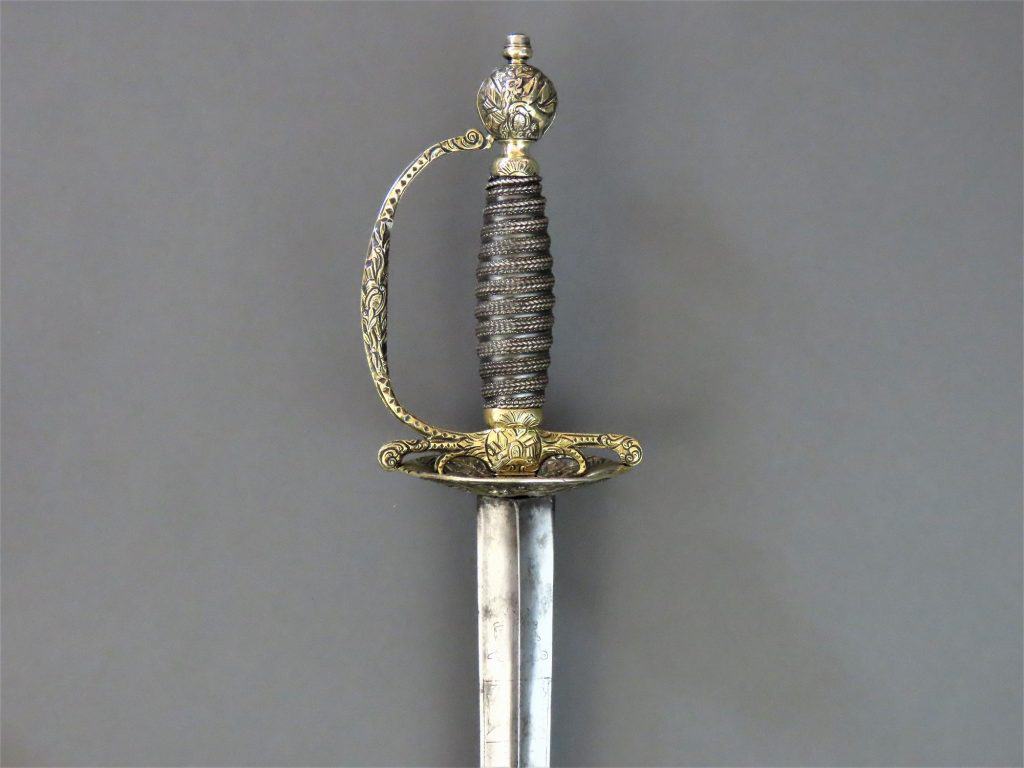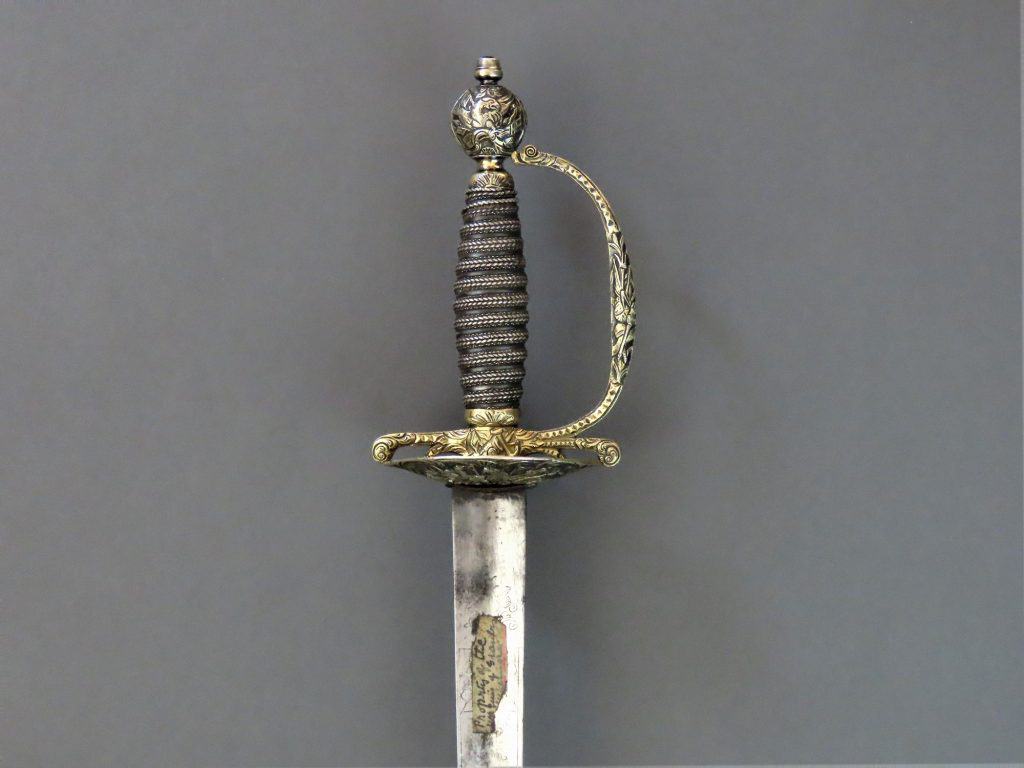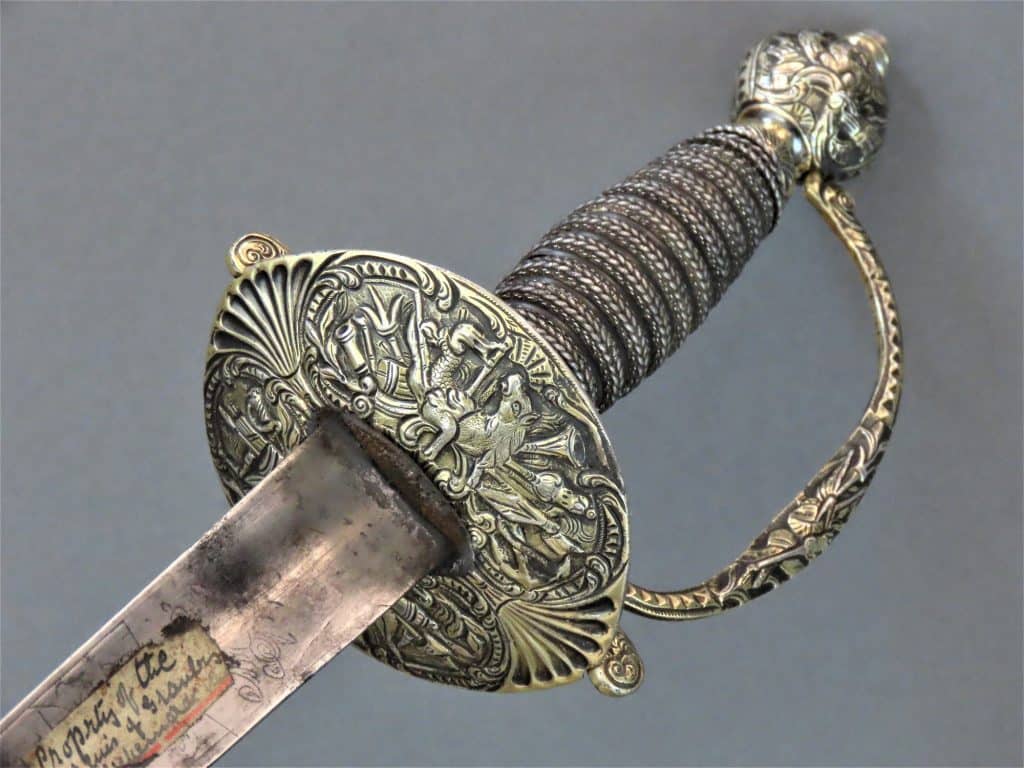 The pas d'ane rings are marked with the date stamp of 1764 / 5 and the Sterling Standard marks of the Leopard's Head and Lion Passant. The scabbard mouthpiece is clearly marked "TAPP", "Cutler", "STRAND".
Silver hilted small swords were fashionable attire for 18th century gentlemen. Although mostly worn for effect a gentleman carrying such a sword was also announcing to society that he was capable of defending himself with it and was trained to do so. The stylish and delicate appearance of these swords was an expression of confidence, social standing and competence in their use as formidable duelling weapons.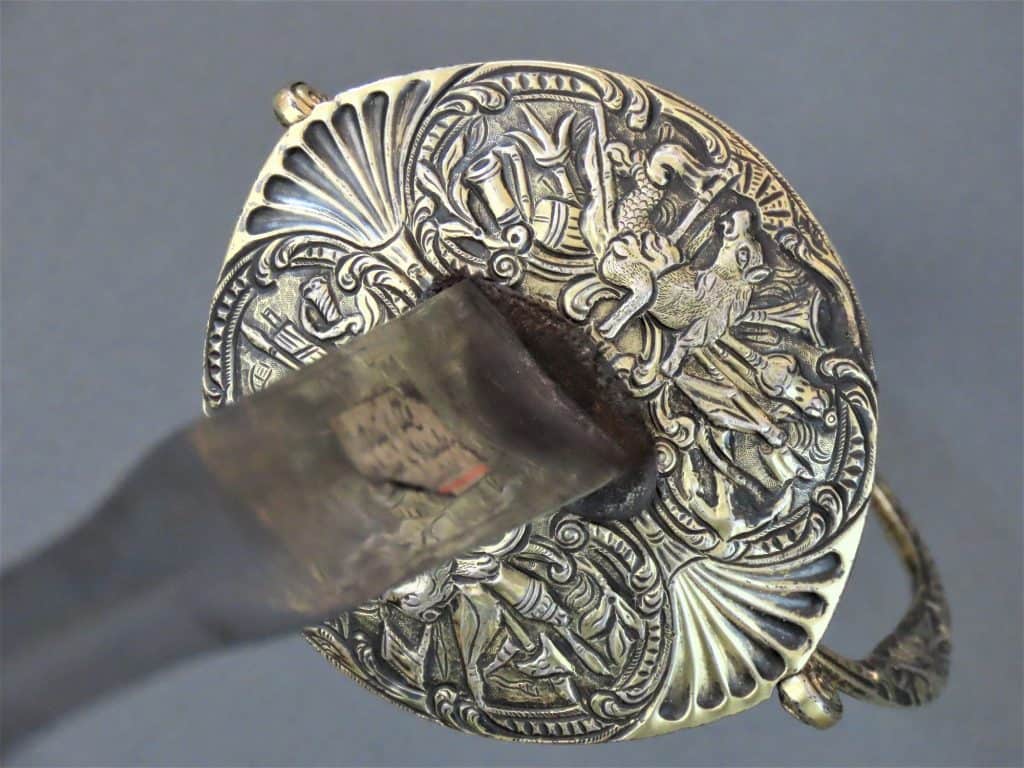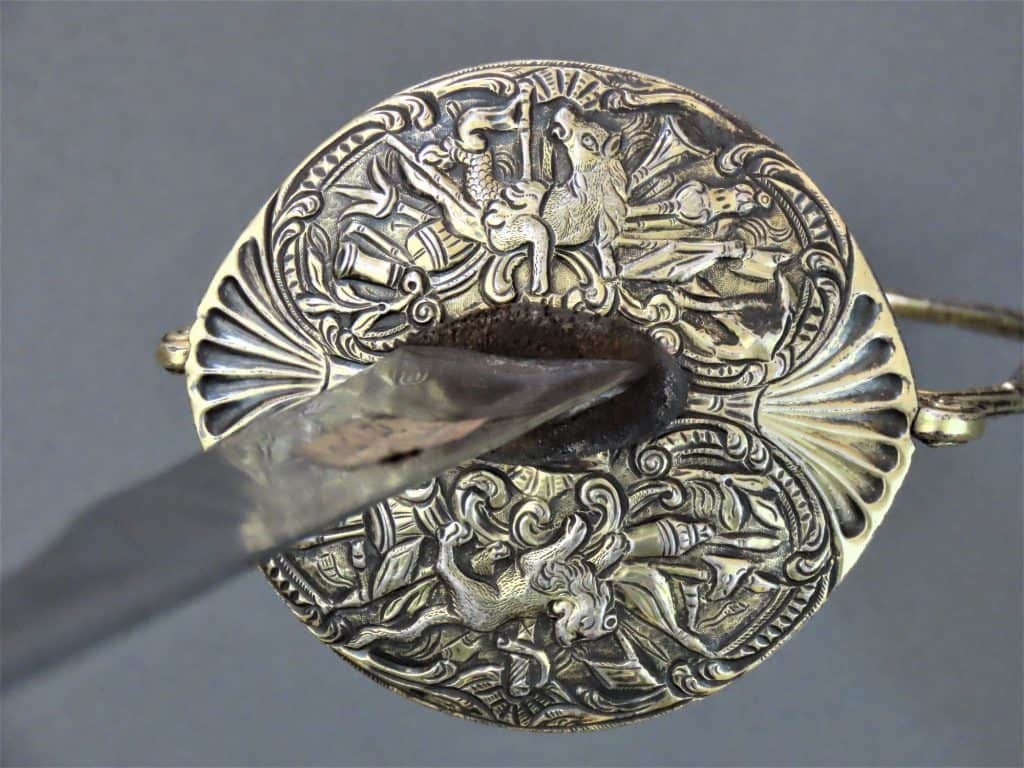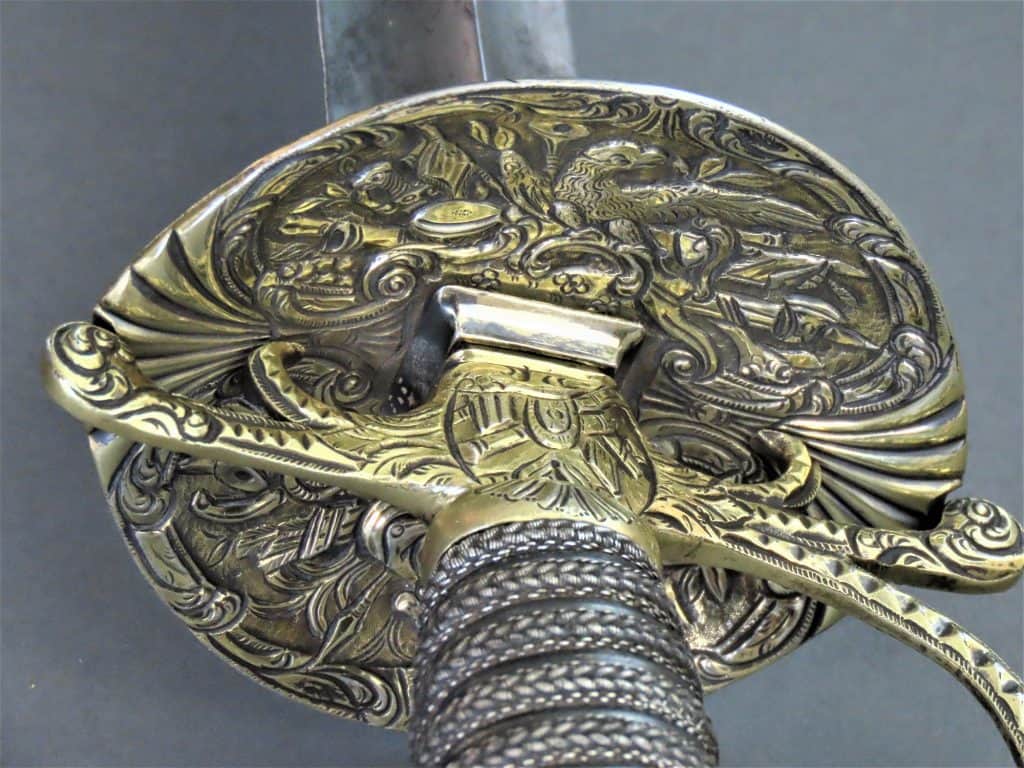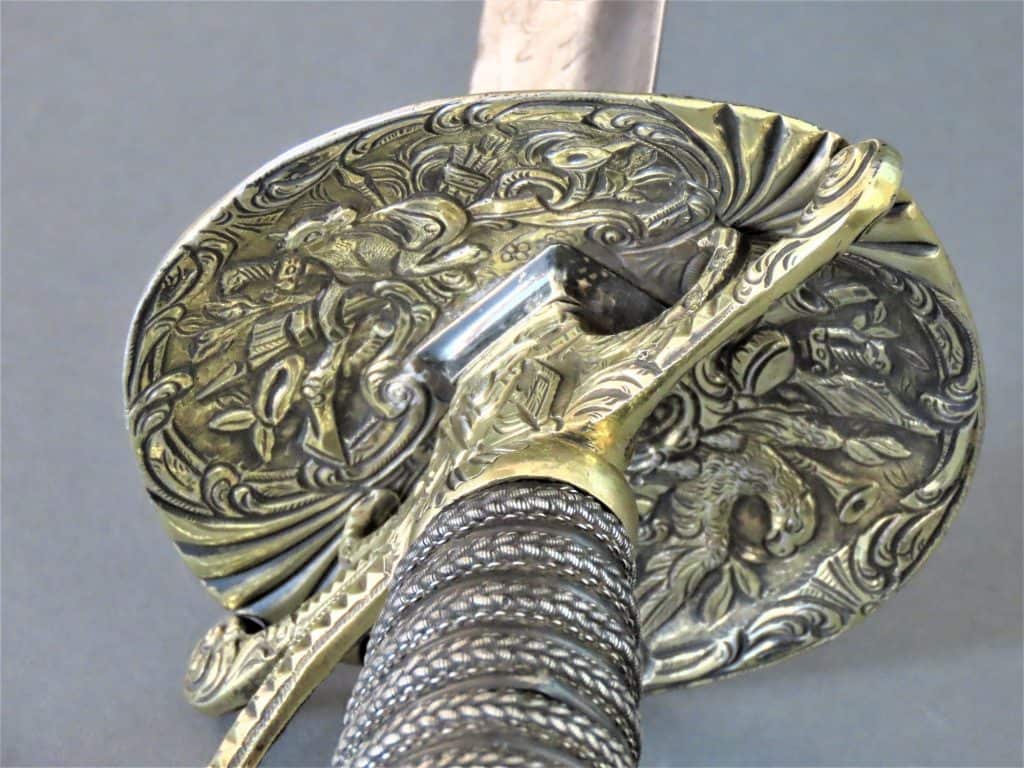 There are no losses or repairs to the hilt which has maintained its original pleasing outline and is in excellent condition.  It is rare to encounter swords of this type with original scabbards and this one is in fine condition with a minor repair near the chape and a small chip appears to have been covered over a little way down from the mouth. The blade is in fine condition with a few minor blemishes near the hilt. Originally with scroll engraving at the forte this is now worn due to the rubbing caused when the sword is drawn from its scabbard and returned over time.
For further information on Francis Tapp see "London Silver-Hilted Swords", their makers, suppliers and allied traders, with directory, by Leslie Southwick, 2001, Royal Armouries, page 236.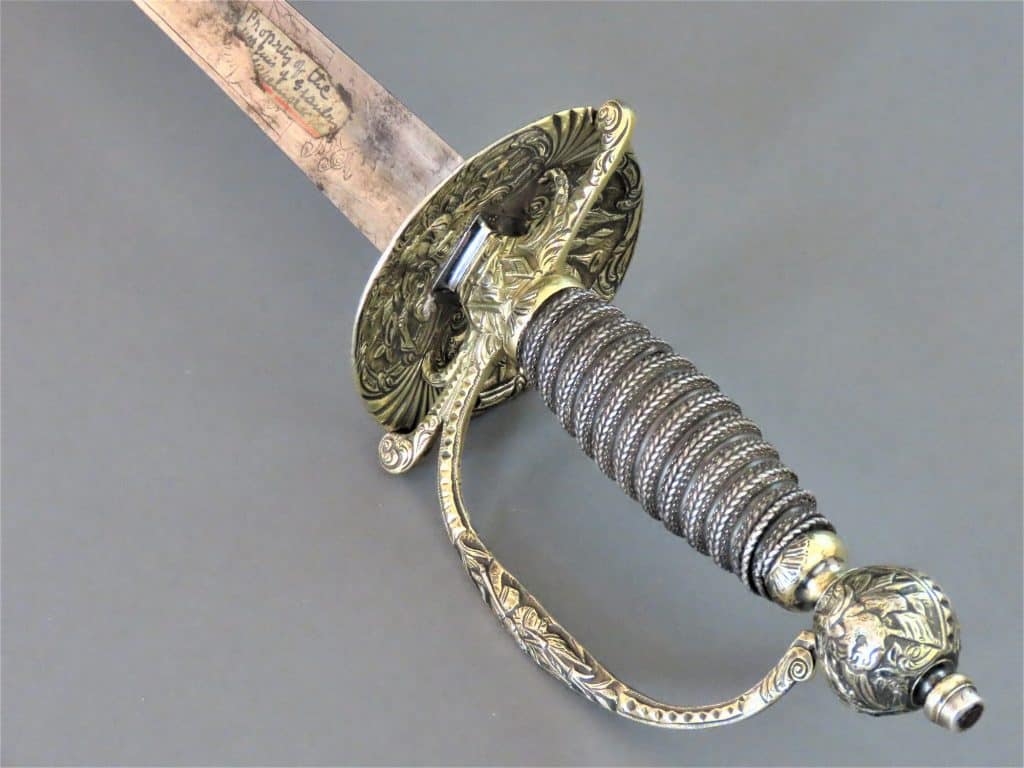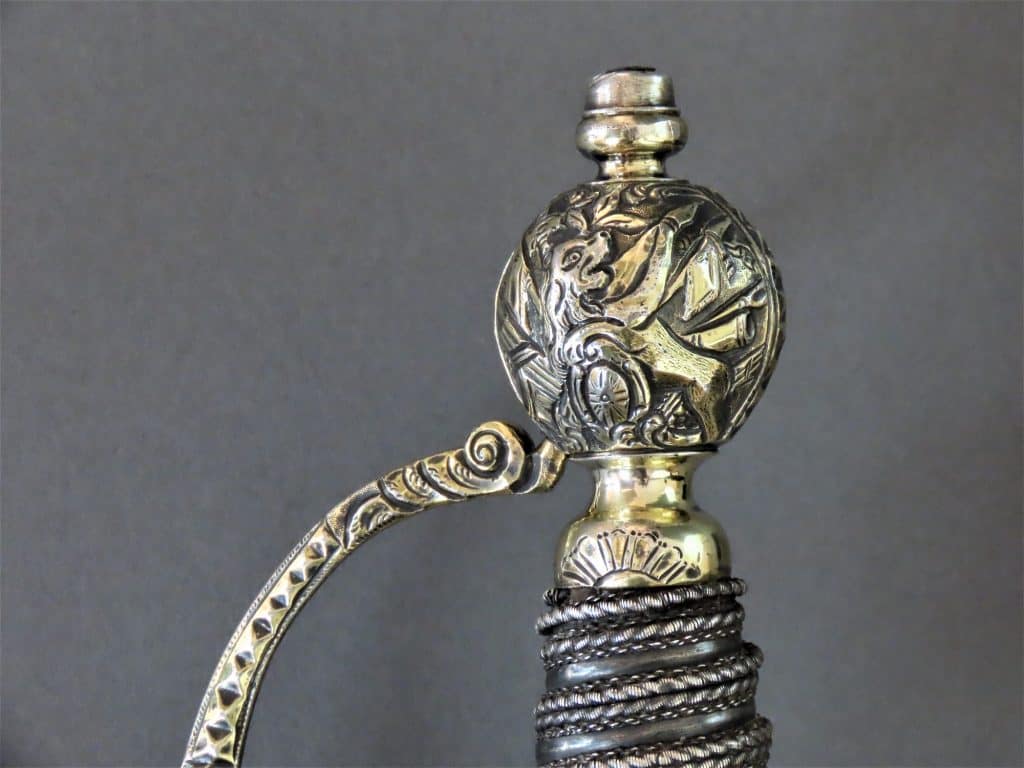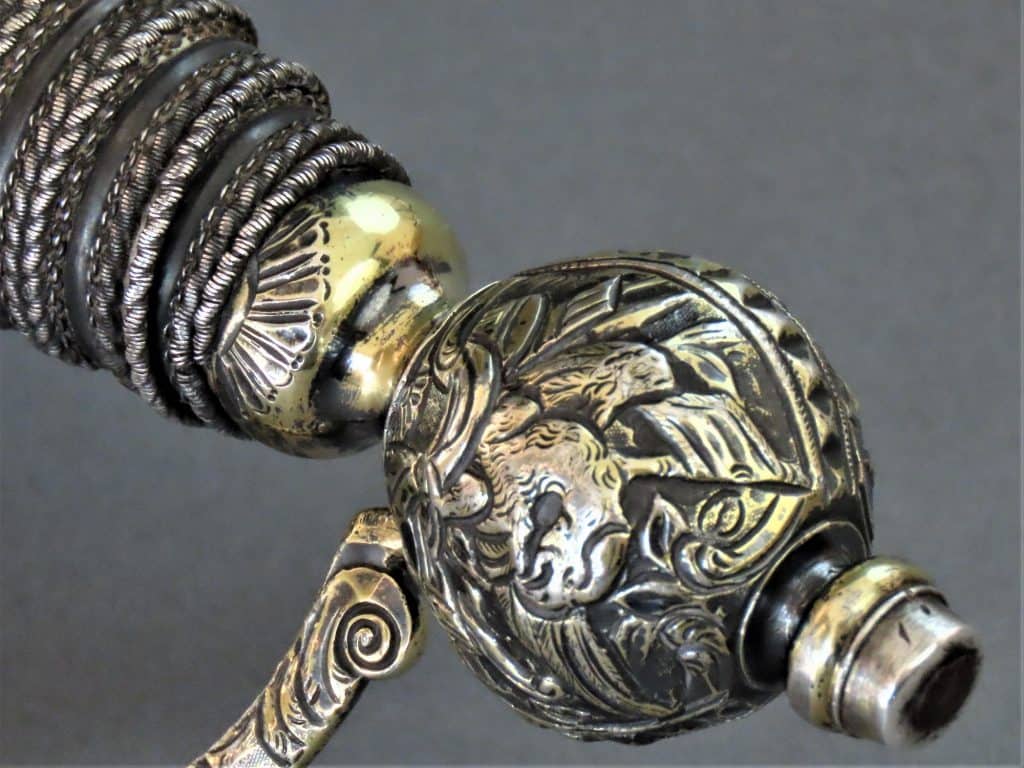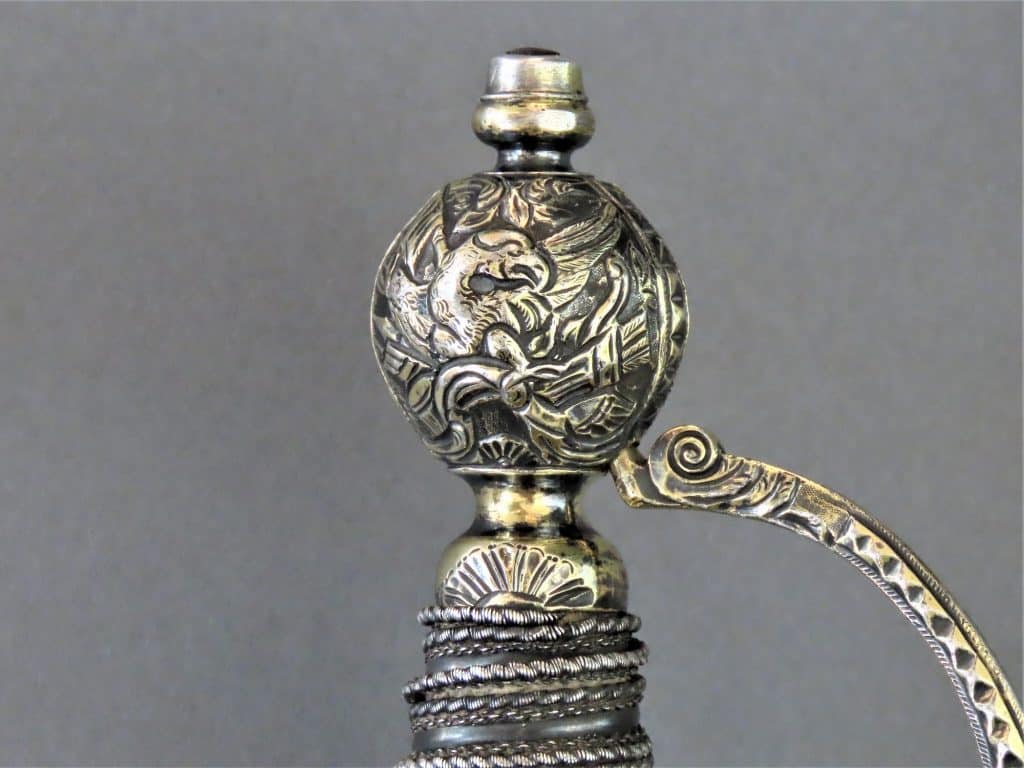 Provenance:
The sword was part of the collection of David Jeffcoat who was head of arms and armour sales at Sotheby's until he left in 1982 to pursue his interests as a consultant and various private ventures. During the 1970s David was responsible for positioning Sotheby's as the leading auction house for arms and armour sales, most notably winning and fulfilling the contract to sell the Renwick Collection in 1972, in the face of stiff competition from his nearest rival Christies.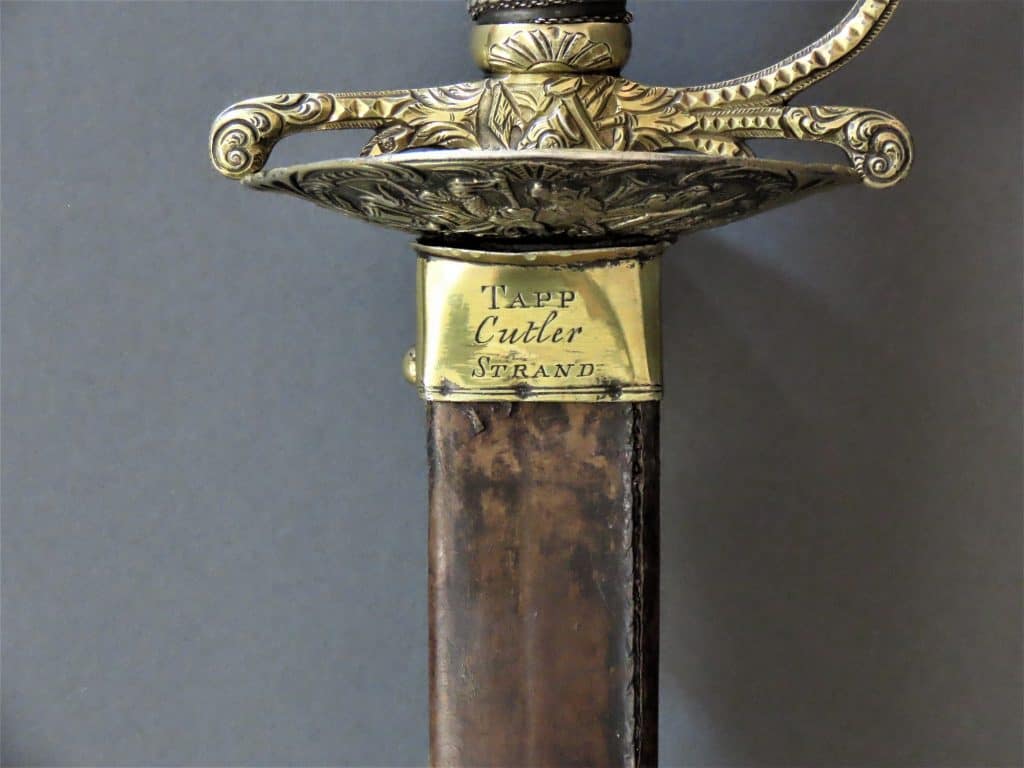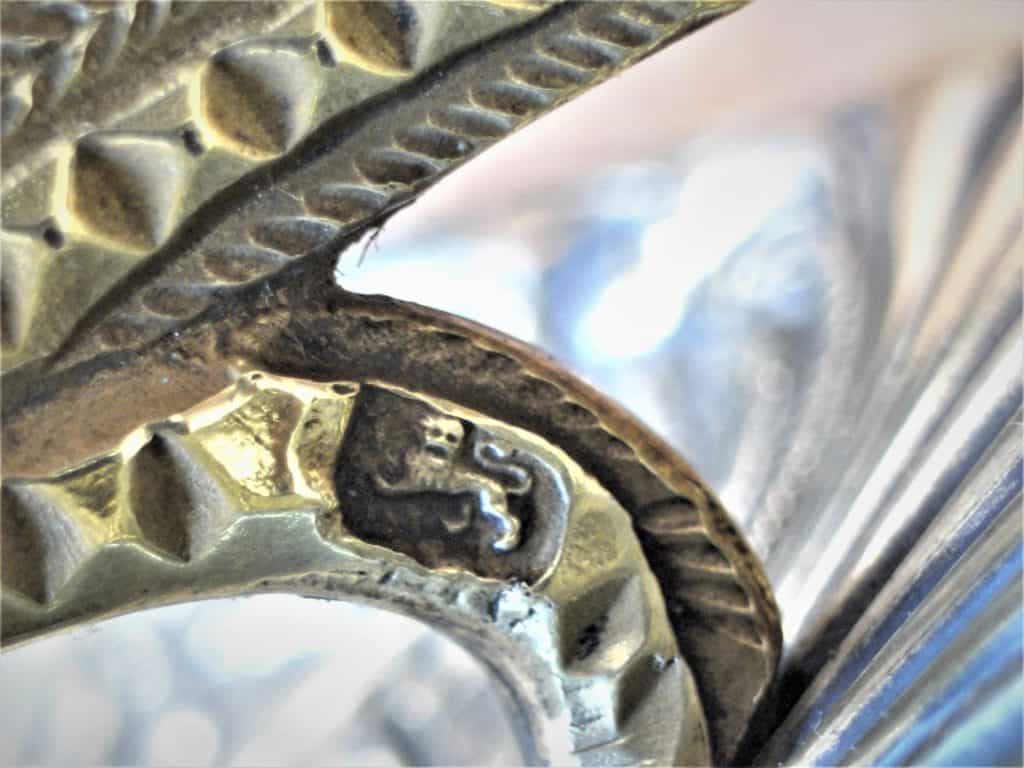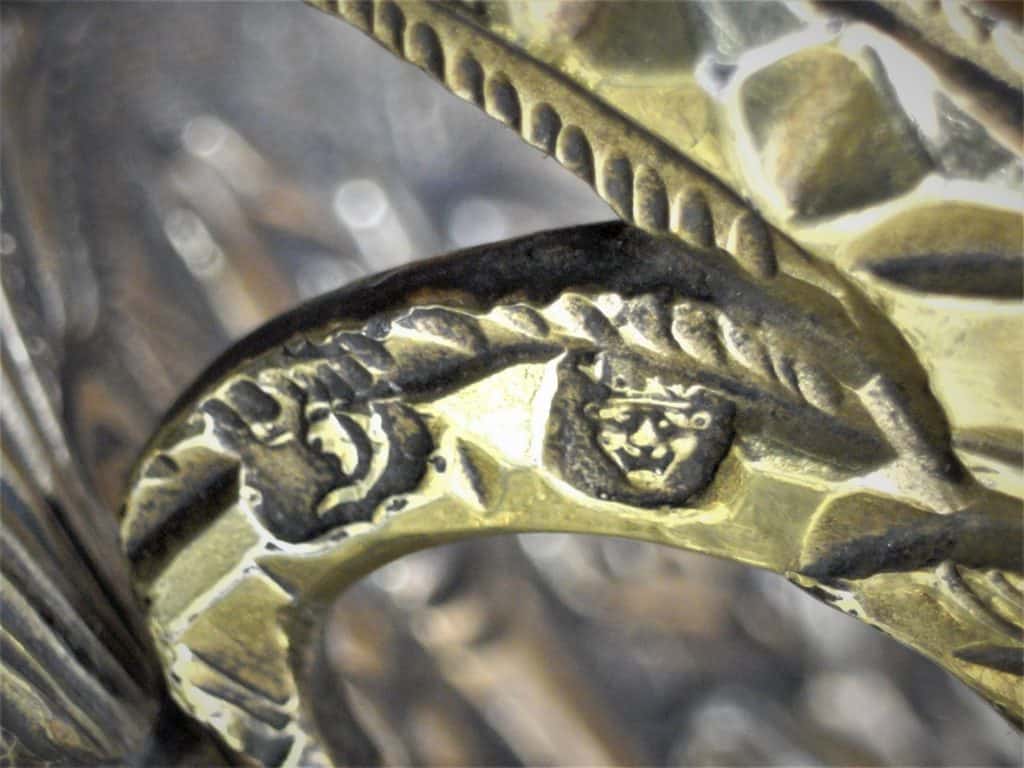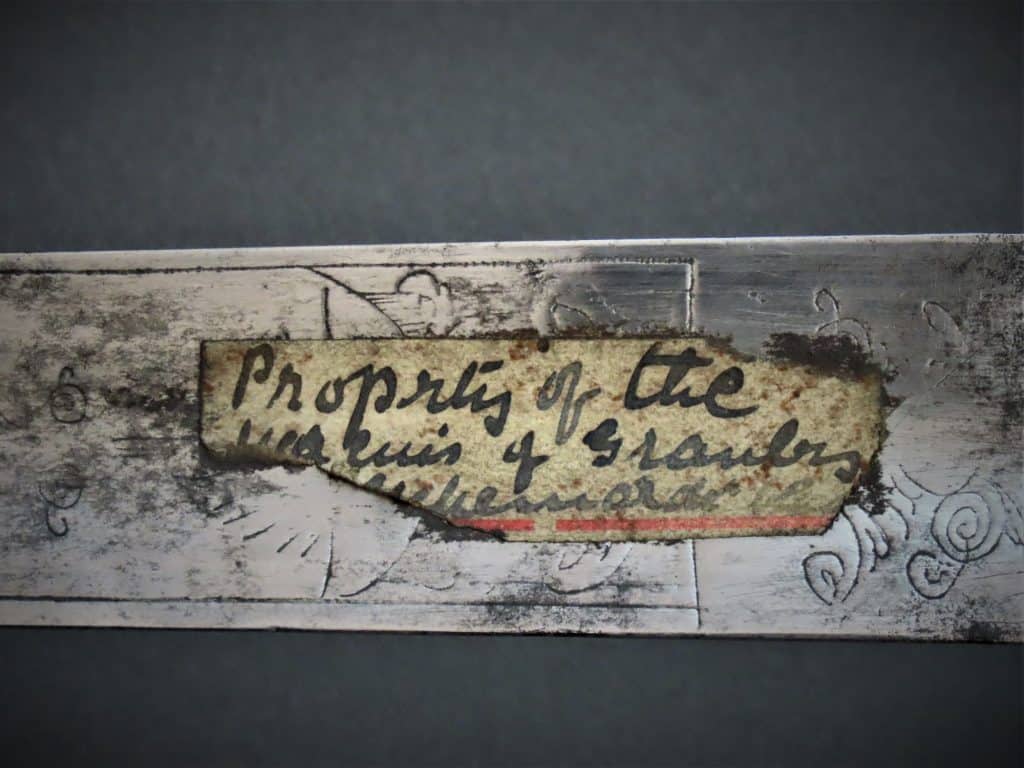 The damaged label on the blade states "Property of the Marquis of Granby…..colichemarde". Whilst there is no direct proof for this association the superb quality of this sword, plus its military style, indicate that it was made for an accomplished soldier of noble standing and a flamboyant announcement of his martial character. In this respect the sword could well have belonged to the Marquis of Granby who was the soldier John Manners, born on August 2nd in 1721 and who died on  October 18th in 1770.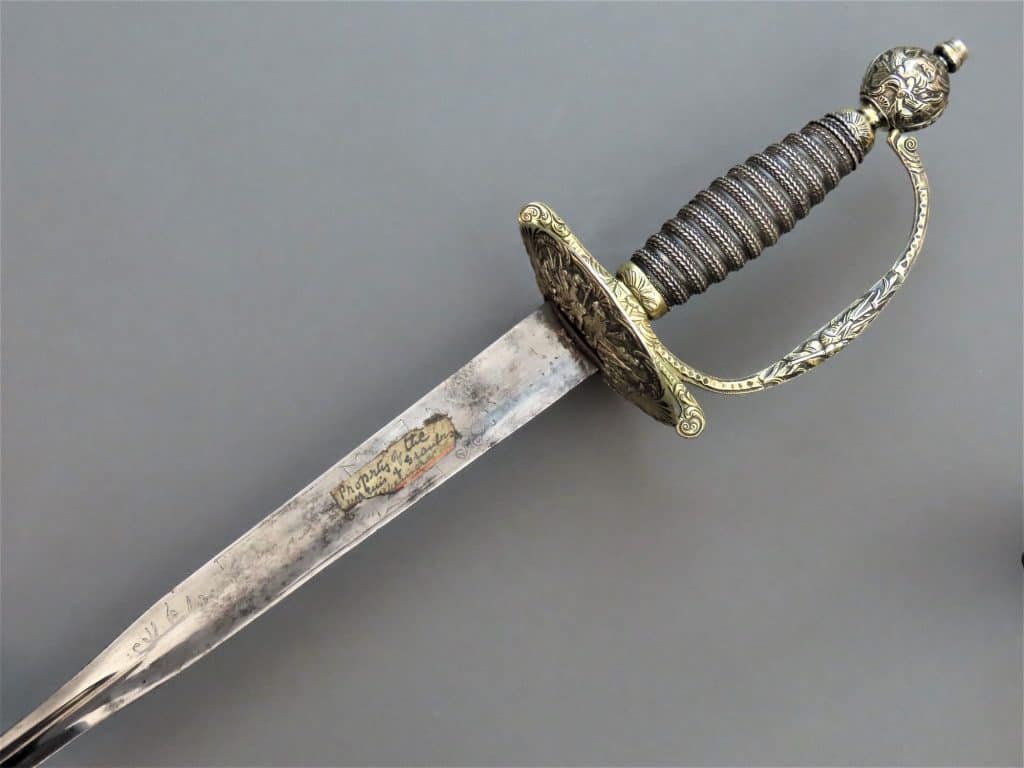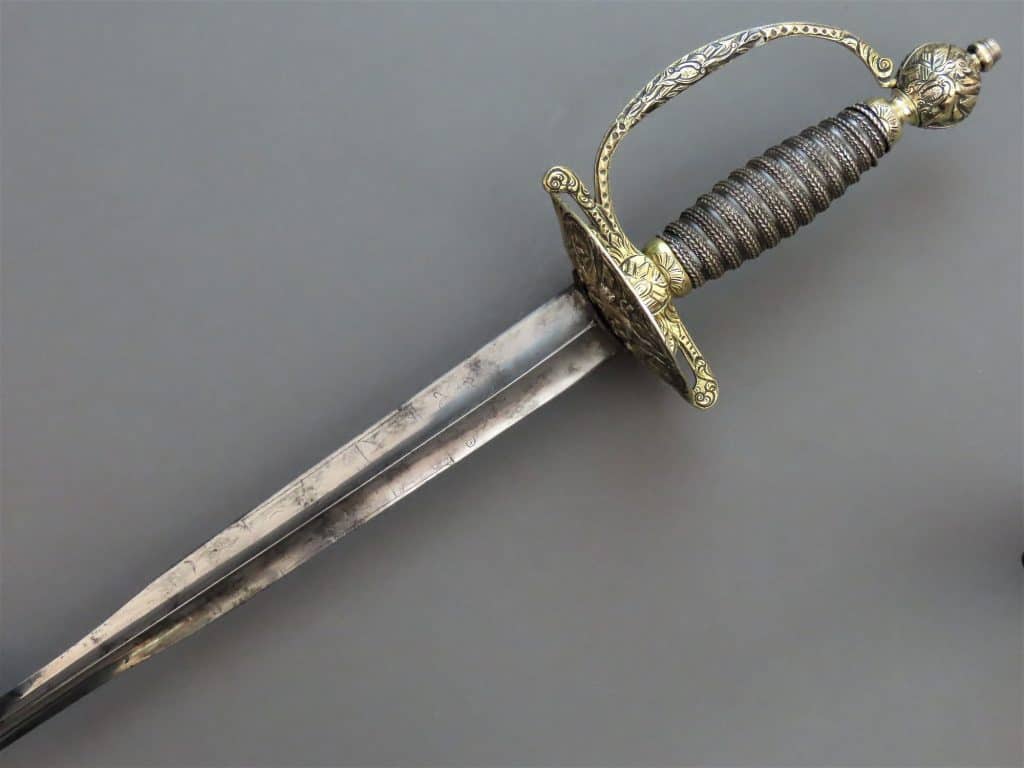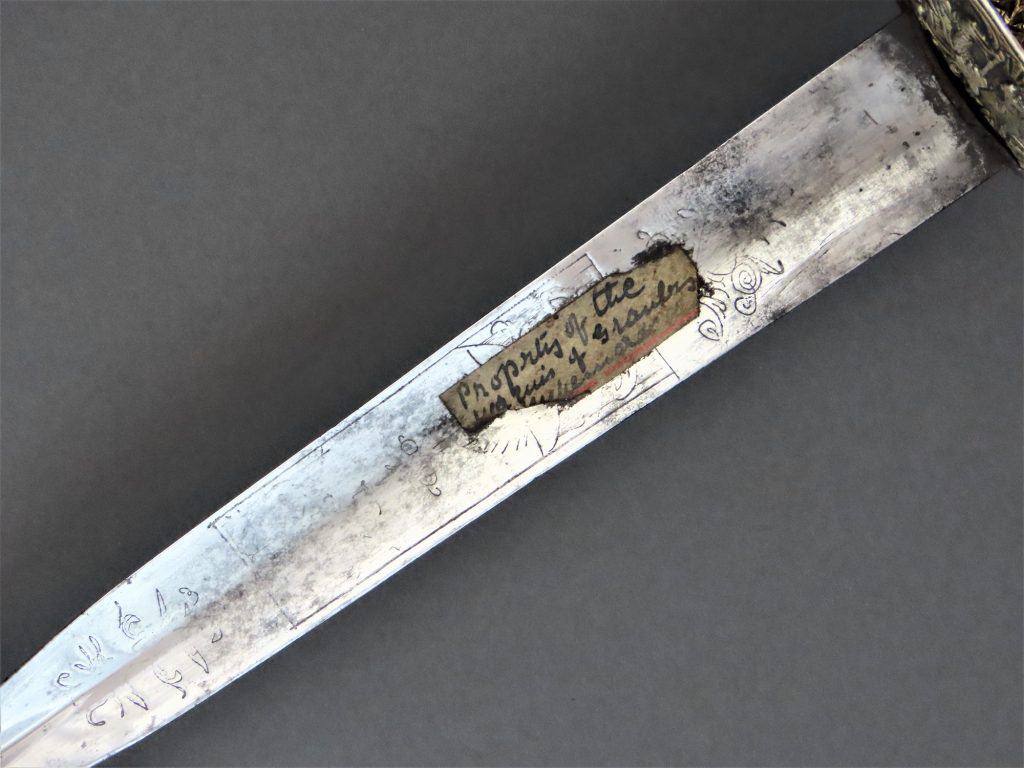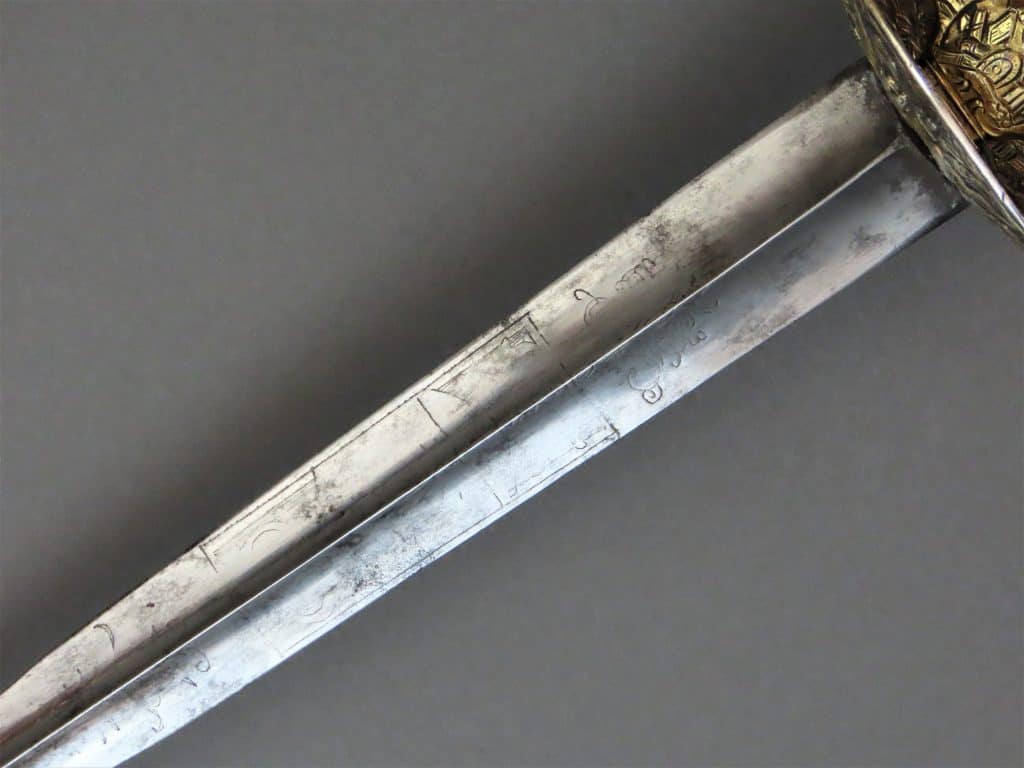 Manners was a popular and extremely effective British Army Officer. In 1745 he helped has father raise a volunteer regiment to help quell the Jacobite Rebellion of 1745 which he commanded. The regiment was used for garrison duties in the north of England and did not see action. Granby however was sent to the front in Scotland and saw action in the latter stages of the Rebellion as a member of the Duke of Cumberland's staff and was present at the Battle of Culloden in 1746. Granby then fought alongside the Duke of Cumberland in Flanders in 1747, and was a hero of the Seven Years War of 1756–1763. In 1759 Manners became commander of the British allied forces in the War. On July 31, 1760, he led the British cavalry to a spectacular victory over the French at Warburg in Westphalia, and on July 15–16, 1761, his troops repulsed two powerful French attacks on Vellinghausen (Kirchdenkern). Through the summer of 1762 he was in the centre of heavy fighting.
Returning to England in 1763, Granby found himself acclaimed as a hero of the war. He was a popular man especially with his troops, many of whom received financial rewards at Granby's behest at the end of the War, and some of whom used these funds to establish Inns named after him, and so it is thought the popular name of the "Marquis of Granby" for a good number of English pubs and Inns was initiated. If the sword belonged to him it was commissioned shortly after his return and completed the following year. Manners was appointed commander in chief of the British army in 1766. As the eldest son and heir apparent of the 3rd Duke of Rutland Manners was styled the Marquis of Granby by courtesy. He was a member of Parliament from 1754 until he predeceased his father.