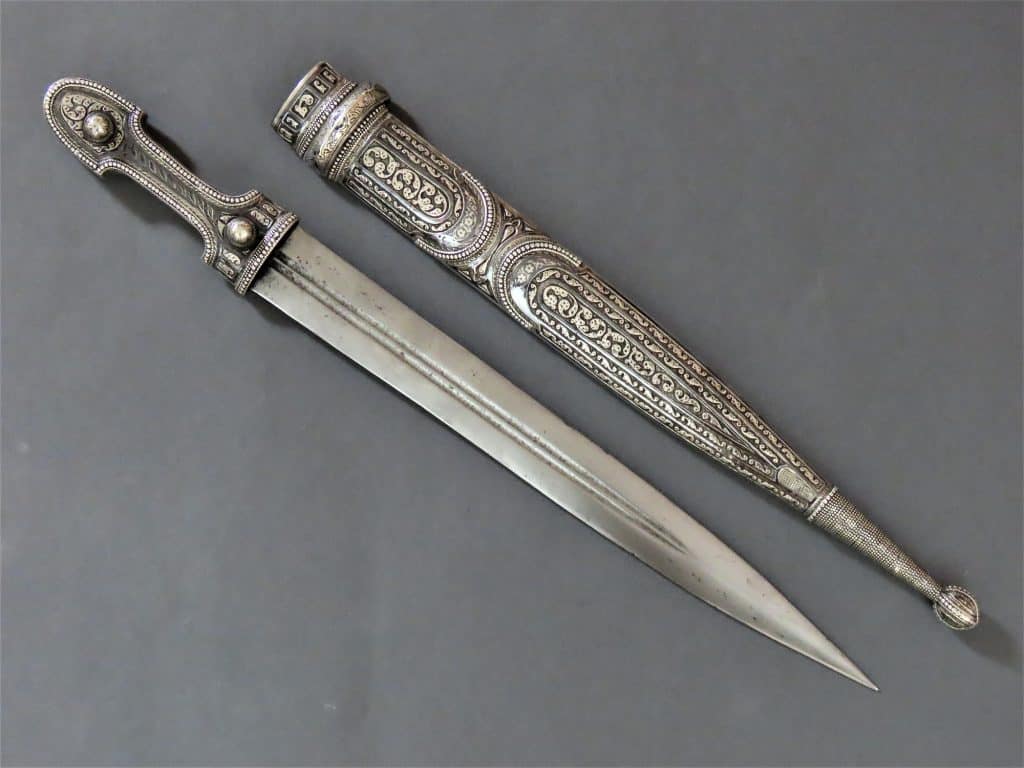 An early 20th century Silver Mounted Caucasian Kindjal with Kokoshnik marks for 1908 to 1926 but most likely to before 1917
To enquire about this item
please click here
Price: £1,375
Ref: AA.34.23
Item Description
An attractive silver mounted kindjal. The hilt and scabbard are entirely enclosed in silver with raised knops, cartouches and bands with granular finish, accentuated with extensive niello decoration. An inscription possibly in Arabic has been applied to the back of the scabbard. The typical leaf-shaped double-edged blade is acutely pointed and has a double fuller running along the middle from the hilt to near the tip.
The hilt and scabbard are stamped with oval Kokoshnik panels inside which is the usual female head facing to the right, the number 84 Zolotnicki Russian expression of silver purity on its right, and the small letter "o" Cyrillic letter Omicron on its left, which is the regional symbol representing the Caucasus. Beside each oval mark a smaller circular Kokoshnik mark is struck intended to represent the assay office which is now too worn to decipher.
The overall length of the kindjal in its scabbard is 20 inches (51 cm) and the blade is 13 inches long (33 cm). Overall the kindjal is in good condition other than a light dusting of pitting to the blade and slight damage to the pommel top probably caused by the kindjal being dropped onto a hard surface at some time. The decorative silver and niello surfaces are in fine condition.
Whilst this type of Kokoshnik mark is accepted as being used from 1908 to 1926 it is less likely that the kindjal was produced during the turbulence after the Russian Revolution of 1917 than before.