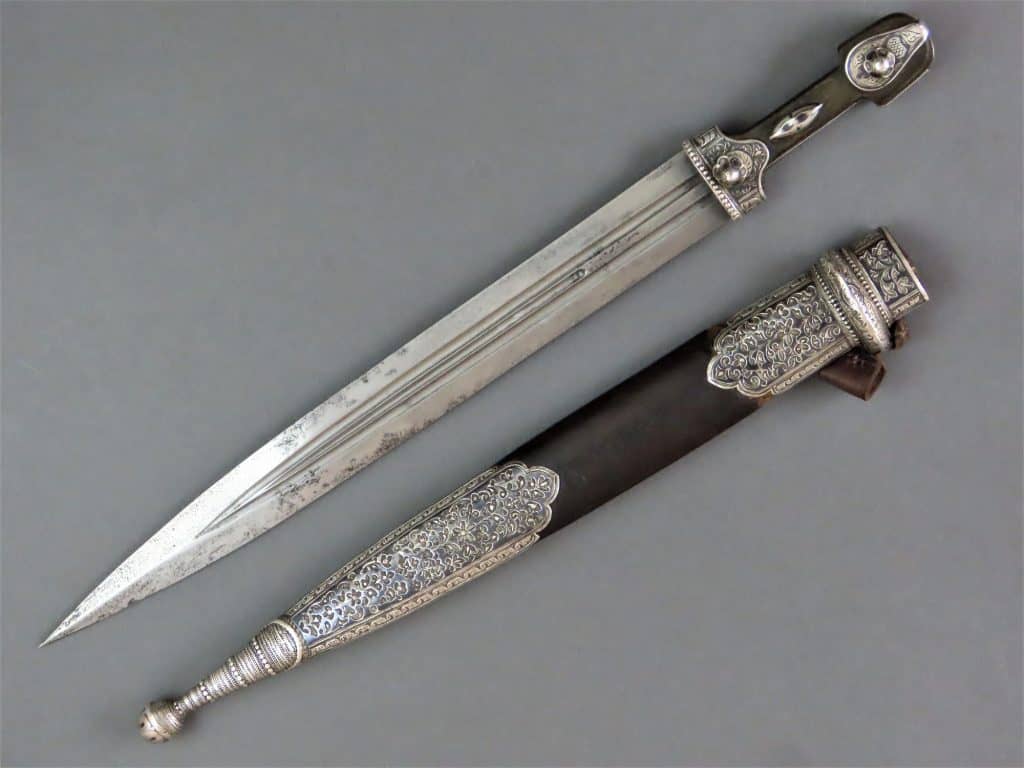 An early 20th century Silver Mounted Caucasian Kindjal with Kokoshnik marks for 1908 to 1926 but most likely to before 1917
To enquire about this item
please click here
Price: £1,175
Ref: AA.035.23
Item Description
An attractive silver mounted kindjal. The hilt is made from two grip scales of black horn secured by silver pins with bosses to the front and  mounted with a beaded silver band between. The pommel consists of a folded silver strap and the hilt is mounted with a silver base. The wooden scabbard is covered with black leather encased with a silver mouthpiece and large chape. All of the silver mounts are decorated with leafy designs with an attractive niello finish. The typical leaf-shaped double-edged blade has a triple fuller extending down the middle from the hilt to near the point.
The hilt, scabbard mouthpiece and chape are stamped with oval Kokoshnik cartouches inside which is the usual female head facing to the right, the number 84 Zolotnicki Russian expression of silver purity on its right, and the small letter "o" Cyrillic letter Omicron on its left, which is the regional symbol representing the Caucasus.
The overall length of the kindjal in its scabbard is just under 19 inches (48 cm) overall and the blade is 13.5 inches long (34 cm).
The kindjal is in good condition other than slight old light darkened patches to the blade in places and minor chaffing of the scabbard leather near the mounts as shown in the photos. The decorative silver mounts are in fine condition with some minor rubbing to the niello on the most exposed surfaces.
Whilst this type of Kokoshnik mark is accepted as being used from 1908 to 1926 it is less likely that the kindjal was produced during the turbulence after the Russian Revolution of 1917 than before.