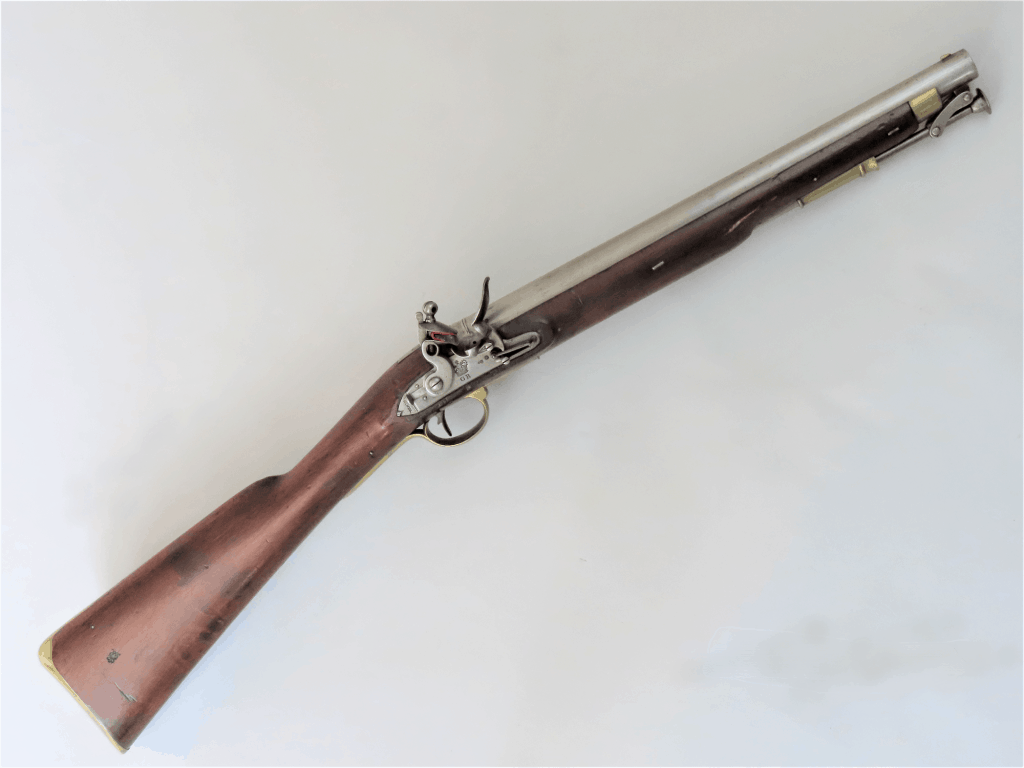 A Fine London Tower Armouries Paget Cavalry Carbine
To enquire about this item
please click here
Price: £4,850
Ref: 123.20
Item Description
A particularly nice Paget cavalry carbine dating to the early 19th century. The carbine has survived in particularly fine condition for a military firearm. Clearly it has been stored in an armoury, then a collection setting, and is practically unused.
The military style lock is bevelled at its edges and stamped 'TOWER' on the stepped and pointed tail, 'G.R.' below a crown beneath the pan and crown and broad arrow to the right. The lock is mounted with a ring-necked cock with sliding safety.
The round .670 bore iron barrel is 16 inches long (40.5 cm) with an applied brass fore-sight, standing notched rear-sight and moulded band at the breech. The tang is stamped with a crown and number "4" beneath.  The barrel near the breech is marked with a crown with the number "17" beneath near the pan and with two proof marks on the opposite side towards the saddle bar.
The walnut full-stock is mounted with brass furniture except for the large 'J' shaped saddle bar with loose ring and the captive pan-headed ramrod. The butt near the plate is stamped with the "GR" cypher and underneath the saddle bar in large letters the stamp "W S" appears with a vertical stamp of "B O"  to the right with an arrow pointing to the left from between the letters. A small further stamp to the right is illegible and three stamps are apparent on the wood inside the ramrod tube.
The condition is fine overall. The barrel is in its original white slightly dulled finish. The engraved and stamped details are crisp and sharp. The bore has some debris inside but appears little used. The mechanical action of cocking in half and full positions is crisp and the safety catch smoothly operational. The woodwork is generally excellent with only minor knocks. There appears to be the remains of a stores label card sandwiched between the saddle-bar and the stock. The overall length of the carbine is 31.25 inches (79.5 cm).