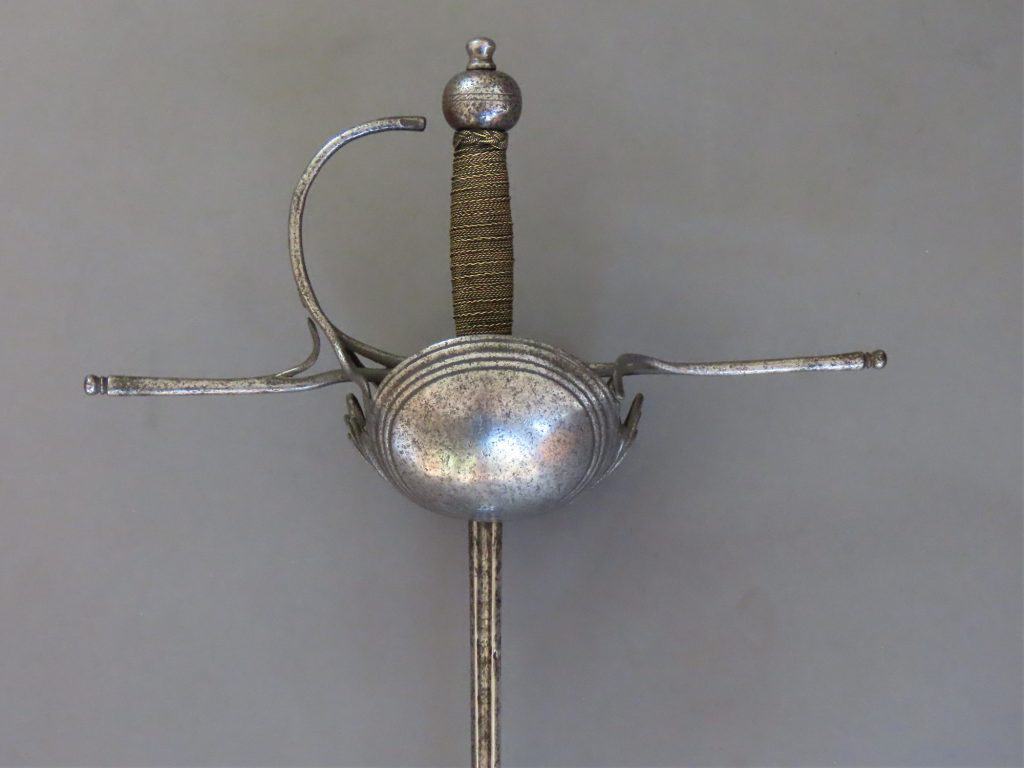 A Spanish or Neapolitan Cup Hilt Rapier dating to the Second Half of the 17th century
To enquire about this item
please click here
Price: £2,250
Ref: AA.24.23
Item Description
This distinctive style of hilt consists of two convex circular shell guards which protect the inner and outer hand joined at the sides with concentric radial loops of iron which complete the cup structure. The clam guards are joined with further subsidiary bars at the upper rims to the cross guard. Three rapiers of comparable construction mounted with similarly slender blades of stiff section can be seen in Leslie Southwick, The Price Guide to Antique Edged Weapons, Antique Collectors' Club, 1982, page 57, figs 120, 121 & 122.
The hilt has noticeably slender quillons with a long span of 12.25 inches (31 cm). The knuckle bow extends from the cross guard front to terminate a short distance from the pommel middle. Of flattened globular section the pommel sits on top of a slightly baluster shaped mainly cylindrical grip which is attractively wrapped with alternately directed differing thicknesses of roped brass wire together with brass "Turks' Heads" top and bottom.
The fine quality tapering diamond section blade is of stiff construction made primarily for thrusting. It has a deep central fuller which extends for around a fifth of the blade length from the hilt. Inside the fuller an inscription each side announces that the blade was FECIT IN SALIGEN "made in Solingen". The blade passes into the grip through a rectangular aperture at the join of the shell guards, where the forte changes to a rectangular section, the top of which is secured between pointed triangular langets which face downwards from the quillon block.
In general, the rapier is a plain but representative example of its type. The hilt is frugally decorated with four concentric circles around the outside edge of each shell. The quillons terminate in waisted knops bearing some similarity with the pommel button profile. Two circular lines run horizontally in parallel around the pommel middle and the quillons are circled with two incised lines at the join with the quillon block.
The rapier sits comfortably in hand and is well balanced. The blade is just under 36.5 inches (92.5 cm) long. The surface condition is homogeneous across the main iron and steel parts with a blackened lightly pitted veneer overall. Overall, the rapier is in fair condition. It retains its pleasing contours and is in "as found" condition. Two subsidiary guard bars are cracked as the photographs show but otherwise the hilt is undamaged.
The hilt type conforms to AVB Norman's type 83 (see "The Rapier and Small-Sword, 1460-1820", Arms and Armour Press, 1980, page 156).