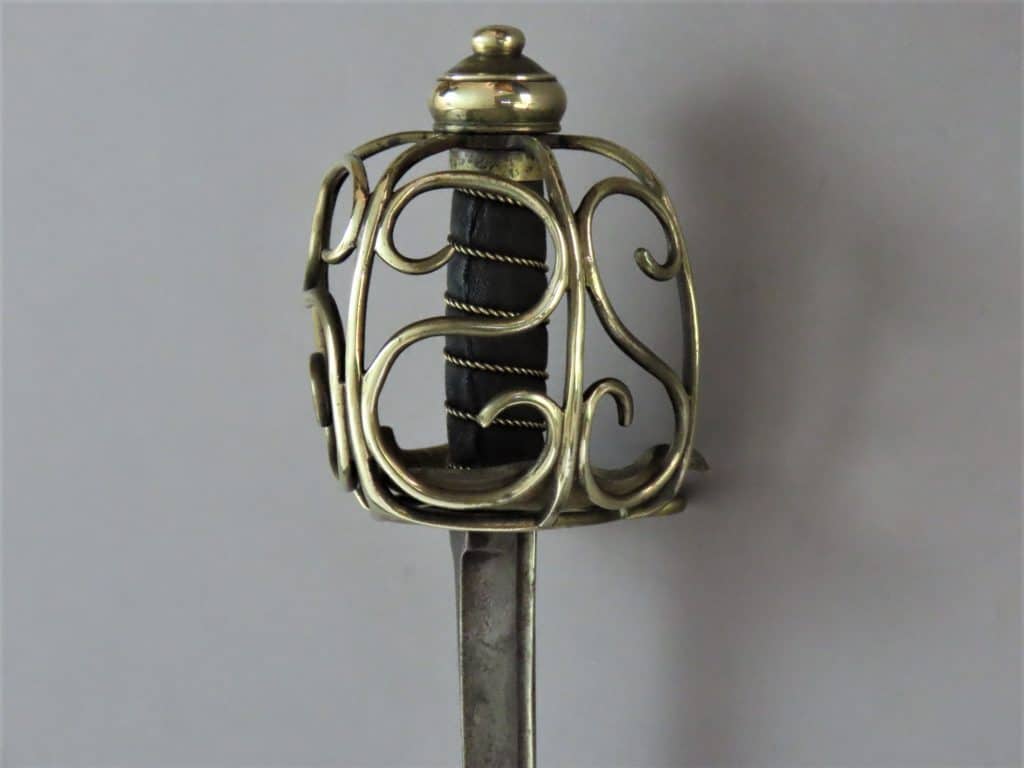 A rare mid-18th century British Cavalry Basket Hilted Sword
To enquire about this item
please click here
Price: £4,750
Ref: AA.044.23
Item Description
A rare mid-18th century British Cavalry Basket Hilted Sword with the hilt made of brass. This distinctive style of sword is amply described in various pieces of literature but examples rarely appear on the market. Robert Brooker states that one battle in which the sword type was used was  Dettingen in 1743 (see below for references).  This example is in excellent condition.
The sword is mounted with an asymmetrical hilt comprised of four vertical bars, with the spaces infilled with three "S" shaped bars, which emanate from the hilt base and terminate by being forged onto a ring around the lower part of the pommel and into which the pommel stem sits. The guard bars of the hilt base are forged into a heart shape around the cross guard bar.
The flattened bun shaped pommel is ribbed with an integral button on top. The spirally grooved wooden grip is covered with dark fish skin and bound with brass wire and mounted with brass ferrules top and bottom. This form of grip mount is typical for the type. The hilt retains its original leather liner.
The single edged heavy blade is of robust form and tapers to a spear point. The blademaker's mark stamped on each side is of European origin. The blade  was probably made in Solingen. Other swords of this type have blades with similar marks which are variants of a cruciform theme and have a spear point. The blade was likely part of a government supply contract given that the base of a government ownership broad arrow mark is stamped on the blade very near the hilt with the crown above most likely obscured by the cross guard bar.  Perhaps some other marks are present on the tang hidden by the quillon block and grip which would further indicate government acceptance and ownership.
The overall length is 40.75 inches (103 cm) and the blade is 34.75 inches (88 cm)
For other similar examples and discussions of this sword type see see the following literature:
Robert Brooker, British Military Pistols and Associated Edged Weapons, Colorcraft Ltd, 2016, page 120, fig 24
Cyril Mazansky, British Basket-Hilted Swords, Boydell Press / Royal Armouries, 2005, page 216.
Charles Martyn, The British Cavalry Sword from 1600, Pen & Sword Military, 2004, fig 27, page 50.
Leslie Southwick, The price Guide to Antique Edged Weapons, Antique Collectors' Club, 1982, page 144, fig 390