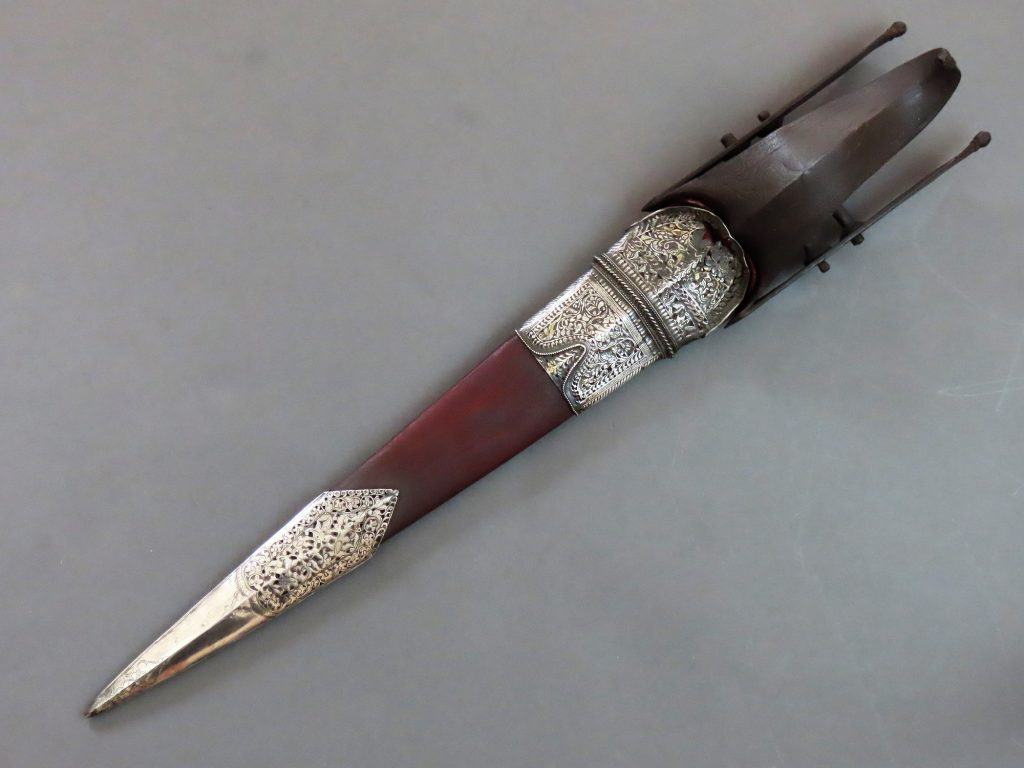 A rare 17th century Tanjore Indian Hooded Katar
To enquire about this item
please click here
Price: £2,350
Ref: AA.093.22
Item Description
A rare Tanjore Hooded Katar of the 17th century mounted with a characteristic hooded hilt.
The Katar is in complete original condition overall with a russet patination  through which extensive traditional engraving of scrolling foliage within borders of geometric design can be seen on the hood, hilt and blade surfaces,  as shown in the photographs. The grip consists of two parallel wrist bars of rectangular section between which two rungs for the grip with knops in the middle are applied.
The tapering double-edged blade is reinforced at its join with the hilt and has a swollen tip. A series of aligned fullers are applied as chevrons which extend from the hilt along the middle on each side,
The Katar retains its wooden scabbard covered with red leather and mounted with a decorative white metal mouthpiece and chape finely embossed and pierced with similar designs of scrolling foliage.
The Katar has maintained its original shape with no repairs or noticeable damage to the structure. There are some minor losses to the white metal scabbard mouthpiece on one side.
The blade is 15 inches (38 cm) long