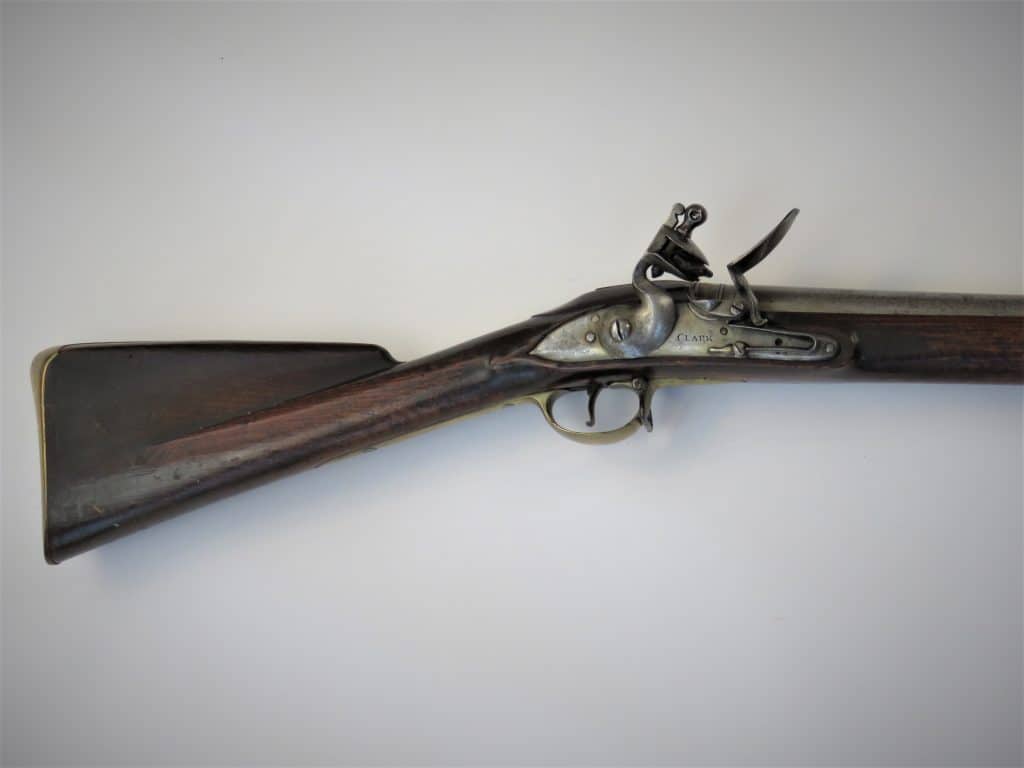 A fine 1779 Short Land Pattern Brown Bess Volunteer Musket by Clark of London
To enquire about this item
please click here
Price: £4,950
Ref: 081.20
Item Description
A fine late 18th century Tower Proofed, 10 bore, flintlock Militia Musket by Clark of London mounted with a 42 inch barrel. The overall length is 58 inches.
The sighted barrel is stamped with "LONDON" on top near the breech and "SI" among the proof marks. The lock is of regulation form with a swan  neck cock. The walnut stock is carved with an apron  around the tang and impressed with the letters "WP" in the stock on the opposite side of the lock and with a number "10" on the spine of the butt.
The brass mounts are of regulation type with the "S" shaped side plate also  impressed with the number "10". The butt plate is is engraved with "N-Y 96". The reappearance of the number "10" on the barrel near the proof marks speaks for the homogeneity of the parts.
The sling loops are of iron and the three ramrod pipes are of brass. The musket retains its socket bayonet stamped with the numbers "94" and "41". The ramrod is original made from steel with iron forming the swollen terminal and part of the shaft below which due to the nature of iron has rusted and pitted more markedly than the steel.
The lock is signed "CLARK" , the gun-maker recorded as working in Holborn in London and having a Royal Government contract for the supply of flintlock muskets.
The musket is in fine original condition with the mechanical parts in crisp working order.