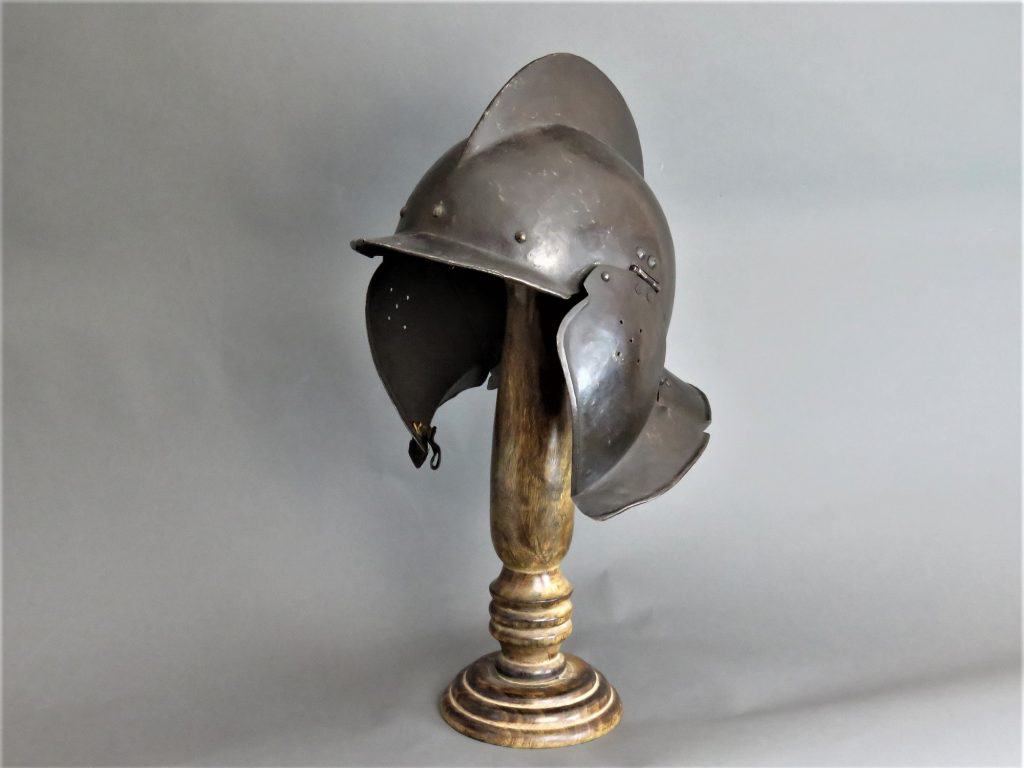 A North European Burgonet dating to the late 16th century
To enquire about this item
please click here
Price: £3,875
Ref: 23.15
Item Description
An attractive burgonet helmet of typical form dating to the late 16th century. The burgonet first came into use in the early 16th century and had reached its classic form by circa 1550. The burgonet was a development prompted by increasingly more mobile forms of warfare. It was was lighter than the earlier closed helmet, easier and more economic to produce. Some were mounted with additional protection for the face but by the end of the 16th century the open faced type like our example was most common.
Burgonets were worn as part of a plate armour suite mainly by horsemen. Like the production of morions, European armour producing centres manufactured munitions grade burgonets and armours for export to places where demand exceeded local supply. The Border Reivers, the raiding clans living along the English-Scottish borderlands, were very fond of burgonets and morions in Elizabethan times. It is as a result of this fondness that the reivers were often called "Steel Bonnets". Burgonets were also popular with Swiss mercenary infantry and pikemen.
The later 16th century burgonet described here is characterised by a rounded skull made from one piece with a large fixed pointed peak with a folded edge  projecting from above the face opening. Above, an integral comb runs from front to back. A flange of separate manufacture is riveted to the back of the skull to protect the upper part of the neck and lower skull. Substantial hinged cheek pieces are attached to the skull which protect the back and sides of the neck and are pierced with five auditory holes. The cheek pieces and neck guard are flanged outwards with a folded hem which converge to offer a seamlessly protective collar when worn. Inside the helmet leather strips secured with rivets at the forehead and neck once held in place a liner and the cheek pieces retain the remnants of leather ties.
The burgonet is in nice original condition with its blackened finish now worn in places. The skull width across its middle is 8.5 inches (21.5 cm).