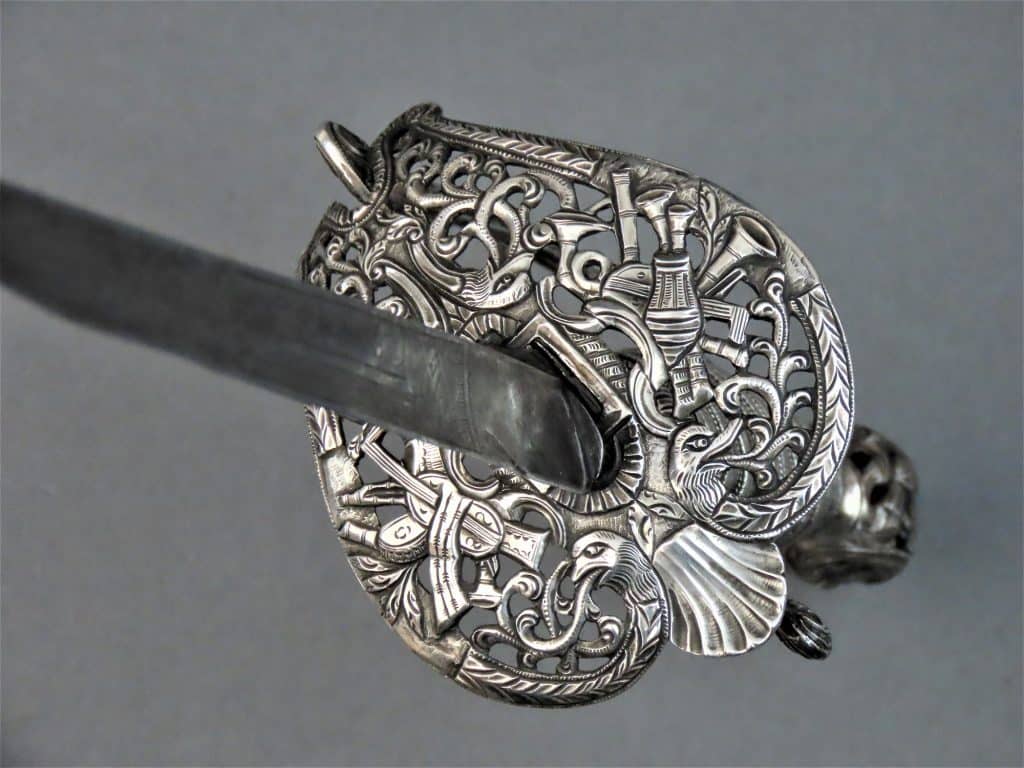 A Fine Silver Hilted Small Sword with Boat Shell Guard and London Hallmarks for 1762 / 1763
To enquire about this item
please click here
Price: £3,100
Ref: 06.22
Item Description
A fine small sword mounted with a boat shell silver hilt and an imposing  colichemarde blade in excellent and original condition. The hilt is sumptuously and imaginatively engraved in pierced and raised relief with musical instruments, stands of arms and mythical beasts on the shell guard, ricasso, knuckle bow and pommel, supported by chevron patterns elsewhere. Near the pommel the knuckle bow on one side is stamped with the crowned leopard's head assay mark, the royal lion passant and the London date stamp of 1762/3.
The triangular section, stiff, hollow ground, colichemarde blade is a strong and fine quality example of its type. It retains a mottled grey patina all over. On both sides at the forte a panel is engraved with geometric lines and foliage with a further panel of foliage along the blade where the sides narrow into the colichemarde form. The baluster shaped wooden grip is spirally bound with silver ribbon interspaced with a double length of twisted roped wire with thinner twists on each side and mounted with silver cap terminals top and bottom engraved with floral designs.
The hilt is an example of the high standards of design and execution required of the 18th century London silversmith as well as an example of one of the most effective weapons of the 17th and 18th centuries. Silver hilted small swords were fashionable attire for 18th century gentlemen. Mostly worn for effect, someone wearing such a sword was also announcing to the world that he was able to use it. Despite the stylish and often delicate appearance of these swords they were formidable dueling weapons.
The sword has not been intrusively cleaned and is in wonderful original condition overall with some light age staining to the blade which is smoothly and lightly patinated.  The engraving on the silver parts and on the blade is crisp and clear never having been subject to much wear. There are no losses or repairs to the hilt which has maintained its original pleasing outline. The wire on the silver bound grip has some minor scuffs in places.
Blade length 33.5 inches or 85 cm. The overall length 40 inches or 101.5 cm.