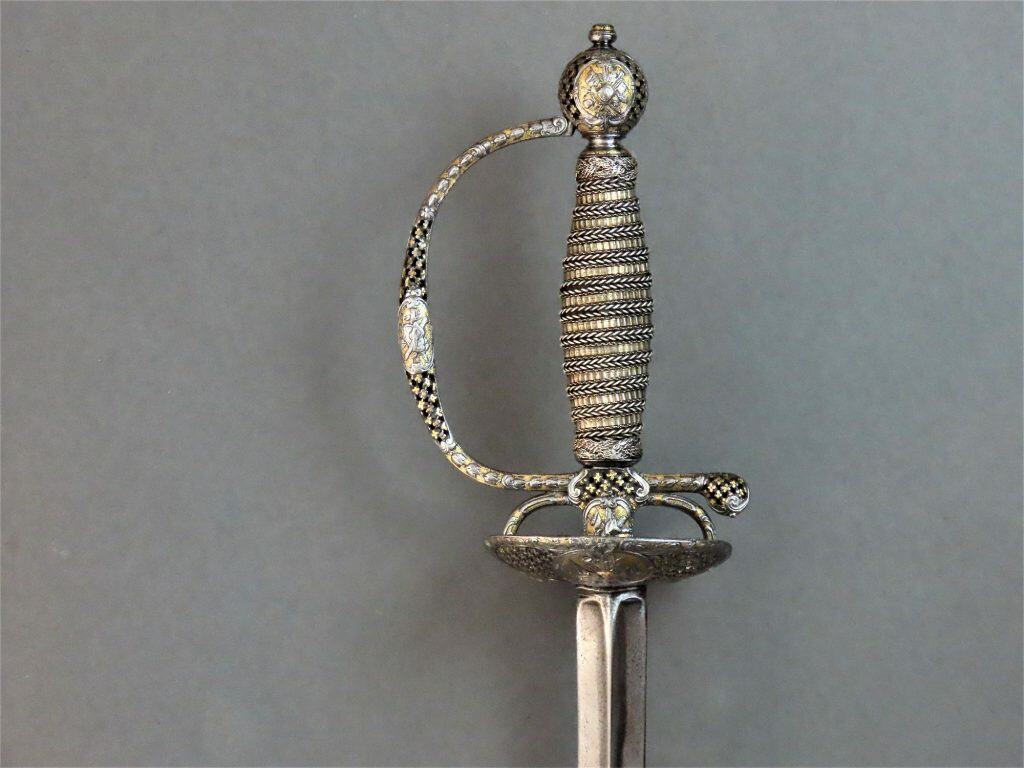 A fine French Small Sword with Gilt Highlighted Cut Steel Hilt circa 1750
To enquire about this item
please click here
Price: £1,950
Ref: AA.056.23
Item Description
A beautiful aristocratic French small sword with exquisitely cut, pierced and chased steel hilt highlighted with gilt dating to the decades preceding the French Revolution. The sword is a nicely balanced example mounted with a double shell guard hilt and hollow ground triangular section blade.
Given the unforgiving nature of steel the shell guard of this hilt is expertly chiselled with artistic and symmetrical designs in raised relief and pierced with delicate floral patterns. Each of the two shell guards is chiselled with a border around the rim on each side. In the middle on each side is a roundel in the centre consisting of a stand of arms on one shell guard and a stand of musical instruments on the other attesting to the combined monetary, cultural and martial standing of the original owner. The ecusson, pas d'ane rings, knuckle bow and pommel are decorated in the same sumptuous manner.
The grip consists of a wooden baluster-shaped core spirally wrapped with bands of crimped silver strip separated by contra twisted roped silver wire and mounted with woven "Turk's Heads" top and bottom.
The tapering, slender, hollow ground, triangular section blade retains remnants of its original decoration and is in fine condition. The blade is 32 inches (81.25  cm) long and the overall length of the sword is just over 39 inches (99.5 cm).
The condition of the sword is in fine and original form.