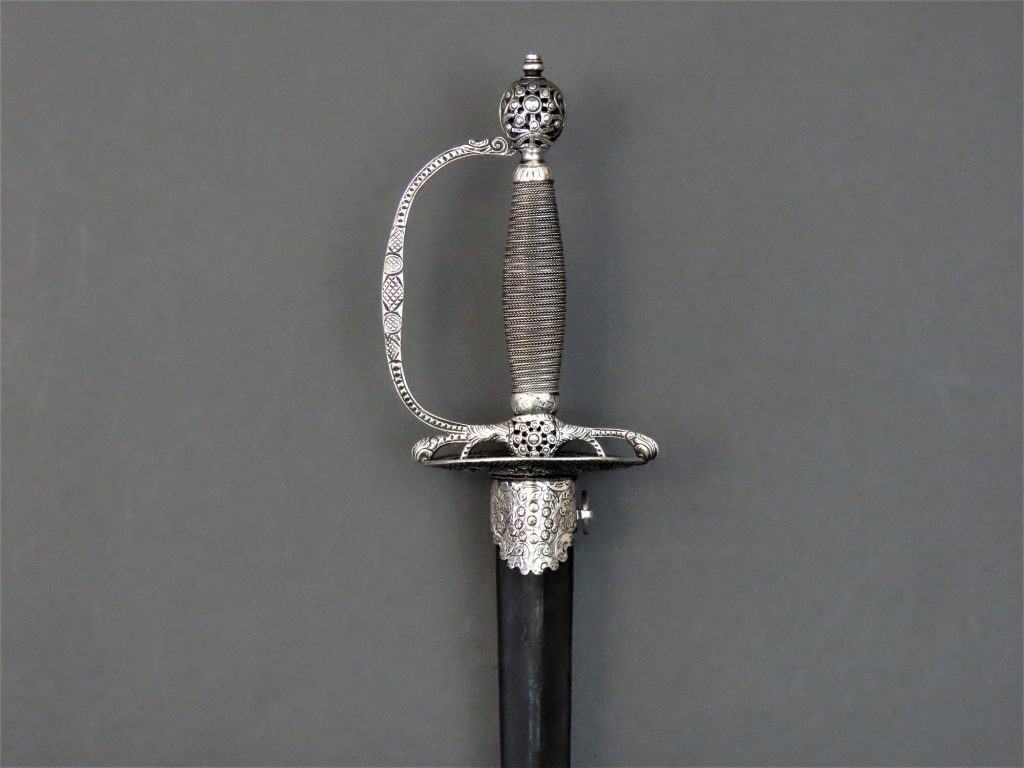 A fine English Silver Hilted Small Sword by William Flint with London Hallmarks for 1771 / 1772
To enquire about this item
please click here
Price: £3,250
Ref: 28.22
Item Description
A fine English silver hilted small sword by William Flint of London with hallmarks for 1771  / 1772.  The hilt is mounted with an oval shaped dish guard which is exquisitely pierced and engraved with  bold florets forming the main design theme surrounded by foliate scrolls.  This design pattern is common to the pommel, ricasso and scabbard locket which attests to the originality and homogeneity of the parts. The sword is well-balanced and mounted with a colichemarde blade which retains much of its original engraving. 
William Flint was a prominent cutler and silver-hilted sword maker.  He moved to London from Northampton as a young man and was indentured to the cutler and silver hilted sword maker George Fayle for seven years from 19th November 1761. In 1768 he recorded his mark of "W F" in raised relief inside a depressed rectangle at Goldsmiths' Hall whilst still working at Fayle's address.  He was sworn free of the Cutlers' Company in 1770 and established himself in business with premises in Dogwell Court, in the Parish St Dunstan in the West, in the City of London. Flint seems to have built a successful business and employed several apprentices during the following years. This sword was made in the early part of Flint's career. He seems to have established himself early on by building  supply arrangements with retailers and outfitters based in his vicinity in London such as Stevens of Temple Gate.
The hilt is an example of the high standards of design and execution required of the 18th century London silversmith as well as an example of one of the most effective weapons of the 17th and 18th centuries. Silver hilted small swords were fashionable attire for 18th century gentlemen. Mostly worn for effect, someone wearing such a sword was also announcing to the world that he was able to use it. Despite the stylish and often delicate appearance of small swords they were formidable dueling weapons.
The hilt consists of a shallow dish guard with a strengthened rim pierced and engraved with intricate patterns of scrolls and swirls surrounding boldly formed florets. The maker's mark of "W F" is present on one side of the knucklebow near the pommel, accompanied with the further marks of the crowned leopard's head assay mark, the royal lion passant and date marks. 
The tapering, hollow ground, stiff, colichemarde, triangular section blade is mounted with an engraved panel on each side at the forte which contains scrolls and foliage topped with stands of arms.  The baluster shaped grip is covered with spirally wrapped silver strip separated by by a double length of contra-twisted roped silver wire. Silver cap terminals are present top and bottom of the grip engraved with floral designs. The original black leather scabbard retains its silver mouthpiece, suspension mount and chape.
The sword is in fine condition. There are no losses or repairs to the hilt which retains its original pleasing contours.  It is rare to encounter swords of this type with original scabbards.  The scabbard is a rare survivor, in fine condition, having come through the centuries with only minor damage to its chape. The blade is in good clean condition.  The engraved panels are clear but worn due to the sword being drawn from its scabbard and re-sheathed many times over the years.          
For further information see "London Silver-Hilted Swords", their makers, suppliers and allied traders, with directory, by Leslie Southwick, 2001, Royal Armouries, and page  111 for the biography of William Flint, and Grimwade 1990 mark reference 3115 for Flint's mark registered at Goldsmiths' Hall in 1768. 
The blade is just over 32.5 inches (83 cm) long and the overall length of the sword is 39 inches (99 cm) long.