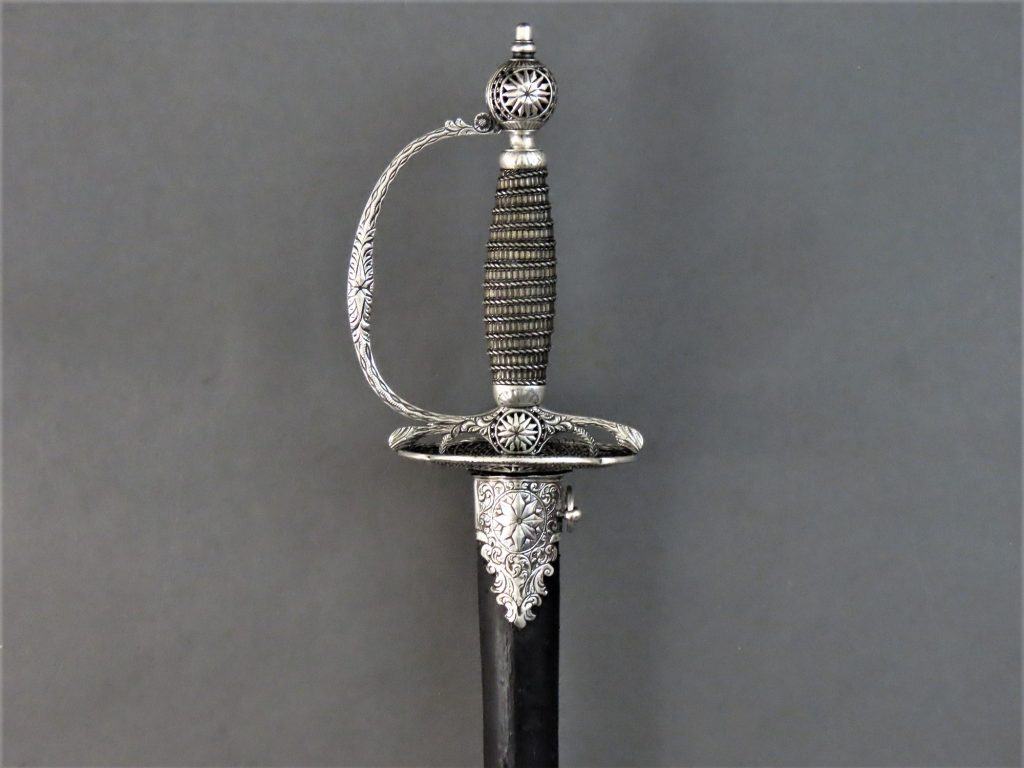 A fine English Silver Hilted Small Sword by William Flint with London Hallmarks for 1771 / 1772  retailed by Stevens of Temple Gate
To enquire about this item
please click here
Price: £3,250
Ref: 121.20
Item Description
A fine English silver hilted small sword by William Flint of London with hallmarks for 1771 / 1772  and retailed by Stevens of Temple Gate, London. The sword retains its original scabbard and mounts. It is a well-balanced example mounted with a colichemarde blade which retains much of its original engraving. The hilt is mounted with a dish guard which is exquisitely pierced and engraved with scrolling crescents  centred with multi-pointed florettes which provide a common theme of design for the other components of the hilt and the scabbard mounts. 
William Flint was a prominent cutler and silver-hilted sword maker.  He moved to London from Northampton as a young man and was indentured to the cutler and silver hilted sword maker George Fayle for seven years from 19th November 1761. In 1768 he recorded his mark of "W F" in raised relief inside a depressed rectangle at Goldsmiths' Hall whilst still working at Fayle's address.  He was sworn free of the Cutlers' Company in 1770 and established himself in business with premises in Dogwell Court, in the Parish St Dunstan in the West, in the City of London. Flint seems to have built a successful business and employed apprentices during the following years.
Abraham Stevens is recorded as active from 1741 until his retirement in 1779 as a hatter, haberdasher and sword cutler based at number 17 Fleet Street in the same parish as Flint.  Although possibly trained as a sword cutler Stevens was a retailer, most likely a gentleman's outfitter. The scabbard lockets of swords that passed through his business were marked, as is the case with the locket  of the sword described here, "STEVENS" with "Temple Gate" underneath, on the flat rear side.  Temple Gate (referred to as Temple Bar) was the principal ceremonial entrance to the City of London from the City of Westminster from the Middle Ages after London expanded its city jurisdiction beyond its walls. Fleet Street is the main road running east of Temple Bar and as a retailer with a mind for his social position, Stevens like others in his trade, clearly thought the name of his business as Stevens of Temple Gate was a little more prestigious than Stevens of nearby Fleet Street. Stevens died in 1785.
Stevens had an established business by the time Flint was sworn free. He was a near neighbour of Flint who was was most certainly a supplier of swords to Stevens. In this respect this  sword is a rare and unique reflection of the working relationship between the two men at the early part of Flint's career as he sought to get himself established in a competitive market after completing his apprenticeship and benefitted from the patronage of Stevens, who in turn, was able to benefit from the output of this budding young talent.
This sword  is a fine representation of Flint's work and the hilt is as much an example of the high standards of design and execution required of the 18th century London silversmith and cutler as it is of an effective weapon. Silver hilted small swords were fashionable attire for 18th century gentlemen. Mostly worn for effect, someone wearing such a sword was also announcing to the world that he could use it. Despite the stylish and delicate appearance of these swords they were formidable duelling weapons.
The hilt consists of a shallow dish guard with a waved perimeter. It is exquisitely pierced and engraved with intricate patterns of crescent scrolls and swirls within a thickened brim centred on multi-pointed star or florette shapes. The same style of decoration is consistently extended to the pas d'ane rings, knucklebow, front and rear quillons, the ovoid pommel and the scabbard locket. The maker's mark of "W F" is present on one side of the knucklebow near the pommel accompanied with the further marks of the crowned leopard's head assay mark, the royal lion passant and date marks. 
The tapering, hollow ground, stiff, colichemarde, triangular section blade is mounted with an engraved panel on each side at the forte which contains scrolls and foliage underneath the bust of a man with arms behind. Above this panel is a further design of scrolls on each side. The baluster shaped grip is covered with spirally wrapped crimped silver strip separated by roped silver wire flanked by narrower lengths, with silver cap terminals top and bottom engraved with floral designs. The sword retains its original scabbard formed with a wooden core over which a black leather covering has been tightly wrapped. It retains its silver mouthpiece, suspension mount and chape. There are no losses or repairs to the hilt which has maintained its original pleasing outline.  It is rare to encounter swords of this type with original scabbards.
For further information see "London Silver-Hilted Swords", their makers, suppliers and allied traders, with directory, by Leslie Southwick, 2001, Royal Armouries, and page  111 for the biography of William Flint, and Grimwade 1990 mark reference 3115 for Flint's mark registered at Goldsmiths' Hall. The sword is in fine condition overall with some minor pitting and age staining in patches on the blade, the most significant present just beyond the engraved panel on the ribbed side of the blade as shown in the images below.   
The blade is 32 inches (81.25 cm) long and the overall length of the sword is 38.25 inches (97.25 cm).