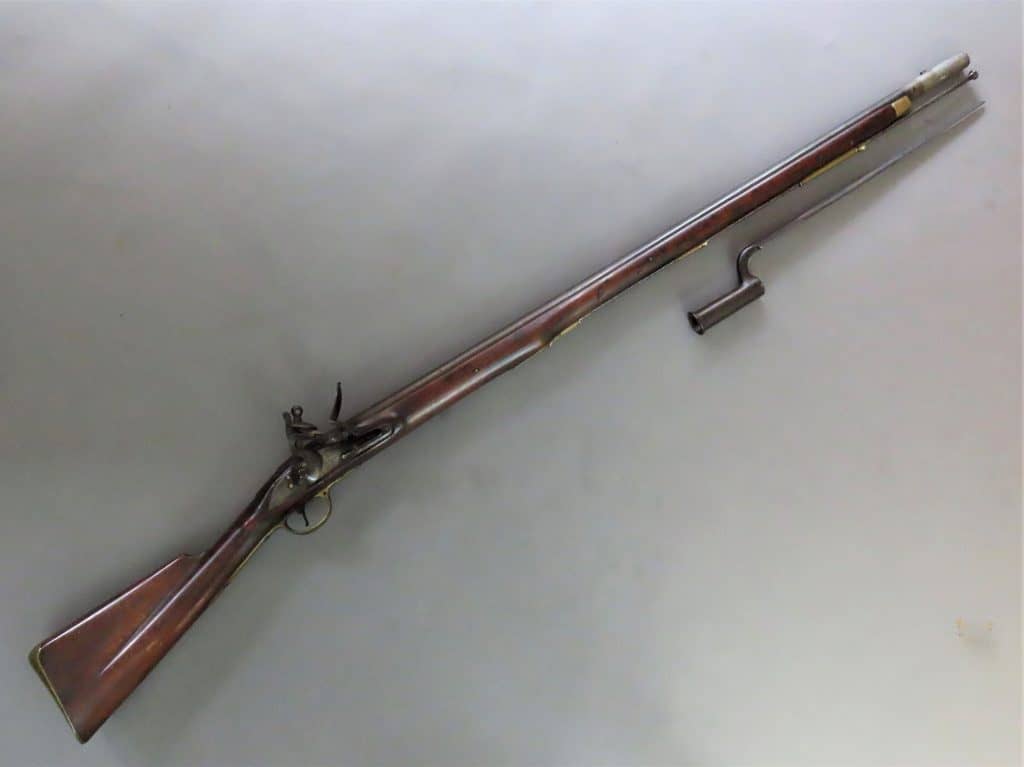 A fine East India Company 10 bore Windus Pattern Musket by Henry Nock of London dated 1801
To enquire about this item
please click here
Price: £3,000
Ref: AA.018.23
Item Description
A fine example of an East India Company Windus Musket by Henry Nock. The lock is clearly marked with the maker's name "Nock" in front of the swan necked cock and the East India Company lock inspector's stamp of a crowned '2' beneath the pan. The tail of the lock is stamped with the EIC bale mark and the date 1801.
The 39" (99 cm) plain sighted barrel has an apron around the tang and is of 10 bore calibre. London proof marks are stamped into the barrel together with an indistinct barrelsmith's mark. The marks are indistinct mainly because of accumulated patination. The photographs show that the musket is in fine uncleaned condition with a consistent aged coloration to both the wood and metal parts.
The full figured stock is applied with brass mounts of regulation type and the musket retains its original iron ramrod. The hollow triangular section socket bayonet is unmarked other than with a stamped number 8.
Henry Nock (1741 to 1804) was a British inventor and engineer of the Napoleonic period best known as a gunsmith. Nock produced many innovative weapons including the screwless lock and was a contractor to the East India Company and the Royal East India Volunteer Regiment between 1777 and 1803.
The East India Company was granted a charter by Elizabeth I in 1600 and was reformed in 1708/9 as "The United Company of Merchants of England trading to the East Indies." This was shortened to the "United East India Company" represented by the letters V E I C inside the quarters of the heart-shaped balemark on the lock plate tail. This mark was applied to other company assets such as coins as well as weapons. The definitive meaning of the number 4 in the mark remains unknown. The Windus Pattern was the standard musket type used by the EIC in the late 18th and early 19th centuries and was adapted for use by the British Ordnance during the Napoleonic Wars.
See D.F Harding, East India Company Small Arms 1775-1851, 2013, pages 25-29, 204 and 216.
Overall the musket is 55 inches (139.5 cm) long and the bayonet blade is 15.25 inches (38.75 cm) long. It is rare to encounter Windus muskets in this unaltered and original form.