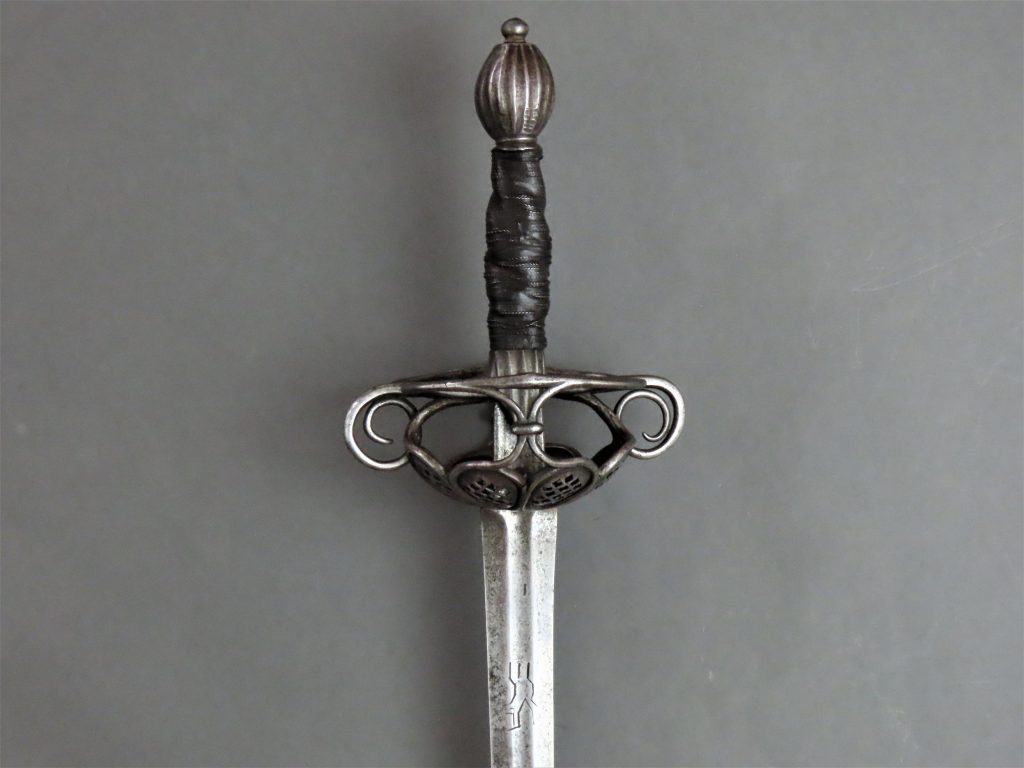 A Fine Dutch Rapier with English characteristics dating to circa 1630 – 1645
To enquire about this item
please click here
Price: £3,750
Ref: AA.086.22
Item Description
An elegant dish hilted rapier mounted with an imposing double-edged blade indicating that it could have been used both for duelling and for military service. The rapier is well balanced in hand and in fine condition.
The distinctive dish-shaped hilt is formed from well-forged rounded bars. Quillons with pronounced downward scrolled terminals extend from the boldly shaped rectangular section quillon block, which is formed with short downward facing langets, and a short neck above towards the base of the grip. The block front and back is engraved with bold vertical flutes with softened profiles. Two pronounced side guard rings with swollen middles are attached to the block.
Two pas d' ane rings extend downwards from underneath the horizontal guard bars, as do two sets of conjoined counter-curved bars from each side ring, which join and strengthen the convex dish shaped guard which consists of a floret of eight petals. Each petal is formed from a perimeter bar, grooved on the inside, and into which sprung guard plates have been pressed, each pierced with a lattice of flecked diamond shapes.
The elongated solid oval shaped pommel is vertically fluted in the same manner as the quillon block and manufactured with an integral ribbed collar at the base and mounted with a waisted pommel button on top. The original wooden grip is spirally fluted and wrapped with twisted wire which is now distressed and at some time has been fixed / stabilised with a tarry black coating.
The stiff tapering blade is of flattened diamond section. It has a single central fuller on each side extending for circa 7 inches (18 cm) from the hilt and contains on one side the armourer's mark of a chiselled running wolf indicating Passau or Solingen as the probably places of manufacture. The plain rectangular section forte extends inside the guard from the apex of the dish to the cross guard bar.
The guard is similar to some English hilts of the same date with dish guards consisting of pierced florets of a slightly different nature with the guard manufactured from a sheet of iron which is then pierced, rather than consisting of the more complex method of construction of this hilt, with the petals formed from perimeter bars and sprung plates. The rapier is most likely Dutch incorporating some English styles. Dutch swords, and other "continental" weapons, were used in England during the English Civil War periods as demand for arms from both Parliamentary and Royalist sides outstripped domestic supply, and  procurement focussed on England's near neighbour, where Dutch traders were able to supply weapons in sufficient quantities from both Holland and further afield. Hence the rapier may well have been designed by a Dutch armourer who took into account English tastes, although it must be qualified, that Dutch and English weapons were already noticeably similar in some areas.
See AVB Norman, "The Rapier and Small-Sword, 1460-1820", Arms and Armour Press, 1980, Fig 68, for an almost identical form of rapier, although of less complex construction in that it lacks the side guard bars featured in our sword hilt, and the dish guard has six petals rather than eight. Norman categorises this sword form, together with its various near relatives, as his Hilt Type 97 dating to circa 1630-1645.
For further reference see similarities to Figs 94 & 95, Leslie Southwick, The Price Guide to Antique Edged Weapons, Antique Collectors Club, 1983.
Blade length 39 inches (99 cm) and the overall length end to end is 47.25 inches (120 cm).