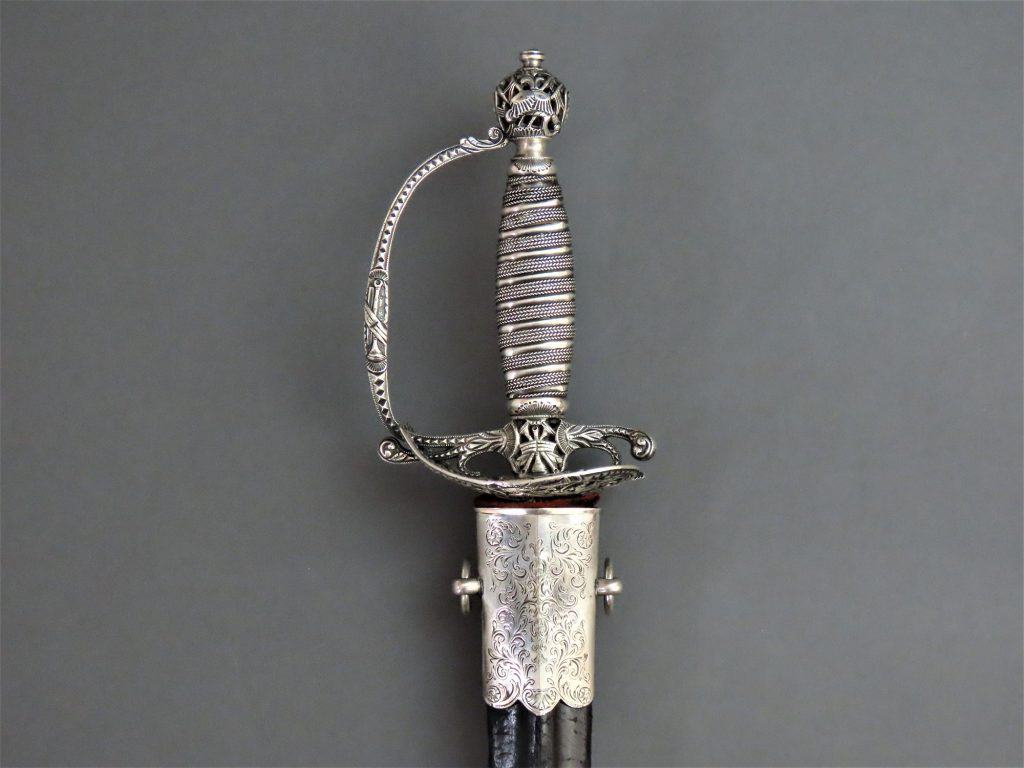 A Fine 18th Century English Silver Hilted Small Sword by Robert Gray of London hallmarked for 1757 / 1758
To enquire about this item
please click here
Price: £3,385
Ref: 07.22
Item Description
A fine English silver hilted small sword almost certainly by Robert Gray of London.  His exquisite workmanship is evident in this sword hilt which represents the mid-18th century London silversmiths' work at its best. In this respect the sword is both a work of art as well as an attractive weapon. The sword is well balanced and mounted with a boldly formed colichemarde blade and retains its black leather scabbard with silver mounts.
The hilt is of "Boat Shell" type which incorporates more complexity in its design, construction and decoration compared to contemporary hilt shapes of  disc and double shell guard forms. The convex heart-shaped guard is finely pierced and decorated on both sides with flowing patterns of scrolls and musical instruments in relief within a bold ribbed border. The cross guard, knuckle bow, ricasso and pommel are decorated in a consistent and similar fashion. The grip consists of alternate thicknesses of roped and ribbon silver wire mounted onto a wooden baluster shaped core with silver cap terminals top and bottom engraved with floral designs.
The silver standard marks of the lion passant and leopard's head are stamped into the knuckle bow near to the pommel together with the date stamp and the maker's mark. The maker's mark consists of a letter "R" in relief inside an oval panel. The letter "G" next to it on the right is mis-struck, or damaged, but together the letters almost certainly form the mark of Thomas Gray.
The tapering, hollow ground, stiff, colichemarde, triangular section blade is  32.25 inches (just under 82 cm) long and decorated at the forte with panels of foliage and interlace which is now worn. The overall length of the sword is fractionally over 38.5 inches (100.25 cm).  The sword retains its original scabbard formed with a wooden core over which a black leather covering has been wrapped and stitched then protected with a black laquer coat which has slightly flaked in places. It retains its red velvet mouth liner plus its decoratively engraved silver mounts and suspension rings.
Silver hilted small swords were fashionable attire for 18th century gentlemen. Although mostly worn for effect a gentleman carrying such a sword was also announcing to the world that he was capable of defending himself with it and was trained to do so. The stylish and delicate appearance of these swords was an expression of confidence, social standing and competence in their use as formidable duelling weapons.
Robert Gray worked for most of his career in Bond Street, Westminster, from the early 1730's until his death in 1788. Mortimer's "The Universal Directory for 1763" records Gray's address as Bond Street "opposite the Duke of Grafton's". Kent's Directory for 1769 records his address as 13 New Bond Street and describes him as "Cutler & Toyman". In 1777 Gray was supplying various items into the royal household and the evidence suggests that he was later appointed as a cutler to the Prince of Wales. The introduction is evident in a letter to the Prince of Wales from Prince Frederick in 1781 which states "you must get such a Sword as Grey (sic) made for me". In his will compiled in  1785 Gray describes himself as "Jeweller & Cutler".
There are no losses or repairs to the hilt which has maintained its original pleasing condition and profile.  It is rare to encounter swords of this type with original scabbards in such good condition. For further information on Robert Gray see Leslie Southwick, "London Silver-Hilted Swords", their makers, suppliers and allied traders, with directory, 2001, Royal Armouries, 124-126 for his biography.