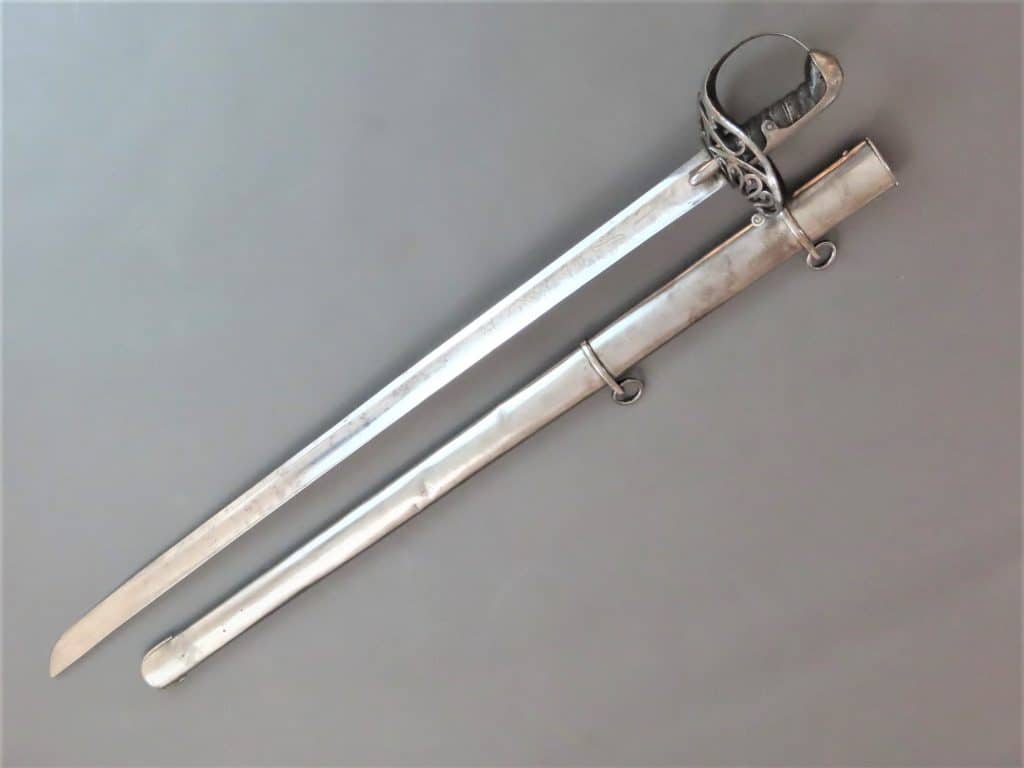 A British Officer's 1796 Pattern Heavy Cavalry Sword
To enquire about this item
please click here
Price: £2,150
Ref: AA.037.23
Item Description
A nice British Officer's 1796 Pattern Heavy Cavalry Sword complete with its steel scabbard. The sword is mounted with its regulation steel ladder (sometimes called "honeysuckle") hilt with a pierced base in the form of scrolls and a pair of langets.
The single edged blade has a hatchet point and a pronounced fuller which extends from the blade almost to the tip. The fuller is engraved each side with two stands of arms with a crowned "G R" between all retaining some original gilt highlight. The back edge is marked "J. J. Runkel Sohlingen". Runkel was a German manufacturer whose blades are encountered on a number of British sword types of the late 18th and early 19th centuries.
The scabbard has a reinforced mouthpiece, an integral drag and is mounted with two suspension loops which retain their rings. The scabbard is in good condition apart from a small dent on one side as can be seen in the photos. The wooden grip has slight losses to its leather cover, some old worm damage and retains most  of its wire binding. The blade length is 34.25 inches long (87.0 cm).
Brian Robson comments that this sword type may be based on a German or Austrian design. It is depicted in various portraits of officers in the 2nd Dragoons of the Kings German Legion, 4th and 10th Dragoons circa 1810-1820. See Brian Robson, "Swords of the British Army, The Regulation Patterns 1788-1914" Revised Edition, 2011, pages 83-85.