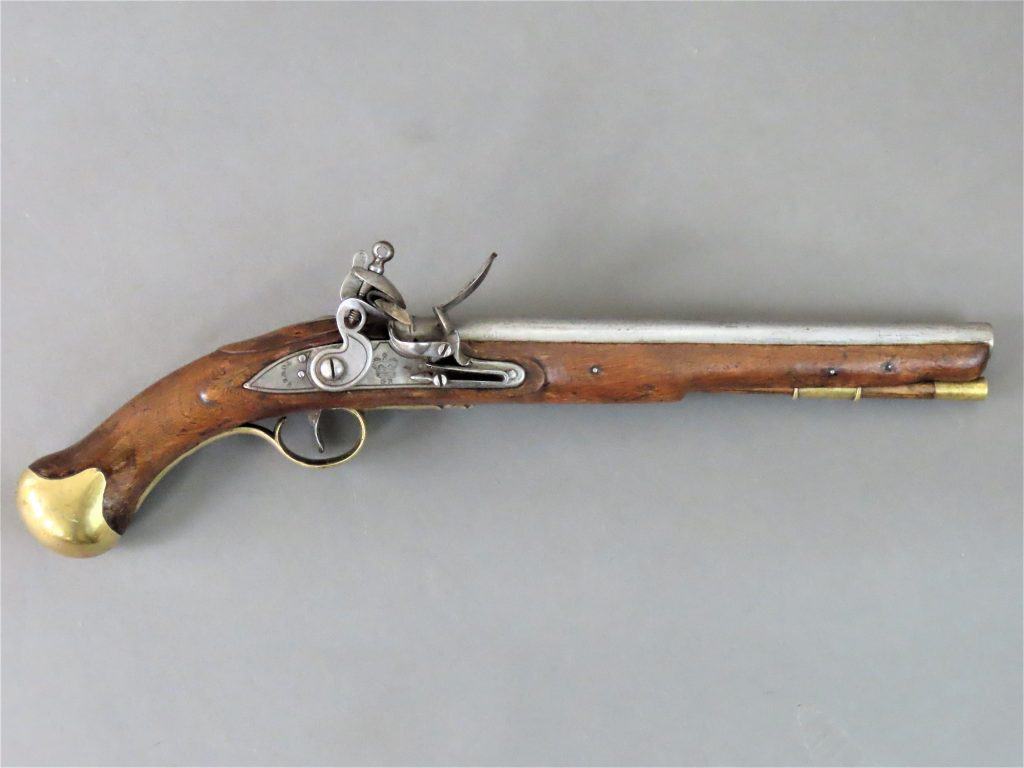 A 28 Bore 1801 Pattern Flintlock Long Sea Service Pistol
To enquire about this item
please click here
Price: £2,850
Ref: AA.019.23
Item Description
A fine example of a British 1801 Pattern Long Sea Service Pistol. The 1801 was the fourth Sea Service Pistol Pattern to come into use and was the last to utilise a 12 inch barrel. De Witt Bailey records that 27,800 pairs of this type were made in the 11 years to 1812 when production ceased. Many were not issued.
The plain 12 inch tapering barrel is stamped near the breech with King's Ordnance proof marks consisting of a crown over "G R" with a broad arrow beneath, the Tower crossed sceptres acceptance mark, an inspector's mark of a crown over a number "12" and with a further crown on the barrel tang near the screw. The border engraved ring-necked cock and flat bevelled bridled lock has "TOWER" stamped across the tail. A crowned "G R" is present in front of the cock and an inspection mark beneath the pan.
The figured full stock is shaped with an apron around the barrel tang and stamped with inspectors' marks on the stock and in the ramrod channel.  It retains patches of original varnish. The Storekeepers' Stamp is dated 1806 above the tail of the lock on the stock. The brass mounts are of regulation type. A number "19" is incised into the pommel cap. The brass tipped ramrod is secured in a tapered Pratt type pipe. The belt hook is also stamped with a crown inspection mark with a number "6" beneath.
The pistol is in fine condition apart from a few minor dents and dings to the stock as can be seen in the photos. The mechanical parts are in crisp working order. For further examples see Geoff Davies, Barry Chisnall & Clive Brook, "British Ordnance Single Shot Pistols", published by Maine Military, 2019, Chapter 7.