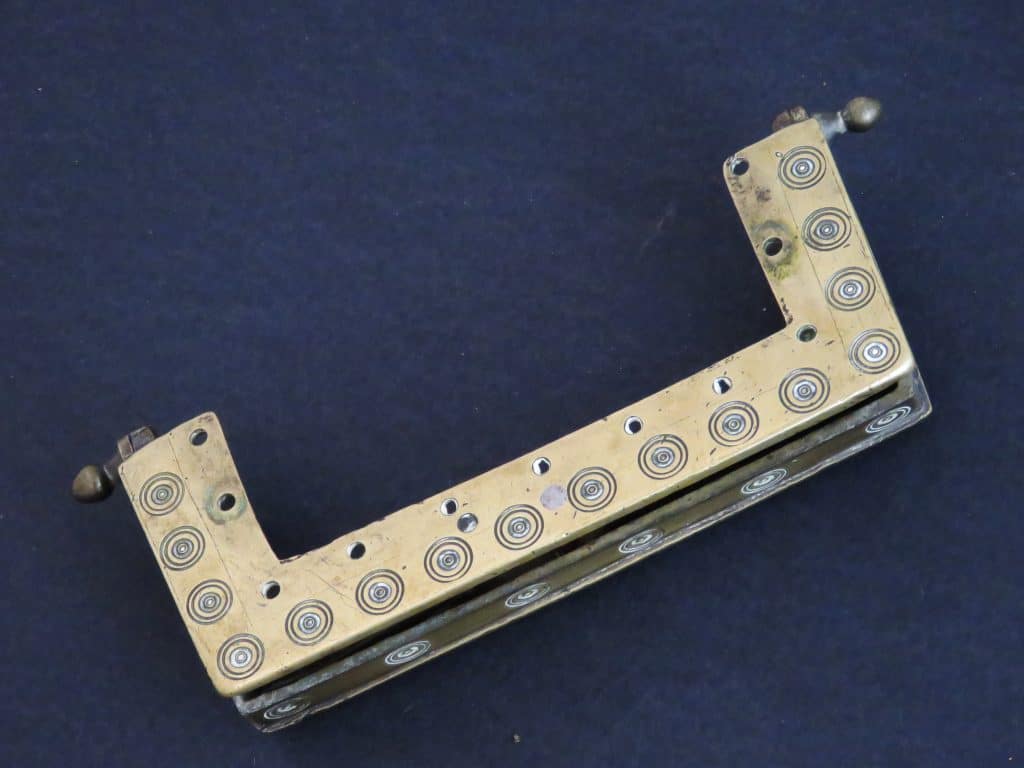 Brass Highland Scottish Sporran Cantle Dating to the First Half of the 18th Century
To enquire about this item
please click here
Price: £1,250
Ref: 24.14
Item Description
A mid 18th Century brass sporran cantle of slightly splayed rectangular form, fashioned from thick brass front and back parts. The rear section is made with an upper rim underneath which the original working iron and sprung steel parts of the closing mechanism are attached. The mechanism is still functional. When worn the visible front and top sections are smoothly finished  by the maker whilst the backward face of the rear section, with the iron belt loops attacjed, is left rough.
Two brass riveted hinges finished with knops hold the cantle together. Eleven circular holes are present on the base of the front cantle portion, and ten to the rear, to which the bag of the sporran was once stitched. Above these to the front sixteen dot and concentric ring marks are present. A further ten are present on the upper surface of the rim attached to the rear portion. These designs are of typical Scottish form for the period and often appear on early 18th century Scottish pistols and basket hilted sword hilts used by the Highland clans.
Whilst sporrans are a common enough feature from Victorian times to today, early 18th century Highland  sporrans are now rare due to the government imposed proscription of Highland dress for nearly a quarter of a century after the failure of the 1745 Jacobite Rebellion. As a result, sporran cantles of this nature form a unique and rare representation of pre-Rebellion Highland culture.
The cantle measures 7 inches (18cm) wide from hinge to hinge